> Morgan The Mighty Flies Over The Fells
Morgan The Mighty Flies Over The Fells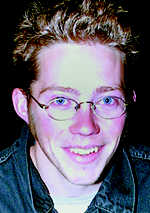 A HEXHAM runner has been crowned king of the fells after winning this year's North East Fell Running Championship race at Guisborough, on the edge of the North York Moors. Morgan Donnelly (28) set the inaugural course record of 57mins 32 seconds as he stormed to victory.
Due to foot-and-mouth problems of late, the race was being run on a new course, which was typically a bit flatter and shorter than championship races of the past. The race began at Guisborough Rugby club and followed the edge of the North York Moors as far as the summit of Roseberry Topping, before heading back to the Rugby club through Guisborough Forest – a total distance of nine miles, with a 1600 feet of ascent.
Morgan moved to Hexham in 1997, shortly after graduating from Glasgow University, to begin a career in the renewable energy industry at local firm Econnect Ltd. Not long after moving to Hexham, Morgan joined the Tynedale Harriers and became a keen runner. A couple of years later, after completing his first Hexham Hobble, he realised that fell running was more his thing. He turned his running efforts to the fells and became an active member of the Northumberland Fell Runners (NFR), whilst still maintaining his activities with the Harriers.
Last December Morgan was able to win the Hexham Hobble after a successful year on the fells in Northumberland and the Lake District. He was hoping to complete the British Fell Running Championship races, but alas, due to foot-and-mouth, the series was cancelled, as with nearly all fell races, during the first nine months of this year. However Morgan was able to squeeze in some Scottish Fell Races, which were not affected by the epidemic, gaining first place at the Goat Fell Race, fifth (Elite) place at the Lowe Alpine Mountain Marathon and sixth (Elite) place in the Karrimor Mountain Marathon. He was also fortunate enough to be invited to represent Scotland – and in fact be a member of the first British Team to to compete in the World Famous Dolomitenmann!
Keep up to date with local issues with the Hexham Courant from which this article was reproduced.