> Stuc a'Chroin Hill Race 2005 - Phil Addyman
30th April 2005
If I were to combine my passion for fell running with my appreciation of fine malt whiskies, I would say that Stuc a Chroin (15m, 5000') is the Lagavulin of fell races: challenging, overwhelming, exquisite and in a class of its own.
I was captivated by the aura of this fell race (sorry: "Hill race" as they are called North of the border) last year after seeing some web photos of it when it was a championship, but I never made the 165m trip up to the small and picturesque village of Strathyre in the Trossachs. This year was different - wild horses couldn't hold me back and I left on the Friday night, pitched my tent in the semi-dark at 9pm and awoke to a nice day with atmospheric conditions that seemed to be perfect for fell running: not too hot, no wind and no threat of rain.
As there was a big race in Coniston, very few English runners made up the numbers in the 100 strong field, although I did recognise a Durham Fell Runners vest, belonging to Richard Tait. I was very glad. I had a quick chat with him because he had done the race before and told me that after the main descent off Stuc a Chroin you then climb back up the Ample valley - thanks Richard: I left something in the tank for this last ascent.
Although V40 and overall winner Stewart Whitlie was in a class of his own, adding to his victory of last year, I managed to reach the summit after 1hr 25mins running, still within sight of the others guys in the top 5. I lost one place on the descent but finished fairly strongly in 6th, although the last 10 minutes on firetrack seemed to go on forever.
Apart from the superb course and scenic location, one of the main reasons that this race is so special is that the whole village seems to get behind it. Once you got up near the summits it seemed there were marshalls and helpers every quarter of a mile and ALL had a plentiful supply of bottled water to let you swig from.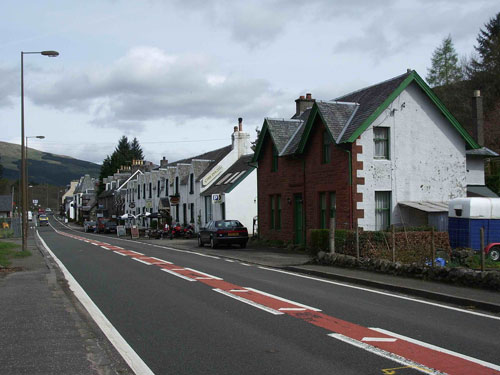 It's no surprise that at the presentation there were almost as many prizes for marshalls as for runners, but they really deserved rewarding, not just for their enthusiasm, but for the reassurance that their presence gives to the fatigued runner.
As sure as one sip of Lagavulin follows another, I'll be back next year.
Phil Addyman