> The North Face Ultra Trail 2006 - Dave Atkinson
25th-27th August 2006
On my return from doing the Ultra Trail a number of members have shown interest for next year's race, so here is a brief account on my race.
The course starts and finishes in Chamonix and follows the Tour du Mont Blanc GR route in an anti-clockwise direction circumnavigating the Mont Blanc massif. It is 158km long and takes in 8500m of climbing passing through France, Italy and Switzerland. The event attracts some top runners who aim to go under 24 hours, however the majority of the field of 2,500 competitors hope to complete the course within the 45 hour time limit.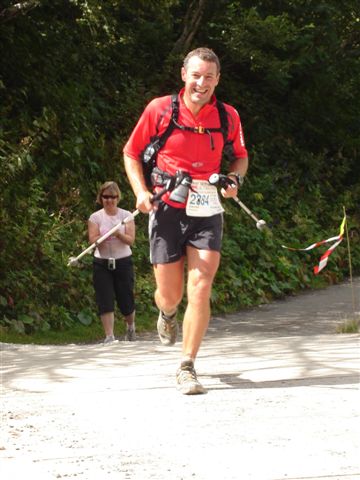 Jerry Sharp and I were running for NFR [ Kevin and Linda Bray had entered but were forced out with injury], also there were Bob and Margeret Sewell, Ed and Sue Watson and of course Valerie as valuble support [ Bob did the race last year].
The Ultra Trail is a big event, Chamonix and the local communities along the route give 100% support to the event, with road closures, back up, food / drink etc in plentiful supply. A half distance race is run the day before starting in Courmayeur [ approx 1000 runners].
The North Face Ulra Trail starts at 7 pm Friday in the main square. Off we went through Chamonix full of cheering spectators. It takes a couple of km for the race to thin out but this is a time to relax and enjoy the atmosphere. As we gradually make our way to the first climb it's starting to get dark so head torches on. We pass through several villages. People were out in their masses cheering us on ringing cowbells, drums, music etc. A carnival atmosphere [good one to spectate at]. The first big climb is the Col du Bonhomme 2479m and is a long slog. I was in 212th place at the top but felt a bit flat. I was being passed on a regular basis and feared the worst. I plugged on and made it to Chapieux. I replenished myself with noodle soup and listened to a live band playing Rolling Stones covers, I was sorry to leave...
On I went, the next big climb the Col de la Seigne - 2516m. I was on auto pilot and was really worried as this was only 54 km into the race. The night was long but time passed. The sun finally broke through and as I descended into Courmayeur I felt a lot better and started to catch a few runners.
Courmayeur is one of two checkpoints where you can send fresh kit ahead. So I changed into shorts and T shirt, had a quick bowl of pasta and then off. I went with a new spring in my step but was down to 292nd position. [Both Jerry and Andy dropped out at this stage. Jerry twisted an ankle and Andy was timed out] The next section is tough, culminating in the Grand Col Ferret - 2,537m. The scenery was stunning and my motivation was high - I moved through the field. I then had a huge boost upon arriving into La Fouly. Valerie, Bob, Margaret, Edd and Sue were waiting for me with a huge cheer and then appeared at every opportunity along the course. I was now in 111th postion and still passing runners. Bob was receiving texts from Kevin back in Morpeth telling him of my position as he followed the race progress on the internet.
The weather up to that point had been good but at Champex Lac the heavens opened. 20hrs has passed but I still felt strong. I moved further through the field with my support crew urging me on. Edd told me to keep warm so I donned my Berghaus Packlite Jacket, sound advice as I was so caught up in the race I could easily have chilled down. I made many places up on descents and other Brits said the same. It must be our fell running mentality. I was now in 54th place with the last big climb behind me. I ran along the valley towards Chamonix catching more runners who were clearly tiring which was good for my confidence. Entering the forest on the edge of town a final sting in the tale. A short climb which seemed to me to go on for ever. By now it was dark and with my head torch I could clearly see the reflective markers ahead climbing up and up, what a cruel finish! Finally one last descent where I passed two more guys before hitting the welcomong streets of Chamonix where the crowds just blew me away. Entering the last 200m with the crowds 6 deep and the PA blaring, it dawned on me I was about to finish what had been a fantastic race. I crossed the line at 9.28pm in a time of 26hrs 28mins in 41st position (16th vet) and 3rd British runner.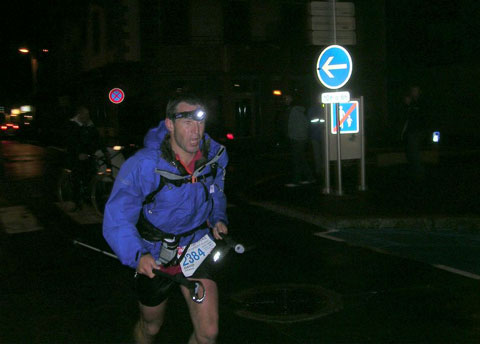 Valerie and the support crew were there with kisses and hand shakes all around. It was a relief to finish but I felt calm and contented. You just never know how it will go in a long distance race, so its always good to savour the good ones. I gratefully took up Bob's offer of a hot bath at their apartment and after a cup of tea and a beer, it was off to bed. Waking early following a restless night's sleep I rose and made my way to the finish area to welcome a few of the early morning finishers. I had a welcome massage, breakfast, watched more runners arrive whilst enjoying an espresso in a nearby cafe.
We all met up for the grand final - the cut off time being 4pm Sunday. A steady stream of runners continued to enter the town. They had been on the course for 40 - 45hrs, some finishing in flood of tears, the emotion of the experience somewhat overwhelming. The very last finisher just making the 45 hours deadline and had the most rousing reception from everyone. It was a great sight and summed up what the Ultra Trail was about.
The Ultra Trail is not only a race as like most long distance events, its also a personal challenge. No navigation is required throughout the course as it is very well marked. But don't be misled into thinking it is just a long trail race!
If you want to have a go next year, the website is www.ultratrailmb.com.The night image was kindly supplied by a blogger called Chris Upson who has a site well worth visiting, particularly for images of mountain terrain and hill running. I found it hard to resist trawling through his photo library.
Dave Atkinson