> We Never Run Up There? - Phil Green
"We never run up there?"

(Or a tale of my first fell running year)

It started with my friend Neil saying "fancy doing Simonside Cairns race before Christmas?" Fortunately for me this was in the summer and I was training to do the Tees Pride 10k. I had sat in the beer garden of the Scafell Hotel watching the end of the Borrowdale a few times, and had seen an article on Blue Peter in the 70's about Lakeland sports so knew a vague amount about fell running. I had started road running 3 years before after being told to lose weight or face the prospect of beta blockers to lower my blood pressure.
So 4 stone lighter and quite a bit fitter than 2004, I had been seconded to run with my sister-in-law at Middlesbrough. So a bit more training and I should be right to run up Simonside, so I thought. Having spent quite a bit of time up there walking and climbing I was happy that I knew the area. Neil unfortunately had to pull out at last minute due to other commitments. Fortunately, one of the guys from work and my climbing guru, Roger, was also doing it and he gave me a lift. Outside the Newcastle Hotel in the cold (feeling distinctly overdressed in longs and a soft shell pullover), nearly everybody else had shorts on and some had vests and just a t-shirt, hardy bunch these fell runners. I started to chat to someone I knew, Paul Hainsworth from work. He did say I would be too hot and how right he was. I was shedding layers as soon as I hit the hill by the hospital. I managed to get round in 1 hour 56 mins 39 secs and not even last. What a great day out, especially after the pub, hot soup and 4 pints of beer. The next day was a revelation; I couldn't walk down the stairs, having to shuffle down sideways. I was hooked despite the pain and started to look for another fell race to have a go at. I bumped into Paul at work who told me about the North York Moors series of races. My wife and I were planning to be in Redcar for New Year staying with the in-laws. So a bit of investigation on the internet led me to the Fell Runners' Association website, the NYM website and indeed the NFR website.
A cheque was dispatched to David Armstrong post haste and I had joined NFR. The friendliness of the people at the Cairns race and on the website was the thing that clinched it for me in joining. So sporting a new shiny vest, a pair of Walshes and a hangover I lined up at Great Ayton on New Year's Day for the Captain Cook run. The wife and eldest son James came with me to provide support. A grand run out with a minor disaster, barbed wire holing my lovely new vest. Another £15 was sent off to Karen for a replacement. I managed to do several of the series thereafter, lining up beside Ray Gray of NFR at Clay Bank East and Castleton Beacon races. These are 6 and 8 miles respectively and were nice introductory races over easier paths despite steep starts and finishes. Ray was very encouraging and was great to follow, I think I learned a lot watching which lines he took and how he contoured to avoid losing height. I also managed some running with my wife over in the Lakes, running round Grange Fell and back via Watendlath to Rosthwaite in January.
March came round quickly with Greys Pike race being my first fell race in Northumberland since the Cairns race. I was a bit nervous as the dark woods of Kielder had great potential for getting lost. Map and compass skills were brushed up on just in case. I met quite a lot of new faces (to me) who were quick to introduce themselves. The race itself was cold and wet but equally good fun. This race then introduced me to the next major feature of fell running, the tea and cake frenzy at the finish. I may have had 2 pints of tea to defrost myself.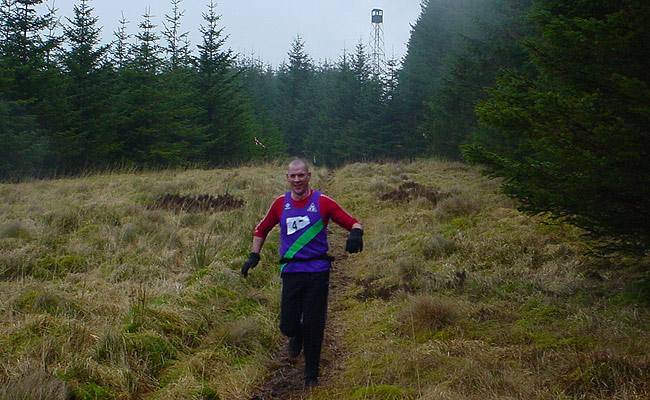 Phil's baptism of mire at Greys Pike
Quite a different story in April with the Gisborough Moors race. Unseasonably hot weather saw Sharon (my wife) and me lining up for the start. Her words when facing the steep start were "We never run up there do we?"
I managed to nearly knock myself out, hitting my head off a low branch on the initial run up through the trees. Keith and Pat Cooper were present to witness my Harold Lloyd comedy moment, Sharon managing to laugh at my misfortune. The initial steep climb proved tough for the missus, whose only previous racing experience had been Redcar half marathon. We were at the back from this point onward, running at a nice pace together and enjoying the beautiful spring sunshine. We had a nice run without too many "discussions" and even managed to pass two people to avoid finishing last. My son James and I helped to marshal the Kielder Borderer in May, which was great for getting to know Will Horsley and Phil James in the process.
I managed to run a few more races, the Cheviot Summit and the Lordstones/Wainstones race. The Cheviot race with a flat out descent was responsible for my right groin/abdominal wall parting company with itself. This only came to light several weeks later after a coughing fit! Further delights were to follow after the Lordstones race, which I ran with Peter Reed, Garry Owens and Graham Wilkinson. After a horrible steep climb through heather I ended up with 2 ticks in my side. Then following the helpful advice of "Don't look on the internet", I discovered the potential fun that is Lyme disease, pleased I didn't get that!
We managed to be over in the Lakes camping the weekend that Paul Hainsworth completed his Bob Graham Round. I had planned to do the Helvellyn fell race, but the weather was rotten and I nearly talked myself out of doing it. There was only myself from NFR (Wilf Hutchinson and Kyle Shaw from Concordia runners were also there but I only found this out later). The first climb up to Calfhow Crag was very steep, the hail and sleet very cold and the run seemed very long. The snow on the top and the clear views from the summit made up for all of this. The return drop down from Calfhow nearly did for me, with my high-speed descent and subsequent near cardiac arrest from sheer fright. Needless to say when I was finished it all seemed tremendous, and I was feeling like I could possibly be a proper fell runner having run up a mountain!
June saw me running at Lordenshaws and the Beacon Hill race in 25 yard visibility due to hill fog. A very atmospheric race and I loved bashing round the paths of Simonside. I even managed a reasonable finishing place (12th). I even won a prize as part of Paul Appleby's very generous prize list, and it's the only time I have ever won anything in a race! I had managed 9th at the Chapel Top fell race but there had only been 19 runners! Still, it was and probably will be my only top ten finish for 2007 on the hills.
July saw me having entered the Chevy Chase and Will Horsley agreed to pace me round as he was running with a niggling leg injury. We had a grand day out on Northumberland's finest hills, managing to finish joint 33rd (due only to Will picking the pace up in the last 2 miles in and egging me on!). It was my best day's fell running so far. This was to be a big week with the Coastal Run on the following weekend. I had a splendid run out in glorious sunshine, getting cooked in the process.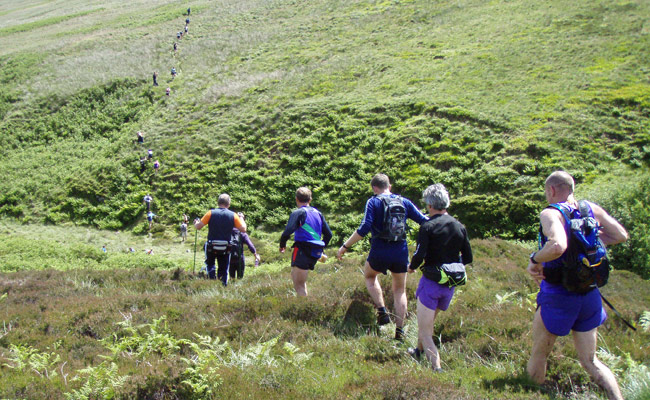 Phil drives this bevy round the Chevy (the Chevy was dry)
August promised to be an awesome month, with a collection of fine days out planned. It started with a sortie over to the Lakes and the Borrowdale fell race. I had jestingly made a comment to my brother-in-law once in the beer garden of the Scafell that I would do the race before I was 40. Bugger! At 39 and just having started fell running I had little option but to give it a crack. I knew the central fells reasonably well having walked them quite a bit, same being so for Honister and Dalehead, but the Bessyboot section was a complete mystery. I just hoped that I could follow the queue to Esk Hause and not get lost. I had ordered the race map from Pete Bland and had read the race tips again and again. I knew a few from the club were going but was pleased to see so many faces I knew. We were mostly all camping in the field and planning to sup some ale afterwards. The registration was dealt with, and lining up in the dance field in the rain were told that the race was being shortened due to extreme foul weather on Scafell Pike. The only bit I knew really well in the route had been cut out! We were to turn right at Esk Hause and head straight down to Styhead and the climb up Gable; however, the timing to Honister was the same so the time pressure was lifted. I could try and enjoy this after all. I had a grand run out finishing in 297 out of 410 finishers in 3 hours 56 mins, crossing the line with Peter Hayle. The beer flowed afterwards, and we all played musical seats to facilitate eating in the bar of the Scafell. Splendid day but I need to do the whole thing!
Next up was the Forest Burn fell race, which saw a reasonable mid-pack finish just behind Paul Appleby (which I was very pleased with) and also had my middle son Thomas starting the race. So already both of my eldest two sons have been mentioned in "The Fellrunner" before their father. No hope for me unless it's as a marshal or casualty!
I had promised the wife that I wouldn't be running as much over August, but when Sedbergh was being talked about at The Gate, was given a special pass out. I picked Will up and drove over to the Howgills for what was a hard race. Worse in some ways than Borrowdale had been, due to its dragon's back effect of short sharp ups then the same in reverse. Murderous cramp set in on the final big climb after tailing John Telfer really well for about the middle third of the course. I was crippled for about 5 mins, reduced to a slow jog cum plod. Anyway, I finished in a reasonable fashion after a slow final descent.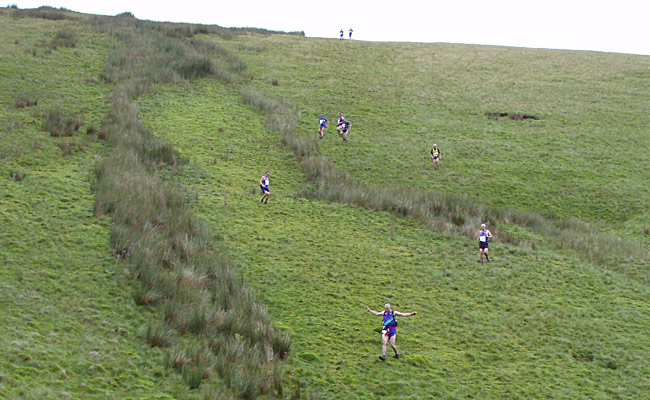 Phil gets in a flap at Sedbergh Hills
Thropton show in September was another special day with my mate Neil (him of Simonside Cairns race) and my wife Sharon running as well. Grandparents were engaged for child care and enjoyed looking round the show whilst we set off up and back. A fantastic day out for all of the family, made more special by the boys being unexpectedly there to cheer me on as I came up out of the river. I even put on a spurt to overtake someone because of that!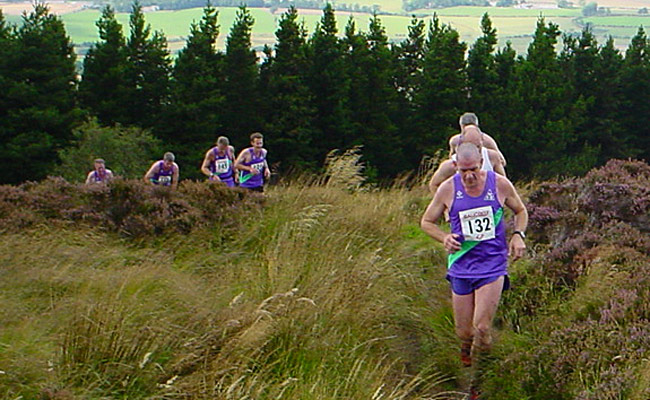 Phil leads the owld gadgies up to the top of Simonside
My final trip to the Lakes fell racing for 2007 came in October with the Langdale Horseshoe. A perfect autumnal day with blue skies and even getting sunburn. Great crack in the car with David Coxon and Andy Irving sharing the journey over with me. Another great turnout from the club despite the short club counter Great Whernside race being on the same day. 4 hours of splendid racing over glorious bogs, mountains, bogs, cliff faces and more bogs! Cramp reared its head again, and has been a problem on all of the summer long races for me. However, I have a theory about my diet and have stopped using low Na salt (better for keeping your BP lower) just prior to races and now use normal table salt instead. The proof will be next summer. Beer and pop made it all better at the end.
Two back-to-back trips to the North York Moors with Saltergate Gallows and Clay Bank West saw dense fog afflicting that part of the north east only at Saltergate, losing one's way being popular, and Clay Bank was held on a nice crisp November day. I managed to finish mid-pack in both and was very happy.
The main thing bothering me now was how much time could I knock off last years Simonside Cairns race time. I had upped the sessions at harriers over October and November to try and improve my pace. We'd recced the route in November and had a good run out. My hernia was bothering me on fast descents and I was looking forward to getting it fixed the week after the Cairns race. The day came round and the pre-race crack was good in the Newcastle Hotel. I got changed and this year ran in a thin long-sleeved breathable top and NFR vest and my brother-in-laws fancy Asics super-elastic running tights. On with the Mudclaw "o"s as the clarts would be mid-calf I reckoned. This was a splendid run out, I chatted too much to people instead of cracking on, but bugger it that's part of the fun. I tracked John Telfer and then Paul Hainsworth, managing to get away on the drop down from the Beacon to Lordenshaws. I floored it down the descent, passing about 4 guys and then bonked out on the farm track. Jelly babies and a dose of Joss's ankles got my pace picked up for the final drop down to Rothbury. I finished in 49th place and in 1 hour, 41 mins and 16 secs, which meant I had knocked 15 mins off last year's time, I was well chuffed. The soup was grand as was the half of Spitfire but that was it for this year.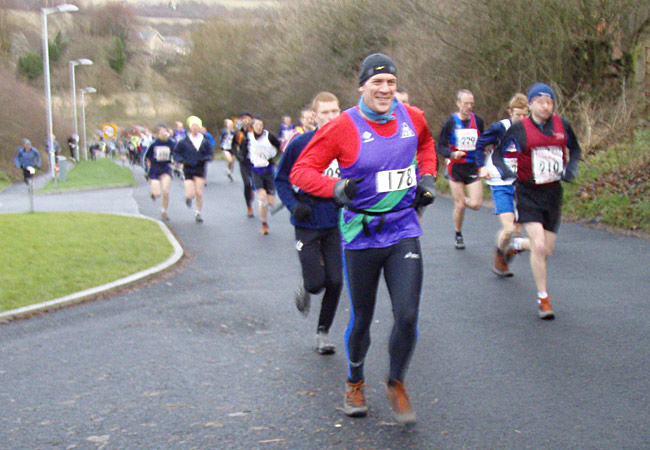 Phil dressed to kill at Simonside Cairns
Post-hernia repair, I am sat now looking forward to Christmas, hoping Santa brings me that balaclava I asked for, slightly sore but fully mobile.
No running till Jan the 10th, not that I'm counting on anything. So far since last week have entered Brathay Windermere Marathon (with the wife), Chevy forms filled in and posted off today, now I'm just waiting for the Carnethy 5 entry on New Year's Day.
Just want to thank all the people who have made me so welcome into the club this last year. It has been greatly appreciated and I look forward to seeing you all next year on the hills.
Phil Green
(photos from Pat & Rob)