> Two Breweries 2007 - Rob Stephens
22nd September 2007 - 18m / 5000' (AL)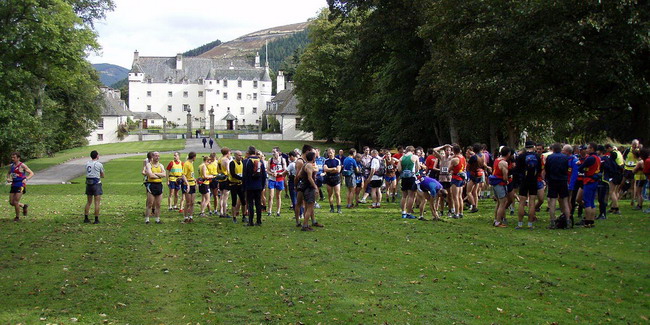 runners gather in the magnificent grounds of Traquair House (click pictures for larger image)
The Two Breweries is a point-to-point race in the picturesque Scottish Borders. It runs from the Traquair Brewery, part of the historic Traquair House (celebrating its 900th anniversary this year), to Broughton Ales Brewery in the village of Broughton. Never too far from the River Tweed, the route visits five valleys by crossing four or five fairly substantial hills, a distance of 18 miles with over 5000 ft of accumulated climb.
First Half
On a bright but breezy September morning, runners gather in the magnificent grounds of Traquair House. The resident peacocks seem to take it all in their stride, no doubt quite used to the frequent events hosted here, such as the Traquair Fair and 'The Mighty Deerstalker' Adventure Trail Race. Many runners have made use of the race bus service, which brings them over from Broughton and takes their kit-bags back, and when it arrives the ranks suddenly swell.

There's merry banter around the registration tent as friends catch up and prepare themselves for the day ahead. The slight chill is a good excuse for a short warm-up trot around the grounds, and after a few strides, a stretch and a tweak of the old niggles, the whistle blows for the brief. Around 90 have turned up (well up on last year), the field dominated by Scottish club vests: mainly Westerlands, Hunters Bog Trotters (HBT) and Carnethy, but many other Scottish clubs are also represented, as well as three English. Spirits are high, but before we're let loose, every runner must first present their footwear for disinfecting by spray (F&M precaution) and then present bumbags for inspection – yes, everyone!
At last we're off along the tree-lined avenue that stretches out from the House, and onto the drive before heading down the road. Before long, we've turned off up Howford Farm track and onto open fell. Grieston Hill is the first climb and a few runners exchange early positions as they settle into their rhythm. Colin Donnelly (Lochaber) is way up front being pursued by a cloud of brown (HBT) vests.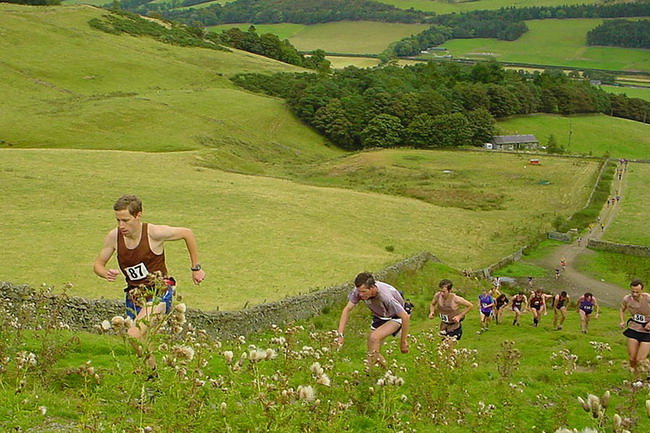 part of the cloud of brown vests (HBT) begin to climb Grieston Hill in pursuit of Colin Donnelly (out of shot)
Above Grieston, the way ahead flattens out for a while with good running: the heather is mostly short or recently burnt and trods can be picked out leading towards a good path. Back to climbing again as we make an attack on Birkscairn Hill: mostly hands-on-knees walking here for this section of runners, with the odd burst of running, especially when a photographer aims his lens!
First checkpoint on the summit and at my mid-field position, runners have already spread out enough that I look to the marshal to point out the right direction. The first descent now and it's fast and exciting over shin-high heather. At the same time, I'm trying to decide which line to take up the facing hulk of Hundleshope Heights ahead. I can see one or two making a direct ascent, but most runners head for the cleugh (gully) to the left, which I later choose. The slope steepens towards the bottom and a few hidden rocks mean a bit of a speed check. At the bottom of Glensax, the burns provide fast running water for those travelling light.
Tough though the climb up Hundleshope is, the cleugh does at least provide some pleasant distractions with the cool burbling burn, aroma of sun-warmed bracken and the occasional mountain ash and birch. It's tempting to sit and tarry a while … but on we go.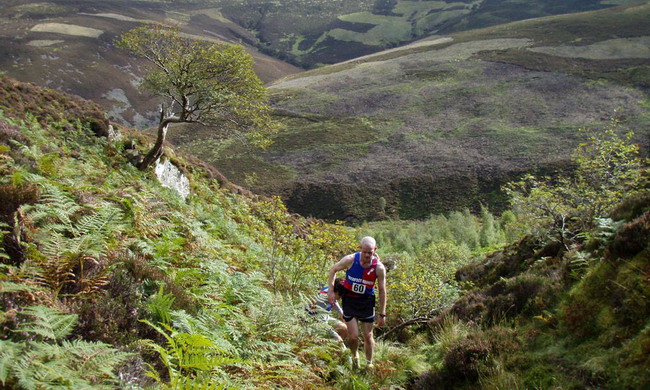 the pleasant climb up Hundleshope Heights
The gradient begins to ease toward the top and we pick up the stride once again as we reach the highest point of the race at 685m and CP2. Another half-dozen marshals and helpers cheer us through. Beyond the summit, the mood changes a little: the clouds have darkened and this isn't the sort of place you want to be caught out in foul weather. Here the broad tops are exposed and featureless. A fence along the ridge to Broom Hill and another to Stob Law would no doubt provide a good 'handrail' if you were really stuck in the clag and didn't mind going the longer way round, but today we're cutting corners and it's a case of keeping an eye on the runner in front and 'watch out for a contouring path around Broom Hill which will bring you to the saddle before Stob Law'. Not a problem on a day like today and the running is fair if a little squelchy in parts, the contouring path and surrounding hills reminiscent of the Sedbergh Hills race.

from the climb to Stob Law, looking back to the traverse around Broom Hill
On top of Stob Law, thickly-wrapped marshals continue to cheer us along, but it looks cold for them standing around on this bare and blowy summit. Second descent down to Glenrath and this is superb: the panoramic view ahead is bathed in sunshine and the terrain's fast too – apart from the odd rock and hole (ouch!). Bright orange markers guide us down away from neighbouring farmland, and it's plain sailing.
Down on to a flat farm track for a lonely trot along to Glenrath farm, where I actually need to consult the map to find my way through! Soon after, the first welcoming water station greets us, as does another race photographer's long lens!
Second Half
The next section starts off with a change of scenery as we head up through conifer forest paths, road and firebreak. Fortunately the way is well marked and the overgrown entrance to the firebreak which I'd been warned about was easy to find. This steepish climb through the forest, similar to that at Grey's Pike, bunches up half a dozen of us tiring runners. It tops out at CP5 on Whitelaw Hill.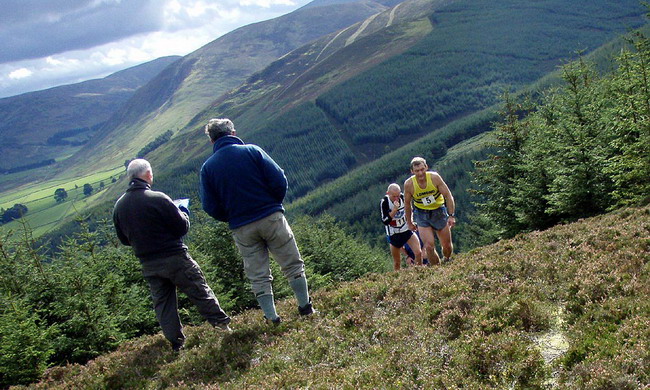 the climb through the firebreak tops out at Checkpoint 5
Good fast running from here: a little bit of flat grassy forest track which slopes off to the forlornly-named Dead Wife's Grave, followed by a fast blast down the grassy track to Stobo, with more panoramic views including a glimpse of the final hill, Trahenna.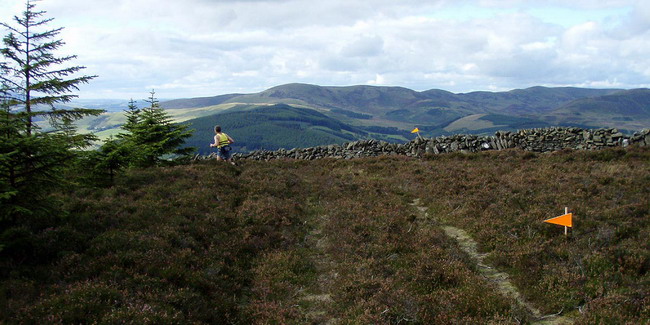 well marked route at Whitelaw Hill, Trahenna in the distance (left of centre)
Towards the bottom, the path turns into a stony track which is so unpleasant to run on I leap up onto the grassy verge whenever I can, whilst engaging in a chat with a Lomond runner who happens to be going my way.
A short section of road to the next water station at Stobo and the journey's beginning to take its toll. The water at Stobo tastes good but I forget to top up my water bottle and have to plod along the next section, mouth stuffed with sticky and by now sickly Jelly Babies, and nothing to wash it down with.
This doesn't feel like running any more, weariness and aches come to the fore on this supposed fast section alongside the Weston Burn. The grounds of Stobo Castle look wonderful though as we drag on past a small loch: the countryside around here is simply idyllic. And it becomes almost surreal as we leave the forest track and down past fishermen in quite another world as they sit patiently by the banks of a sheltered and tranquil second loch. Maybe it's because this section lulls you into a sense of journey's end that makes the final climb up Trahenna Hill all the more difficult …
Not such a big hill, Trahenna, but the prospect of another climb isn't welcome. Also, the approach is over rough ground, which drags on tired legs. Again the climb bunches up runners who have been spread out again up until now. Trahenna is steep, not on-all-fours steep, but steep enough to strain the calves and start heel blisters, so I end up zig-zagging, and I see others do too, to relieve the discomfort. At this point, I have an overpowering desire for a lovely cup of tea and I can't get the thought out of my head until … howls and screams from higher up the hill. At first I can't tell who's suffering – everyone seems to be suffering. I'd read that cramp was a common affliction on this last hill, and sure enough, one guy lies rolling about in agony clutching his quads. As I catch up with him, all I can do is to offer the remedy which I subscribe to: massage the muscle and take on salt and fluids – but I'm fresh out. Fortunately, the next weary soul in line has a little water to spare (the guy made it back ok).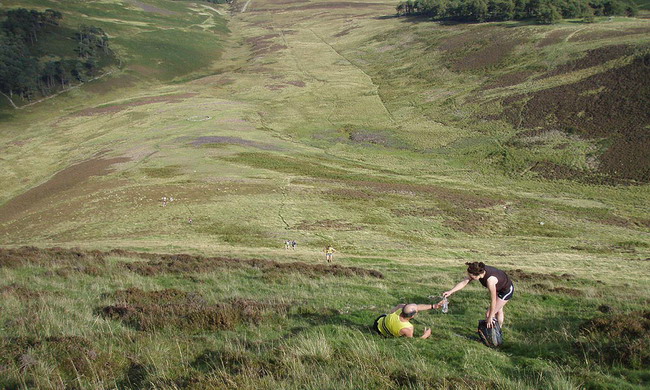 sharing a last sip of water with this cramp victim
The top does eventually come and I start to feel a little elated that the worst of it is over. The last descent is another long fast run with a great view, but I only wish my legs could take it – I leave the firmer trods in favour of the short spongy heather to soften the footfall, which helps. I'm overtaken by the lass who helped the cramp victim, but I call her back as she heads the wrong way, and I once again regain my modest position as we drop sharply down to Ratchill checkpoint through patches of waist-high bracken (perhaps not the best choice of route!).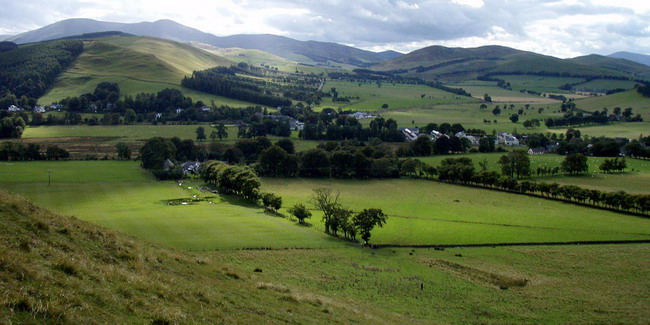 descending Ratchill to Broughton
Great to see Pat here, but there's still more than a km of flat hard road through Broughton to go yet. The main street is lined with runners already finished who are ambling back to their cars and cheering us on and it helps to see me to the end.
Finished
I sit for a while, sharing the trials with some of the other exhausted runners who I ran a lot of the way with, before heading back to the cars, where once again howls and screams fill the air as cramp strikes out mercilessly at a few (myself included) who dare to bend a leg!
Colin Donnelly won by almost 10 minutes in a staggering 2:47, followed in by a string of Hunters Bog Trotters. First lady, Lucy Colquhoun was in at 3:29. I was happy enough with 4:00, confident that if I had left the camera behind I could have probably made 3:59! John Telfer, who kindly passed on a few route short-cuts, came in a little later than his time last year – partly because he followed his own route short-cuts!
The race felt like quite a journey, covering a variety of terrain and taking in lots of fabulous scenery, and I really enjoyed it. It was well organised, with lots of friendly people involved and had a proper 'event' feel to it. I'd thoroughly recommend the race to those who enjoy longer runs. Next year will be the 25th anniversary, so may have some special celebrations. I missed out on this year's presentation but I heard it was a good do and HBT made good use of all the beer they won!
Oh yes, the beer … I rather stupidly forgot to hand in my ticket at the end to receive my free bottle … mind, at the time, I'd have been happier if the race had been called the 'Two Tearooms' instead!
Rob Stephens
results on theTwo Breweries website
more photos from Scottish Hill Runners