> Adventure Racing World Championships 2007 - Dave Atkinson
Fort William, Scotland: 24th May - 3rd June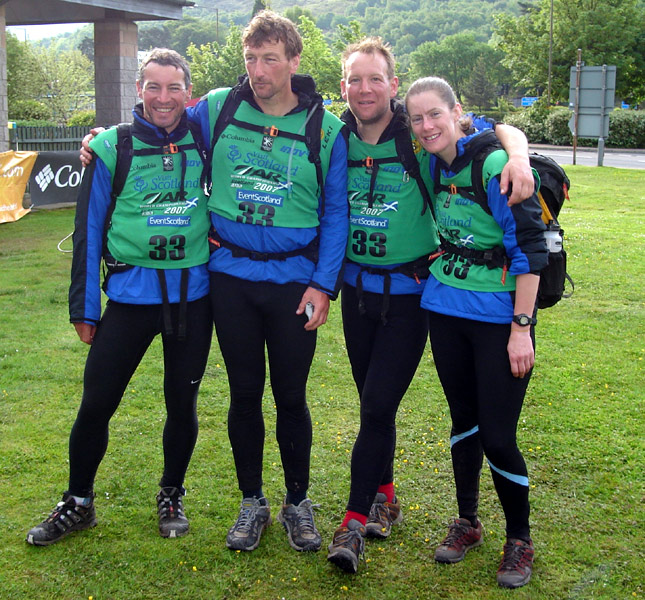 Team NAV+art: David Atkinson, Joe Faulkner, John Allen and Louise Wilkinson
This race is like no other I've ever done: seven days of non-stop hill-running, mountain-biking, kayaking and all manner of other outdoor disciplines involved. I'll try to get everything in order but I must admit that as the race progressed it all seemed to mingle into a blur. Here goes ...

We assembled at Fort Bill three days before race start for kit checks, skill tests, briefings and the all-important unveiling of the course.

I was racing for NAV+art with fellow NFR club mates Louise Wilkinson, John Allen and Joe Faulkner. Steve Birkinshaw was racing for Inov-8. A big international contingent from all manner of countries were present. Mmm, this is going to be a big race, I thought.
The course was unveiled on the Friday: it was to be a monster! Five 1:50,000 maps covered the bit on the mainland, and the prologue was to be on the Isle of Rhum with 65km of kayaking to start the race for real.

We were paraded through Fort Bill to be announced onstage to the public and our fellow competitors. Steve B gave the best speech, introducing his team with the info that they train on beer and chips (where have I heard that before?). By-laws forbade him from necking a pint in three seconds onstage … a talent he is renowned for, I'm told … impressive for one of the UK's best athletes. He's gone up even further in my admiration.

We started the race with a 750m sea swim followed by a 26km run on Rhum. Nice opener, no problems; we finished mid-table and were quite happy.
Next day: race start proper: 65km of kayaking. Winds were strong, a mass start and off we went on our journey. Sunshine, wind, waves … wow, it was awesome! On we paddled down to Eigg, then across to the mainland. Some weren't so lucky, having capsized. Joe and I were in one kayak, John and Louise in the other. On reaching the mainland, the headwind proved so strong that half the field wheeled their boats up the road to Morar after a paddle in the loch. Then a micro-nav section - Joe was brill in the dark: his nav is top rate.
Then another paddle down to the first of nine transitions. This was a big moment in the race as we missed the cut-off by five mins … we were gutted. But as we were to learn, this would be to our advantage later on. We set off onto the trek into Knoydart, had a quick 20 min kip in the bivvy, snug and warm with four in together. It was sunny. We knocked a couple of Munros off, then landed in Transition 2 for our next stage: 140km of mountain-biking, all off-road. It was the road to nowhere, as it took us 27 hours including a bothy stop whilst Louise recovered from near-hypothermia, then we had to do some rope sections, plus jump into a freezing waterfall at 5 am … brrr …
Next up: kayak across Loch Ness, then a massive trek across Monadhliath Mountains peat bog and hag. Again, Joe's nav was spot on: we had one checkpoint to find in the middle … amazing.
Oh, in-between we crashed out twice: once in a ladies' toilet and once on the hill. Our bodies were starting to do funny things. One USA team tried to follow us: they looked apprehensive on the bog; but, as they said, they were used to desert racing. "Nee desert here," I said. "Just clarts!" They looked bewildered!
Oh, and the canyon section was cancelled: deluge of water!

Blast around Laggan mountain-bike trails, then on to climb and abseil on an estate where they film "Monarch of the Glen". Can't remember if we slept … Then the big kayak across the middle of Scotland: it included several lochs, portage on wheels, man-hauling across bog on Rannoch Moor. Low point: the portage during the night, 12 miles on roads pulling kayaks. We all saw sleepmonsters and collapsed into the bivvy near Rannoch station on the roadside, huddling together to stay warm.
Nearly there … long bike-ride over the West Highland Way (we missed the cut-off so missed doing Curved Ridge and Aonach Eagach) to Glen Nevis, then on to the final lap up Ben Nevis and the CMD route at night, arriving into Fort Bill in just under seven days of racing … wow …

I was spaced out as we had not slept for 48 hours. Big fry up then off to bed. We finished in 20th place and third British team. Only five teams completed the full course … due respect. I've never seen a route look so tough, rock-hard athletes! Steve's team pulled out on Day 2 with a team member injured.

Well, it was the toughest race I've ever done. Mentally, you were on a roller coaster. Our team were great and gelled so well, each having a different role. On hindsight, the course planner devised a route for the world's elite; in doing so, he really tested us all. The cream came to the top and the rest of us survived.

The awards ceremony was a laugh: everyone was talking of epic tales of survival, and hobbling about, and they even put a band on for us to dance to. Back to our digs, a beer or two and sweet dreams for NAV+art. One of the best weeks of my life … I'll never forget it.

Thanks to Louise, Joe and John, NAV+art, Lyon Equipment, Allsports, and Northumbrian Water.
Dave Atkinson