> NFR Down Under - John Duff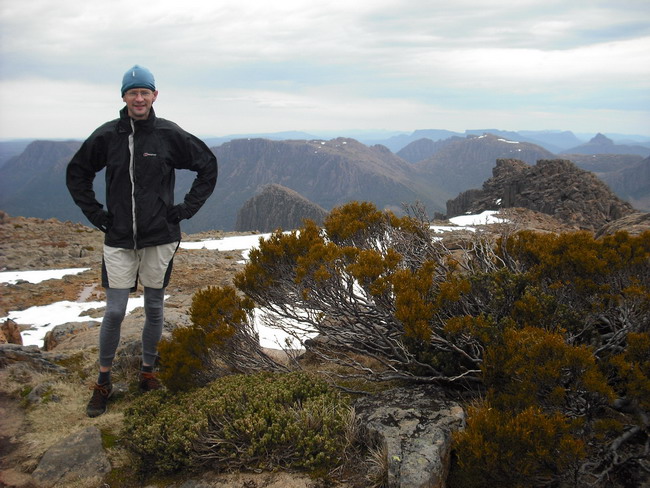 On top of Mt Ossa, Tasmania's rooftop (click for larger pic)
The top of Mount Wellington was in cloud, it was trying to rain, and I was the only person who had run up the hill. As I sat at the summit munching a cereal bar, I reflected that the fellrunning in Tasmania had its similarities to the UK.
My trip down under had started in Western Australia. There I walked the Cape to Cape Track which follows the coast between Capes Naturaliste and Leeuwin for 130 km. There were soft sandy beaches galore, and even the cliff paths were sandy. By the end my feet were sore from all the sand chaffing. But the views were glorious and the highlight was seeing whales breaching (jumping out of the sea) at Gracetown.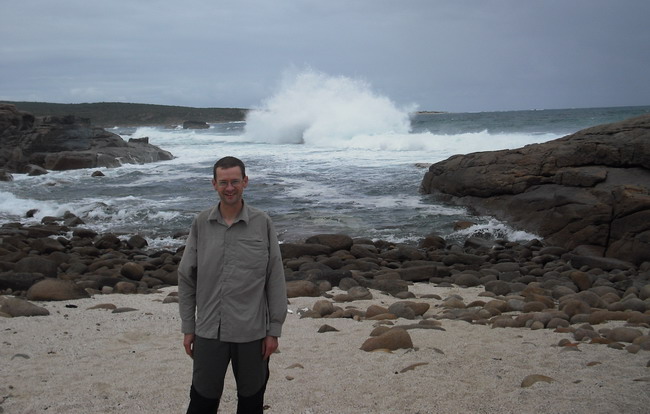 Waves break over whale rock on the Cape to Cape Track
Next on the list was Canberra to see my relatives. This is firmly off the tourist track, but turned out to be a pleasant surprise. My cousin Peter and his family lived right beside Mt Ainslee and Mt Majura. These hills were modest in height, but ideal for off-road running. Dave Atkinson delights in running round Houghton-le-Spring in the depths of winter just in his shorts; but it's considerably easier when you've got the early morning Canberra spring sun on your back.
Whilst in Canberra I also climbed Mt Bimberi in Namadgi National Park with my cousin. At 1909 metres, it is the high point of the Park and offered superb views. Peter decreed that on this trip we were going to "swag". This entails sleeping without a tent. It is fine in theory, but it sometimes rains even in Australia. I had taken the precaution of bringing my lightweight tent (a Terra Nova Photon). This proved to be a wise move as at 2 am the heavens opened. I now know that you can get two in a Photon, though it's on the cosy side.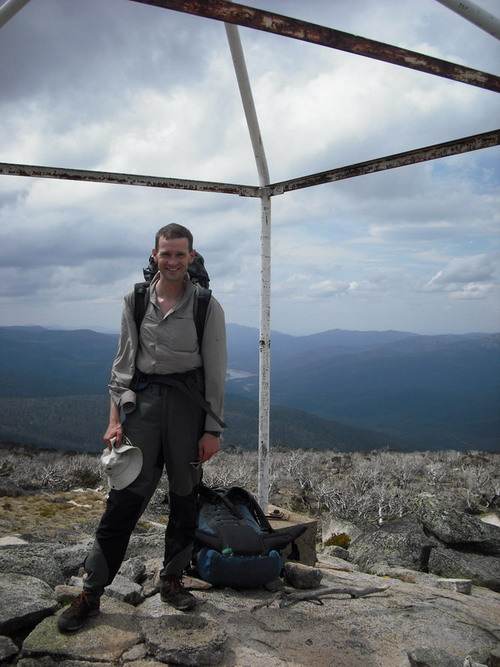 On top of Mt Bimberi
I've now moved on to Tasmania where I have walked The Overland Track. This follows an established route past Cradle Mountain and down to Lake St Clair. I was blessed with 4 days of good weather and the views were simply stunning. I made it up 4 peaks including Mt Ossa (Tasmania's roof top) and Barn Bluff (which I ran up with a guy from Hobart). The weather then turned distinctly chilly with 3 inches of snow. This curtailed any peak-bagging, but made for a memorable walk-out.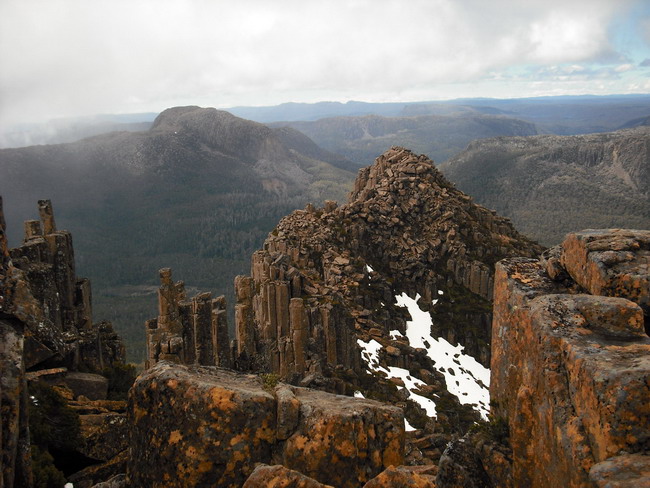 Dolomite columns on top of The Acropolis on the Overland Track (click for larger pic)
Reading John Telfer's account of The Tour of Pendle brought back fond memories as I've run the race for the last 2 years. But it will still be there next year. In the meantime, there are lots more hills to run up down under. You can follow my progress at www.birtleynews.org.uk .
John Duff