> Will's Night Runs: Beamish - Rob Stephens (photos: Rob)
25th November 2008 - 6 miles / 1000' climb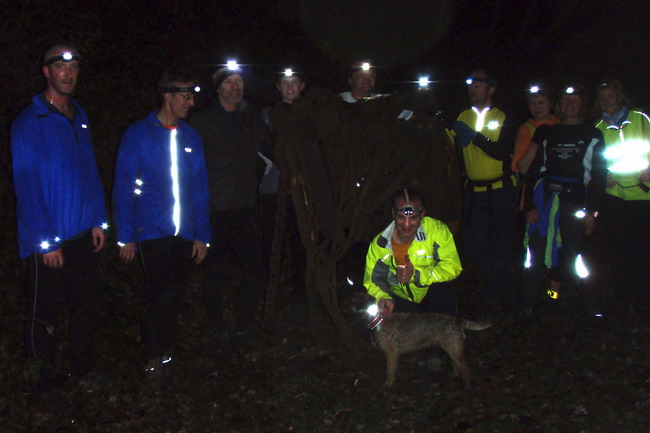 DFRs, Elvet Striders and NFRs gather round one of the 'Beamish Shorthorn' sculptures
Twelve headtorches shone brightly in a dark Beamish car park as we gathered round; tricky to tell who we all were beneath the Petzls, hats and 'chilly-but-dry-night' gear!
As with Will's popular night run at Waldridge last week, there were several runners from DFR, Elvet Striders and a smattering of NFR (just Will and me this time). DFR have been here before on one of their 'DFR on Tour' runs, so some were familiar with parts of the route, but in normal daylight hours! I believe runners had come from as far as Darlington, but this was one run I certainly didn't need a car for, and just trotted the mile or so there and back.
Will and Casper (complete with luminous collar) set off into the dark across Eden Place. We trooped along behind over ground that once was home to a whole mining community at the Beamish 2nd pit: colliery, homes, school, chapel, all now completely gone and subsequently wooded over. If that wasn't spooky enough, things quickly turned into scenes that wouldn't look out of place in the Blair Witch Project!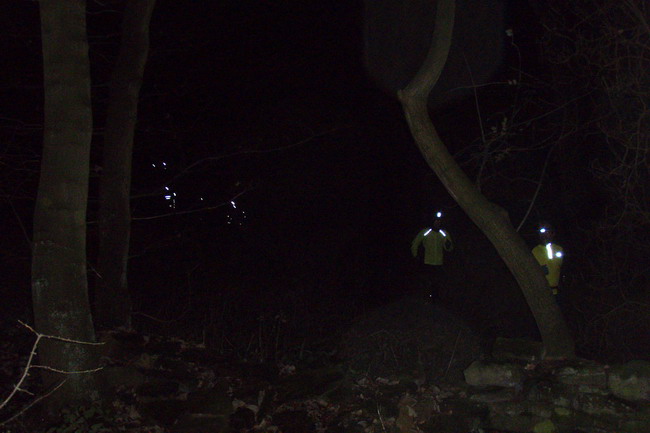 spooky woods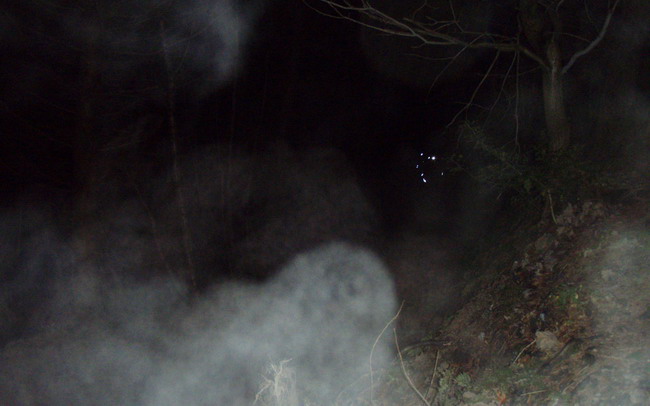 more spooky stuff
As I know the area well, I took over 'point position' and Will kept us all together further back. The previous day's rain ensured some pretty squidgy conditions in parts, but all good fun. A woodland floor recently blanketed in leaf fall disguised a myriad of narrow paths, so we had a couple of minor detours, but all in all stayed on track. Everyone kept an eye out for each other, and the woods resounded with the warnings "log! ... log! ... ow! ... log!" Looking back at the string of headtorch lights threading through the eerily dark woods was quite atmospherical. Years ago a similar string of lamplights might have been seen hundreds of feet below ground at this spot.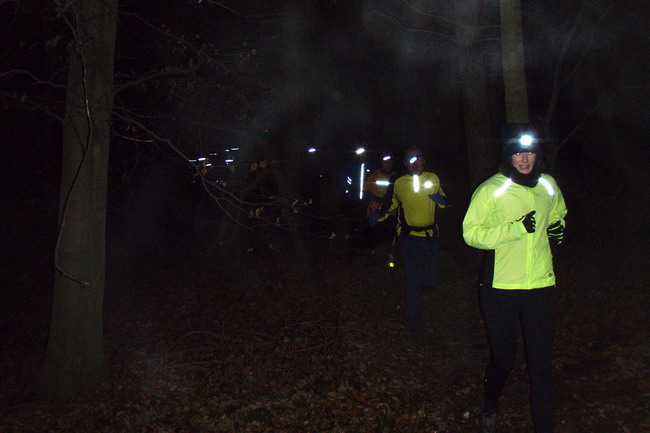 a string of torches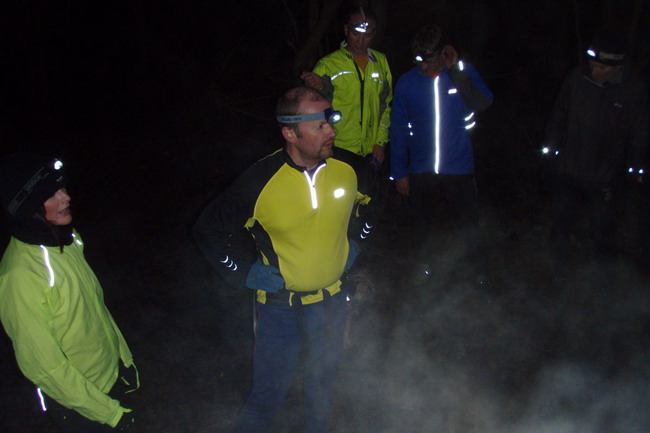 regrouping
Being a guided night run, we stuck fairly close together, stopping every now and then for everyone to catch up - a chance to chat with torch-lit steamy breath. The route incorporated plenty of 'get-out' options should the need arise and we nearly had to employ one of these when Jan (Elvets/DFR) turned on an ankle. I'm pleased to say that her ankle improved enough to continue on course. Some of the route was on wider made-up track and cycle track (dismantled railway, part of the C2C route), and it was here that yours truly rapidly reverted to the horizontal on a sneaky patch of unexpected ice!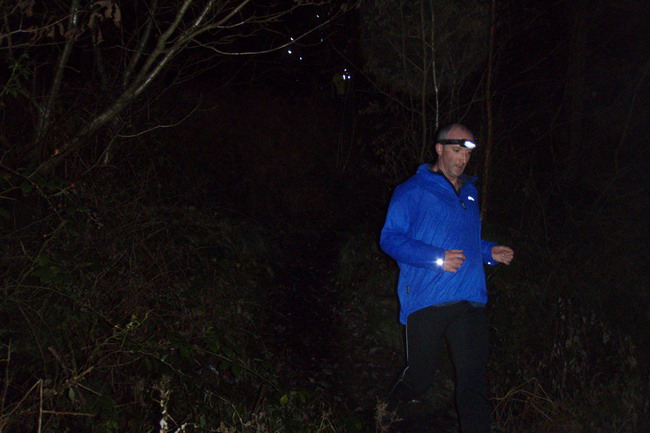 eyes down on this drop
Everyone game for it, we did the full route down the steeply sloped sides at Ousbrough Woods. But while Will stayed with Jan and Louise down by the scenic (at least it is in daytime!) bridge over the Beamish Burn, the rest of us took a blast up the rooty slopes of Ousbrough Hill, up to the top and back down the other side.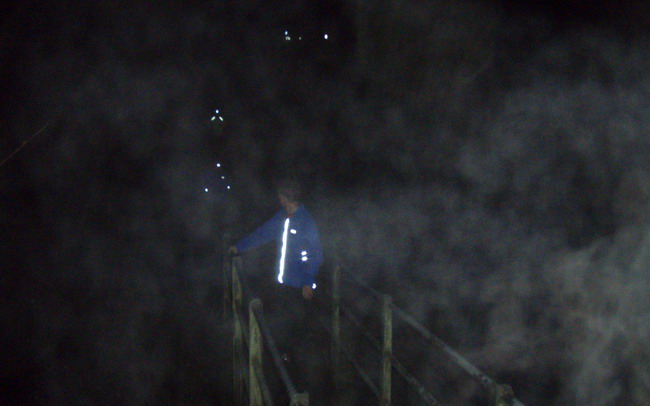 the usually quite scenic bridge over Beamish Burn
Joining up again, there was just a small matter of a sharp 200ft climb back up to the railway line: it has railway-sleeper steps built in but is pretty steep in parts and thick with muddy mush at the moment. Given the challenge to run all the way up without stopping, DFR's Graham Burns and Stuart Ferguson took off like whippets, Will and Casper in pursuit. They all managed to run it, with Graham first up.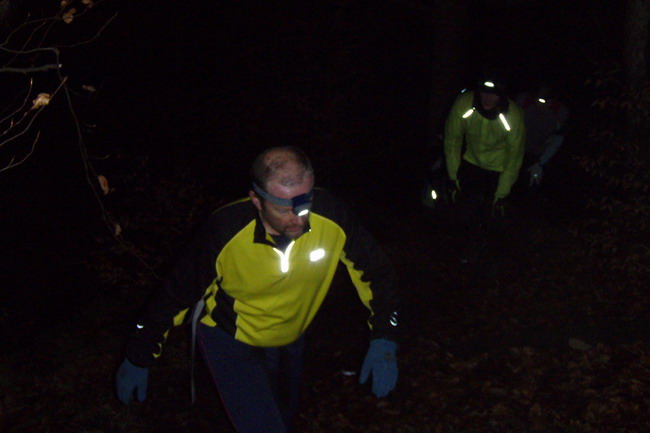 steep climb back up
Thanks, Will, for organising this exciting run. I hope everyone who came had an enjoyable evening - it was nice to meet you all. For me, after a 3 month cut-back from running due to foot and knee problems, this trouble-free run represents a bit of a milestone and I look forward to the Hexhamshire Hobble.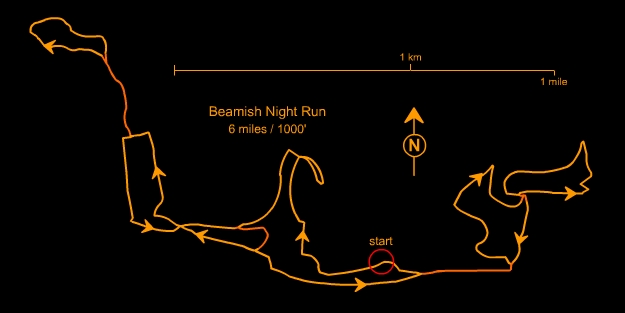 the route ... well it was dark!
It may be January before Will organises another of these runs, so keep an ear out.
Rob Stephens