> Will's Night Runs: Aykley Heads - Rob Stephens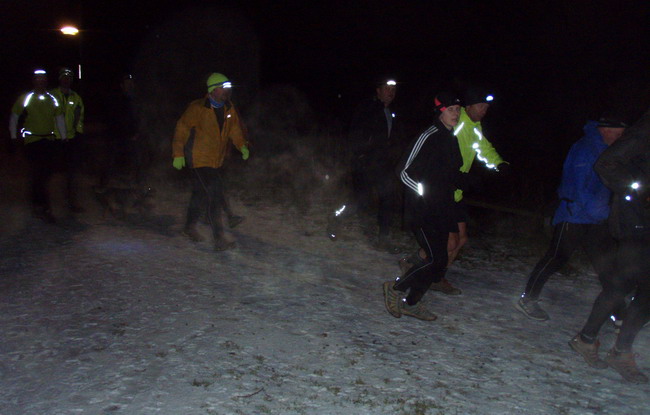 a light dusting of snow in parts brightened up the path and torches were hardly needed - photo:Rob
Another enjoyable evening run in Co. Durham. Steve Gustard of Durham Fell Runners led a dozen runners from DFR, Elvet Striders and NFR (Will, Dave C, Scott and Rob) around his local patch.
From a well-lit car park at the DLI museum, we were led over ice, snow, cobbled lanes, tussock, and well-made path around the northern outskirts of Durham town. An interesting urban parkland route packed with variety and with some really good sections for laps or reps. I admit to becoming quite disorientated with the constant change of direction and loopings - a route map would probably be mistaken for a scribble!
Not sure of the mileage, but including a few stops for breathers etc, we were out for about an hour and a quarter, in which time some of us were the warmest we'd been all day!
It was good to have a chat and catch-up with some of the runners.
Will will probably be organising one more of these runs sometime around February.
Thanks Will and Steve for this run out, and for helping us save on home fuel bills by going for a run instead!
Rob Stephens