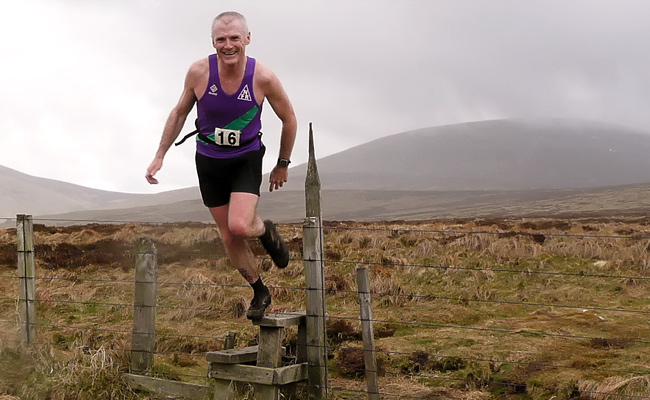 The church at Otterburn was filled to overflowing, and a soft Northumberland rain began to fall steadily on those standing outside.
The ten or so friends from NFR were just a small part of the gathering for this service in Geoff's memory. Here we joined his family and friends from the Otterburn community where he had spent his life. During the service, we heard tributes to Geoff as a born sportsman: whether it was cricket, football, golf or whatever, he possessed natural ability and quickly rose to the top of his field, collecting trophies and making life-long friends along the way.
Paul Appleby had grown to know Geoff quite well and gave a very moving (and entertaining) tribute to 'Geoff the Runner' at the memorial service. Paul recalled the very special day that he spent with Geoff this year on the 22-mile Cheviots Challenge, when they ran the whole route together and finished together in first place.
Running was one of Geoff's most recent athletic endeavours: he took it up about five years ago and was with NFR for just less than two years. He took his running seriously, pushed himself hard, and was very competitive; but he remained a true gentleman of the sport, courteous, often with a word of encouragement for others, and a real pleasure to run with.
Often accompanied at races by his dad and family, Geoff would stay on after the finish and always seemed to have time to chat. If you were lucky he might even pop the kettle on for a fresh brew from his highly organised car boot. For such a quiet, modest and unassuming man, he drove a gorgeously bright orange car, as bright as his familiar smile – no problem spotting where he was parked at races!
Living in the heart of Redesdale, Geoff was at home in the Northumberland fells and wouldn't need to travel far for long runs in the hills he loved. But his running wasn't restricted to the fells: he enjoyed all running, on and off-road, often travelling to Tyneside, Co. Durham and Cumbria for road and trail races. Although he attended the occasional Lakes fell race, he preferred races less steep, quite simply because the steepness interrupted the rhythm of running, which was so important to him. For this reason he excelled at races that let him get into his typically springy and apparently effortless stride. Usually in the top ten or so at local fell and trail races, he was first home on the 30-mile Durham Dales Challenge this year, won the Durham Fell Runners Summer Handicap Series 2009, and the Cheviots Challenge along with Paul.
Despite spending several months over the winter recovering from a bad ankle injury and having to contend with disruptive shift patterns at work (he had been known to run a fell race before going straight off to work!), it seemed to be all coming together for Geoff later in the year. After turning 50, he began to reap in the V50 category prizes at races such as the Kielder 10k and Lowther Trail race, and had a tremendous run at the Great North Run in September. For the first time, he was to run for the NFR team this year, along with the best of the Club at the Ian Hodgson and FRA Relays. So it is particularly shocking that his life ended so suddenly when his running seemed to be going from strength to strength.

Pat and I had an especially memorable day with him at the Morebattle Games Hill Race in August. The three of us spent a good few hours before and after the race enjoying the games. We couldn't have wished for better company than Geoff. The hill race took in part of St Cuthbert's Way and Geoff mentioned his plan to run the full route from Melrose to Holy Island. How poignant this seems now.
Geoff seems to have left a lasting impression on all those running friends who got to know him. Full of life and warmth, he was one of those rare and special people who seem to have a genuine quality about them, something that makes you feel better for having met them.
There was a particularly good turnout at the Alwinton Show Fell Race this year, where Phil Green led a heart-felt minute's silence before the start of the race. Running friends and acquaintances gathered in a show of respect and admiration for a friend, an inspirational runner, and a wonderful man whose passing is so hard to bear.
Rob & Pat, October 2009