> Will's December Headtorch Run: Helvellyn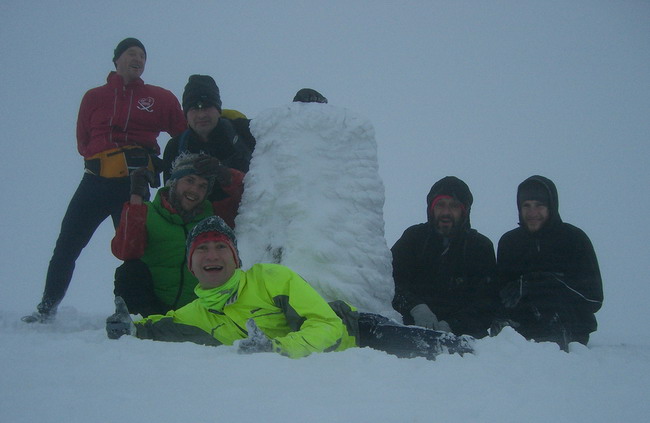 We all made it to the rendezvous point just a few minutes late as the weather was even worse than predicted. We couldn't get the cars in the car park due to the ice/snow/slush and so parked them by the gates outside. Fortunately one of the party had a shovel so we were confident we could drive away later. One of the party had reservations about doing the trip and also did not want to leave her partner behind so Dawn Metcalfe (DFR) and Mike waited in the car park.

We set off 15 minutes late but my schedule was generous and I was confident we would still make it to the summit for our target of 8:30am. We were: Will Horsley (NFR), Dougie Nisbet (DFR), Philip Owen (DFR), Andrew Charles (DFR), Joe Charles (Clwydian Ranges), and George Charles (no club). The pace was slow and it wasn't long before we were in two foot deep drifts. This was the drawback of taking the easy route up. The snow was also very wet and heavy. Every now and again we hit an exposed section where the snow was thin but this meant having to deal with ice. Above about 500m we were dealing with white-out conditions which meant we had nothing useful to guide our navigation other than a general sense of still moving uphill. Nothing, that is, except my new MemoryMap GPS device that kept us bang on the right path the whole way (we had back-up paper maps). Fortunately our route didn't present much risk in terms of cornices or precipices but there was still the odd section where we had to be careful. We made it to the summit plateau for 8:30am, our target, and the trig point just a few minutes later. There was, of course, no sunrise to observe, just a general feeling that things had got a bit brighter. We didn't hang around for long, just enough for a few photos. The trig point was covered in ice and we would probably have missed it had it not been for the GPS device which guided us there directly.

The descent was much more fun and we made it back right on schedule for 9:30am. I brewed up some coffee in the back of the car and we thawed out our hands and feet. After digging out the cars we headed in convoy to Bilbo's cafe in Ambleside (highly recommended) where we had breakfast. Later we met up with some NFR's for the Wansfell race and then had a late lunch in the White Lion directly opposite Lakes Runner. The day's drama was not over as Dawn and Mike had lost their only car key and had to spend the night in Ambleside before being towed home ... paid for by the AA. Not so bad after all. Keep an eye out for more adventures (the Horsley Tours™ next adventure is the Kielder race weekend on 15th to 17th Jan with the race on Saturday 16th).
Next head torch run is an urban adventure around Aykley Heads in Durham City on Thursday 28th Jan. Details nearer the time.
more photos from the day
Will Horsley
report and more photos on Elvet Striders' website