> Dexter's Roman Ramble (photos: Rob, Graham's shot of the Wall)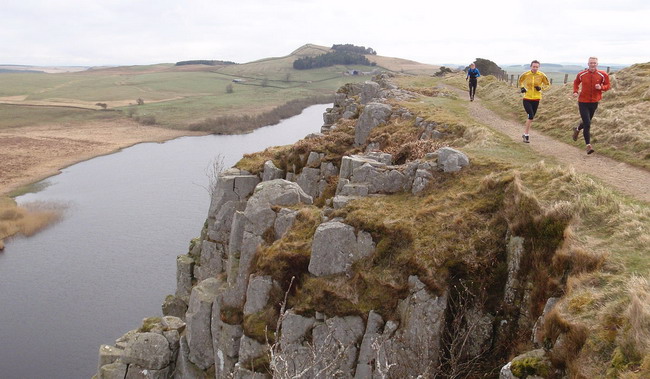 dramatic views
18th April, 2010
Again we were blessed with great running weather, if slightly chilly at the outset. Altogether there were around 17 of us plus a couple of four-legged friends. It was a nice mixed social group of NFR members, their friends, and a few well known faces from Tynedale Harriers. Eric and Sarah from Blackhill Bounders and two colleagues from Durham, Emma and Phil also joined us for part of the route. Eric being on a time limit and Emma tapering down for the London Marathon meant a slightly shorter option suited them better. Good luck to Emma for Sunday. [it turned out later that Phil and Emma actually went on to Cawfields and back - a slightly longer route than us! - ed]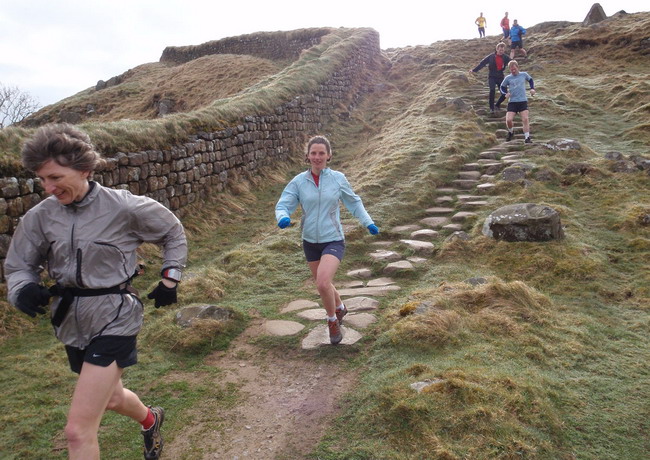 steppin' out

one of the most photographed trees around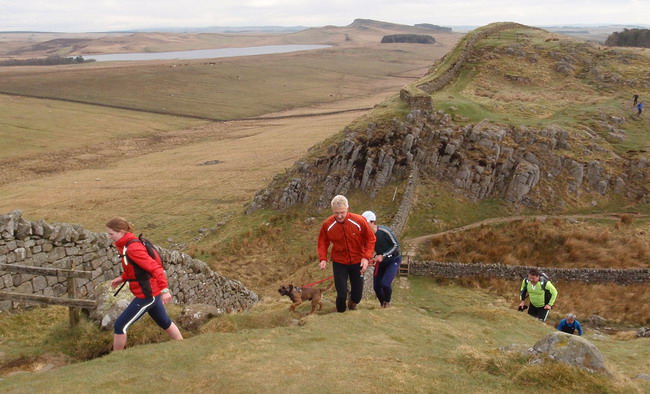 late arrivals, Neil and Syd race to catch up in the distance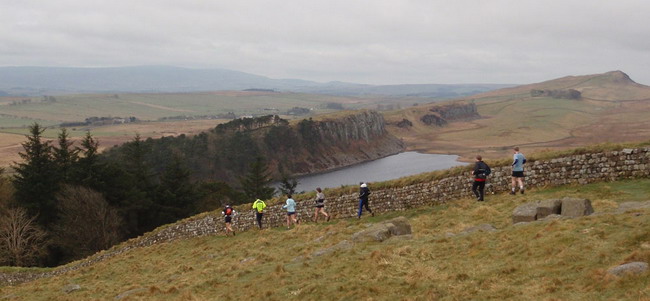 Crag Lough ahead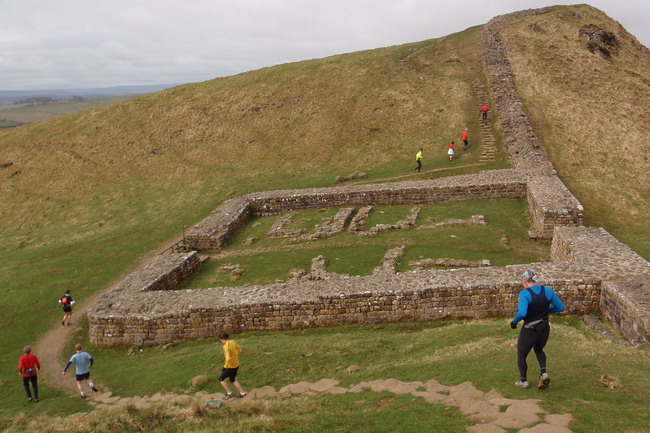 Milecastle 39
The rest of us covered the full route, plus a slight extra bit, courtesy of my route-finding ability ….or rather lack of it! We started at Housesteads car park, and headed up to the fort and then followed the wall west past Crag Lough, Sycamore Gap and to Steel Rigg. Eric and Sarah turned around at that point and we were joined by Graham Bingham and his spaniel.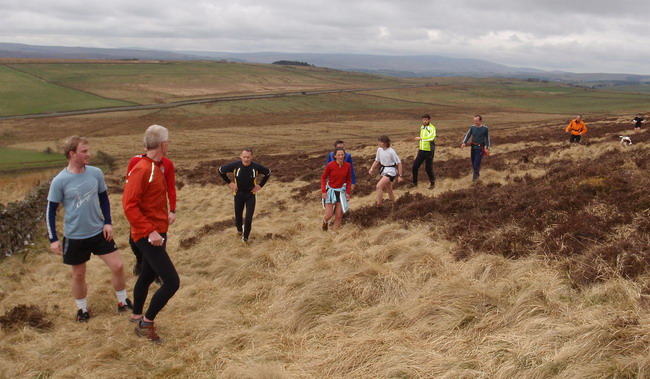 er ... slight detour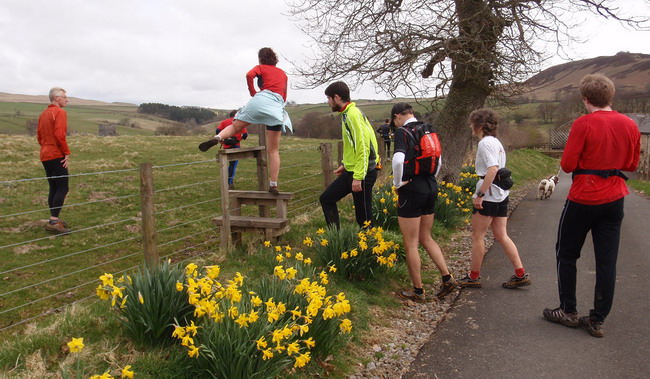 daffodils in bloom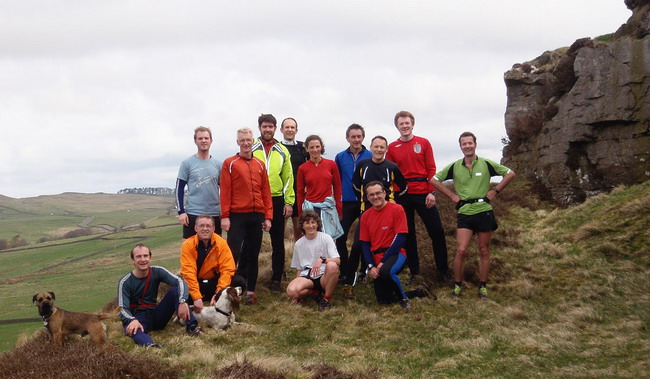 photo shoot near Long Stone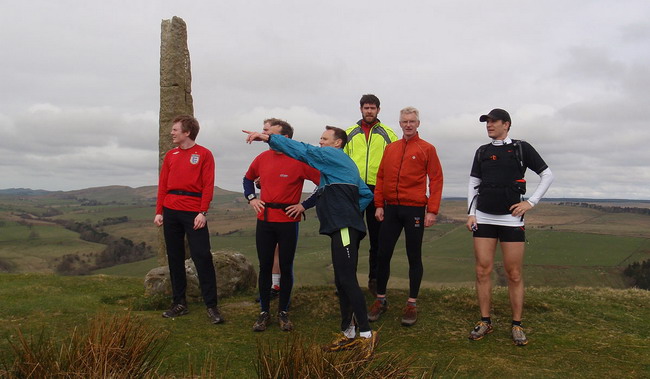 Long Stone with far-reaching views
We headed further west along the wall, past the trig point towards Cawfields, and then turned south past Whinshield Campsite, towards Cranberry Brow, and then back east past High Fogrigg and skirted Vindolanda Fort before climbing up onto Thorngrafton Common to the Long Stone monument. After a brief photo shoot, we headed north through Crindledykes back towards Housesteads.

that's Casper told!
Including photo shoots and general Sunday morning gossiping, we were out approaching 2 hrs 20 minutes. We covered about 11 miles / 2000 ft, and after doing the Coledale Horseshoe the previous day, my legs were definitely saying "That's quite enough"!
I hope everyone enjoyed the morning.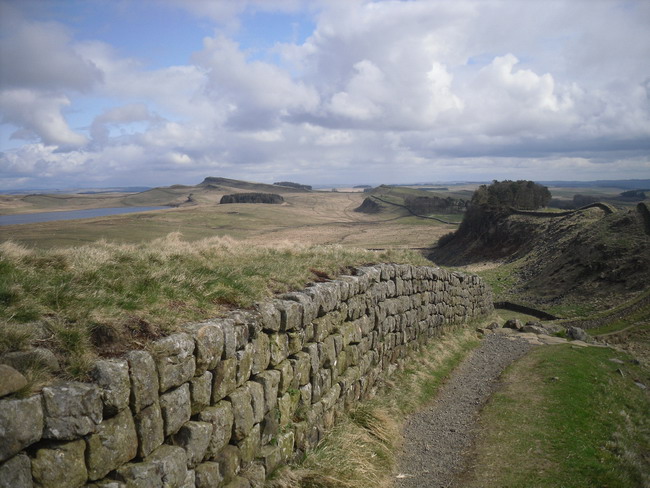 not a bad day for running - photo: Graham Bingham
Dexter
more photos from Graham