> Two into six doesn't always go - Philip Addyman (photos by Philip)
"Two into six doesn't always go"

Ben Alder Munro expedition, Philip Addyman and Scott Gibson, 26-28th Nov 2010
Before setting off into the wilds of the Scottish Highlands, it's important to have a dependable partner: Scott and I had weighed each up pretty well the weekend before in the Clay Bank West fell race, arriving at the finishing line in a near photo finish, so it was safe to conclude that we were well matched for a weekend of munroistic over-indulgence in the Ben Alder estate. Permission, permits and passes had all been obtained, signed, counter-signed and rubber stamped by the relevant better halves and so, with a bad weather, 220 miles and no supper yet, we set off from Ryton at the less than optimal time of 1730 with destination, "a little car park, somewhere near a power station on the little dead-end road to Rannoch station".

Arriving there at 2200 in a snowstorm, via much appreciated fish and chips in Pitlochry, we set about getting the kit on and double-checking that we really were in the correct starting point at Bridge of Ericht. After half an hour of beating the snow out of the car we set off walking, quite heavily laden, up hill, with the wind blowing into our faces and with 8.5 miles to make to base. At this point I made the rather silly mistake of choosing to leave my ice axe in the car, a decision that would lead to my fall from grace within a few hours time.

Up the estate track, towards the dam at the south east corner of Loch Ericht we paced, with the snow finally abating and some moonlight to aid our headtorches. Once over the dam it was onto more tricky terrain heading north. In places we missed the path, but were able to navigate by keeping the forest line on our left and the loch on our right and picking our way through the 100m strip of no-man's land inbetween.  With three miles to go we reached a black barn and then a more distinct path, however this was the section I was most worried about, as from previous reports I'd heard about how boggy it was. No troubles on the night though as the ground was largely frozen solid with a few inches of snow on top.

Finally, we crossed the little bridge and came to Ben Alder Cottage, expecting it be empty on a Friday night (or Saturday morning as it now was, being 1:30!) We startled the two lads from Stirling Uni who were sleeping in the Posh room and made ourselves at home in the middle room. A bite to eat and a quick shot of Highland Park and then 6 hours sleep before an 8 o'clock alarm. The night was cold, just 1°C on my Suunto and I'd forgotten how to work the baffle on my sleeping bag (is that why they call them baffles – because the baffle idiots?) so I was colder than should have been in a -3 bag.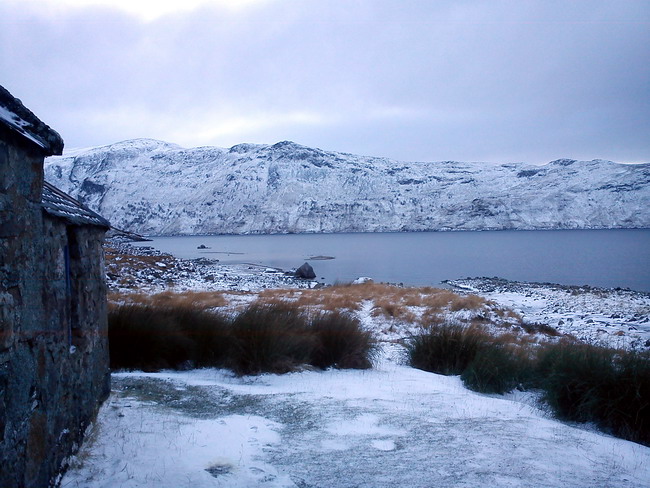 We had a good breakfast and were out by 9:15 with our big rucksacks left behind and day bags with food and other essentials on our backs. The snow was quite deep and not totally frozen above 750 metres, meaning that our feet didn't sink in the full 6 inches, but just 3 inches, which was still enough to sap energy and slow progress, although we still managed to do the 2.8miles with 730m of climbing to the summit of Beinn Bheoil in just 90minutes. Conditions were clear on the top and we quickly tapped the summit cairn and headed back down to the bealach for the ascent of Ben Alder from the east. Being two maths teachers, we had already done the sums and realised with the going this tough there was no way we could do the full circuit of six munros, which would involve us dropping down the Culra from Ben Alder, doing the Culra Four and then heading back over the Bealach Cumhann to the cottage. From Culra, which gives a more direct anticlockwise circuit than Ben Alder cottage, I had previously got round all six in six hours, but that was in relatively mild conditions of October, with no snow on the ground.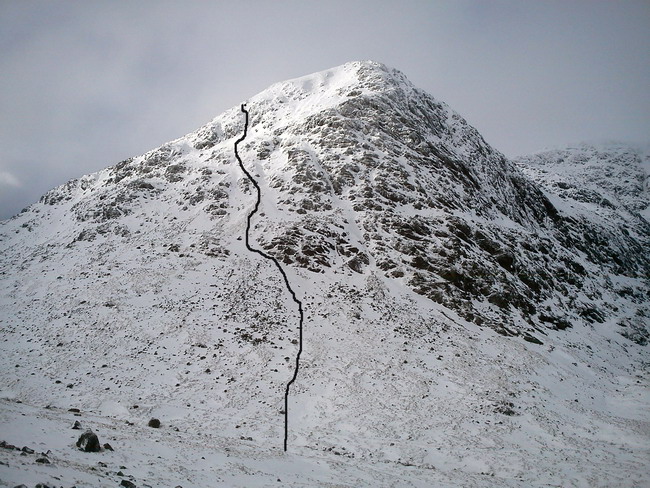 We dropped down to bealach, looked up at the snowy rock face ahead of us, decided it wasn't too extreme and started to climb upwards. We thought about ascending by the Garbh Choire, but, although it started off in relative tranquillity, it looked to rise viciously at the end to join the main summit ridge of Ben Alder. We were making quite good progress up our chosen slope to the left of the Choire, but it was apparent to me that I was under-equipped and the frozen snow that I was climbing nimbly on all fours was becoming increasingly more slippery. Not having the requisite ice axe or crampons I was relying on momentum and slight easing of the gradient in places to keep moving onwards. Finally, a moment of inattentivess, fatigue, bad luck, or all three and my grip was gone and I was sliding rapidly down hill. I seemed to right myself and end up on my front face down so I could see where I was heading. The ground was smooth but there were some small rocks ahead and perhaps a drop. I seemed to be rapidly approaching, but at the same time the gradient became less steep and my feet dug in deeper so that I came to a stop after 30 or so metres, a little winded, but none the worse for wear. Somebody up there likes me. But he may not again, so the ice axe I will carry in future. The axe would have stopped my slipping in the first place on a slope were an axe was definitely necessary, (but crampons would have been superfluous) and it would have certainly slowed me a lot quicker as I'm sure I would have sharp executed a pretty good ice axe arrest. I thought about the song: "This is my last descent / I think I'm making sense" and cantered back up to Scott, a little embarrassed. We carried on, taking a slightly different trajectory and then looked up to a final gulley leading to the skyline, where the face was even steeper. Scott led up, gallantly kicking in deep steps for me to follow in while he stabilised himself at each point with his axe. The chute was a good 20m in length and time passed uncomfortably as we progressed slowly upwards, finally emerging safely out of the top and on to the edge of the wide, open plateau of Ben Alder.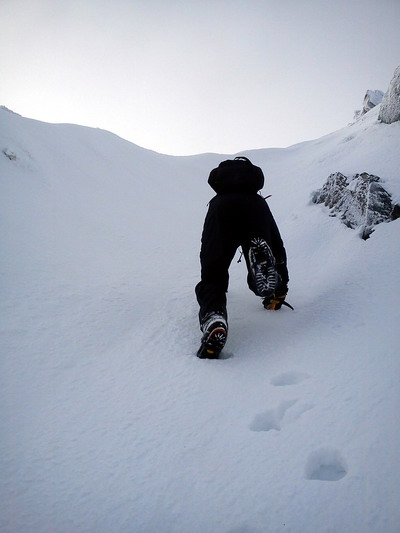 Finally a chance to sit down and have some lunch, a little smug in the knowledge that few others would be dining about the 1100m line that day. There was little wind and the sun was bright, but we did not linger long as the air temperature was around -6°C. We enjoyed the views in all direction: from Loch Ossian, with the Nevis range in the distance, to Culra and Loch Pattack to the northern tip of Loch Ericht and Dalwhinnie – all in splendid clarity.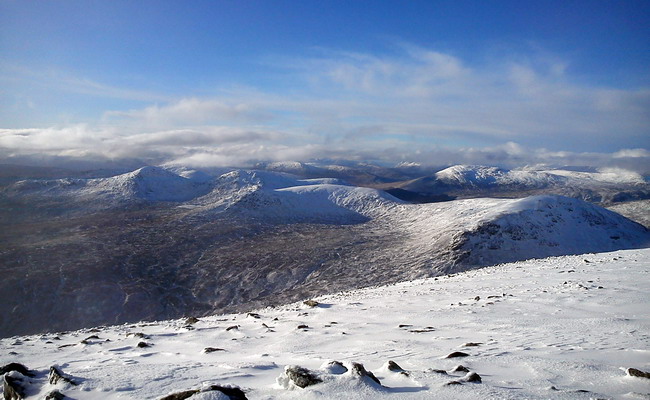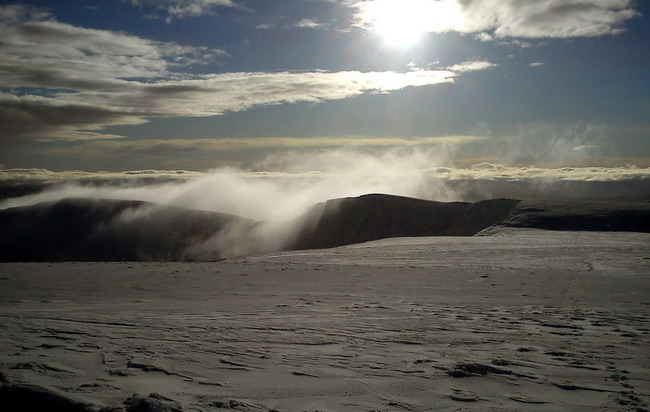 We pressed on over the frozen plane for the last 800metres or so to the summit cairn and stopped for the obligatory photos. Realising by now that the extent of our trip would be just these two hard fought munros, we descended from the summit westwards in perfect visibility to arrive at the Bealach Cumhann and then walked gently down hill the last 3 miles to the Cottage.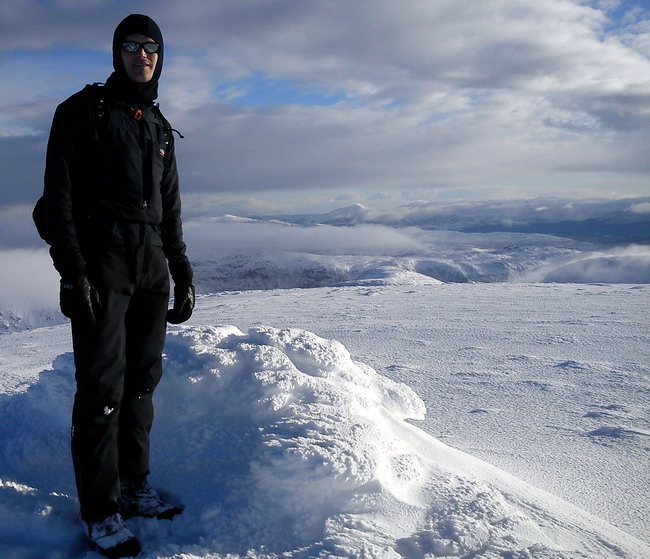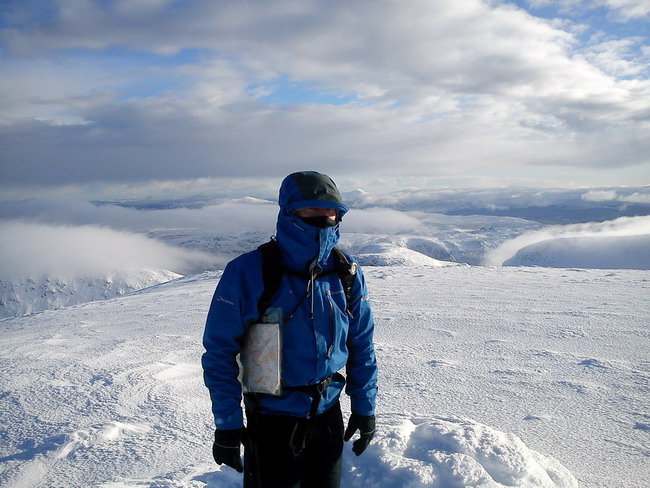 Even at the lower level of around 400m, the air temp was just -3 and when we arrived at the bothy around 2.30pm, after having some hot soup, we had to make the tactical decision as to when to start to use our meagre supply of 1 firelog and 6 peat bricks, knowing they only provided around 4 hours of heat. There were a few small twigs and pieces that would add to our stock, but perhaps not enough to get a roaring fire going. We set the firelog off around 3pm and then fell asleep for about an hour, only to be awakened by the arrival of a mixed quartet of Irish and Scottish bothy revellers. These guys gave us some of the wood that they had collected and we learnt the stove worked much better with the door open, so we settled down to a warm dinner of soup, chilli and, for desserts, Soreen cake with custard. All of course washed down with the last our combined supplies of Highland Park. We went through to see the other guys in the far room, they had got a good fire going and we having a laugh with the Uni lads who had come back with another friend. After just 6 hours sleep and 5 hours tough walking, we were exhausted by 9pm and went to sleep, although this was a bit disturbed at first by some mad stomping and chanting coming from the other room. Although a bit irritating at that hour, probably more entertaining than X factor or whatever.

We stuck to our plan and awoke at 07:30 aiming for a prompt depart and calculating we could return to the car in 2¾ hours as it was in daylight, we had used all our supplies, so were carrying much less weight and the final 3 miles would be downhill.  It was a blustery, bitter morning with snowflakes blowing in the wind off the loch, forcing extreme rapidity whilst one was at open-air toilet. All packed up and the posh room brushed as best we could with a broken brush, we headed off back along the bleak loch-side, admiring the menacing dark waters under a sulky grey sky. We were happy to see that our night navigation had led us on a path that was very close to the optimum daylight route. We made excellent time to the car and were all packed in and ready to drive away at 11:30. But then it all went wrong as we hit a big band of snow around Perth and had to divert to Stirling, finally getting home over 7 hours later, tired, happy and a little the wiser.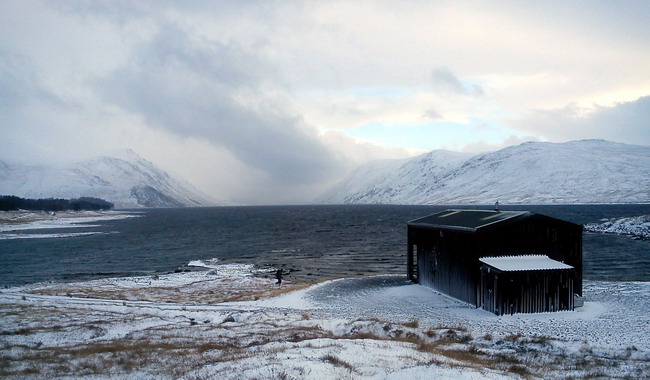 Philip Addyman
more photos from Philip