> Winter Wanders - Will Horsley (photos: Will)
Winter Wanders 1:
The December head torch run was attended by 15 runners. The smaller group meant that a more adventurous route could be used. It was a clear night but very cold especially when the breeze caught you. Ground was frozen in most places but some boggy patches and a couple of stream crossings had most finishing with frozen feet. A convoluted route meant that although we covered approx 7+ miles we were never far from our starting point. A few stuck around for food and beer in the Chester Moor inn afterwards.

Winter Wanders 2:
A winter BGR attempt - myself, Dave Gunning (NFR), Steve Gustard (DFR) and Tom Reeves (Elvet) made it to Wasdale for 10:30am on Saturday 18th December with me, Tom and Dave due to do leg 4 of a clockwise BGR (i.e. Yewbarrow to Honister) and Steve on leg 5. We knew the runner (Jim Mann, DFR) was an hour down after somehow ending up on Sharp Edge and so we expected him in at noon. Cue 90 minutes of hanging around a deserted Wasdale Head looking for any sign of life coming down from Scafell. By 1pm we guessed that it was game over for the BGR and this was confirmed when Jim and his team came in via Sty Head Pass at 1:30pm having bailed out on a very icy and zero-vis Bowfell. Note; of four attempts that day Jim got the furthest, no one else making it beyond Dunmail.

So the Horsley Four (plus Casper) set off for Illgill Head to Whin Rigg and return via The Screes. Much ice on the route but plenty of traction is the thin and crunchy snow. Had a play with my Microspikes (highly recommended bit of kit). De-iced the dog several times. Fantastic tumbling down Greathall Gill. Nice running alongside Wastwater .... until ... we hit the boulder field. Now we had to negotiate boulders of all sizes and shapes (but mostly jagged) covered in snow and ice. Progress slow and frustrating. We made it out and had a nice run back to the car, zip round to Braithwaite where Tom was staying for a pint in the Coledale and home 14 hours after the morning start. It was a long day but we made the most of it given the constraints - it is always a gamble to help out on the later stages of a BGR as the runner might never get that far, even more of a gamble when it's a winter attempt. Jim will be having another go!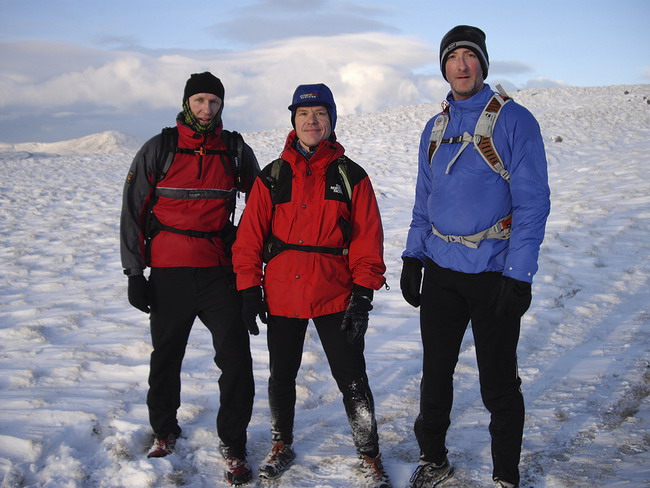 Dave, Tom and Steve
More photos here: http://www.flickr.com/photos/wjvh/sets/72157625518604001/
Will Horsley