> Ruth Fletcher Condolences from Northumberland Fell Runners
(newer messages at bottom of page here)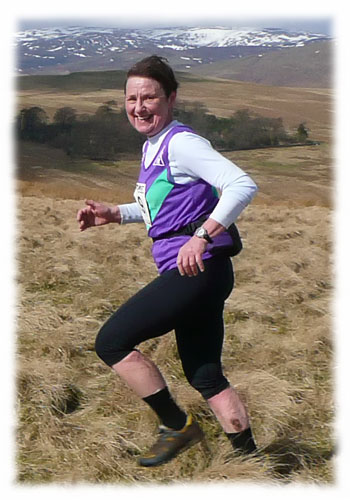 Ruth at Brough Law 2010 (photo: Pat)
It is with great regret that I send this message to you all.
I have just heard tragic news that Ruth drowned today in a diving accident off the Farne Islands.
I am shocked to the core by this terrible news. It was just on Thursday night that she was so full of life, laughing and joking with us all, as she so typically did, at the Beacon Hill race at Rothbury.
Ruth was one of the founder members of NFR, and whilst very well known by all of those longer-standing Club members, was perhaps not so well known to the more recent joiners.

Ruth recently became a Vet 60 and, even though she had some serious health issues a few years ago, continued to take on any challenge, shirking none.
Despite not being able to perform at levels that she had before, she just went out and did it. And enjoyed everything she did with a laugh and a smile.
What many of you may not know, is that in years gone by, Ruth's pedigree as an athlete was of the very highest standard. She held World and European titles in Triathlon and Quadrathon events and has enjoyed great success in fell races at every level. She has been an inspiration to those of us that have known her for so long. 
Ruth was truly one of life's great personalities and characters, and with great talent too. She will be very much missed. Races will be quieter places without her, of that there is no doubt! But they will be much emptier places too.
At this stage I have no more information about the day's events, nor about any funeral arrangements. I'm sure many of you will wish to attend and once I know I will post further information. If anyone else hears before I do so, please put the information out to the group in case I don't hear in time.   - Dexter
---
Ruth was a very dear friend to me.
I've just re-read the e-mail she sent before I went on holiday last week...usual Ruth style....interesting, funny, witty and full of everything that was going on. She was loving the diving and talked about the seals playing with her flippers. (I don't know who would be the more fascinated by the other!).
She has touched the lives of a great many people.
My thoughts and prayers go to her family and all who knew her. - Sue Mitchell
---
This is a terrible shock and such sad news. Ruth was a great character and a mainstay of the club. She will be missed by all who knew her and our sport is much the poorer for her passing. - Geoff & Susan
---
I am shocked and saddened at the terrible news about Ruth. I have known her since N F R was first formed. My latest memories of Ruth are from the race on Thursday night when she was running into the finish, legs covered in blood but laughing and talking as usual. She later drove off with the bike rack on the back and canoe rack on the top shouting out of her window to everyone "See you at the next race". She would have been looking forward to her next adventure.
The atmosphere at many fell races will not be the same without her presence. - Peter Reed
---
Very sad news Dexter, only met her a few times but always had a smile and laugh for everyone. Thoughts with her family and friends. - Billy Fraser
---
I am truly shocked and saddened, having enjoyed the crack with Ruth at the Chevy just two weeks ago. - Phil Green
---
This is very sad news I only met Ruth a few times but what a character my blessings are with her family. - Graham Wilkinson
---
 I am shocked and saddened to hear this tragic news. My thoughts go out to her family. - John Tollit
---
This is a real shocker. Didn't meet Ruth that many times, but her amazing enthusiasm always managed to ensure all around her were full of smiles.
Thoughts to her family. - George Nicholson
---
We're both saddened by this news.  Our thoughts are with her family. - Lee and Jill Bennett
---
I concur with all of the remarks that are being made about Ruth. My heart is feeling really empty at the moment. - Terry Hart
---
Truly shocking and sad news. Ruth was a remarkable character. It's not easy to take in the news that someone so full of life has gone. - Rob and Pat
---
Sad news, and my thoughts go out to Ruth's family. Despite only joining this year I had the pleasure to be laughed at and with by Ruth. Her smiles and sunny outlook will not be forgotten on the high tops or in the valley bottoms. - Andrew Burton
---
This is sad and tragic news, she will be greatly missed. - David Coxon
---
This is very sad news. My thoughts are with her family. - John Butters
---
Dreadful news ... she used to laugh so much about the parsnips we used to take to the Hexhamshire Hobby ... last time I talked to her was at the run you organised on a Sunday morning at Allenbanks ... what a miss she will be ... - Steven Brown (Tynedale)
---
Tragic news! - Ruth brought true perspective to fell races - Run & enjoy!! Ruth & I would laugh at the Cheviot Summit Race - trying to explain to my youngest son, Sam how Ruth would come in last by 15mins after being given a 15mins head start on the other runners. She laughed out loud at the perplexed expression on his face! A HUGE LOSS TO FELL RUNNING - Glen & Jack McWilliams
---
I have just read your email about Ruth, I am really shocked and saddened by this tragic accident, although I haven't been around much on the running scene I knew Ruth well from years back through doing the Cheviot Challenges and Ben Nevis race. I heard the commotion yesterday with the helicopter here at Seahouses but never give it much thought as it is a common occurrence at the weekends with divers and anglers getting into trouble and needing help. Never in a million years would I thought it involved Ruth. How very sad. - Billy Lawrence
---
I didn't know Ruth well, just the odd hello at the occasional (at least for me) fell race so Dexter's tribute has really help fill in the gaps and show what a rounded sportswoman and great personality she was. - Colin Blackburn
---
So sorry to hear such sad news, how fitting that in her final race at Beacon Hill only last week Ruth was a member of the winning NFR ladies team. What an example she was to us all on how to enjoy life. - Les Turnbull
---
During the time I've been fell running I never had the fortune to share any time with Ruth. Such a shame, she sounds like a wonderful person who has lived life to the full, I'm so sorry to hear the sad news. - Chris Little
---
Just seen the sad news on BBC TV about Ruth and a photo of her in her NFR vest. I can't believe it. I first met Ruth when she was competing in Ironman triathlons and quadrathlons. She was such a bubbly character with an infectious laugh and smile. She loved the Northumberland Races and crazy ultra challenges. Ruth would have a go at any adventurous sport and was an inspiration to us all. RIP Ruth you will be sadly missed by us all. - David and Valerie Atkinson
---
It was very sad to hear of Ruth's untimely passing. When I first joined NFR Ruth was one of the most welcoming, kind and enthusiastic people I met. I will always remember this and it is true to say that a sunny show field or a windswept Northumberland hill will be a sadder place without her. - Bernard Kivlehan
---
Just can't believe it. She was such an inspirational person. Last time I spoke to her at the Chevy she was getting all excited about her next triathlon and trying to get me to enter the race.

You would always get a great big smile from her at the end of any race. She will be sadly missed. - Louise Wilkinson
---
We were shocked to hear the terribly sad news. She was a giant amongst us and we will all be poorer for losing her.
I'll never forget her shout when we started up the first hill of the Allendale, perhaps at its second running; "come on lads - heads down arses up" followed by her usual and distinctive laugh. Typical Ruth!
At that time, she was doing some amazing races and had few equals in her sport. - John and Kath Dallinson
---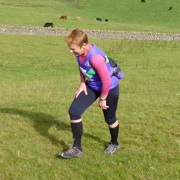 This is a very sad day and NFR and the wider world have lost a very true character who clearly achieved so much with a great zest for life. I never really got to know Ruth that well but had always admired her from afar. This had its origins following the Kielder Borderer on a very wet June afternoon in 2006. I recall Ruth trooping into the lecture room in the Castle (Race HQ for the day) looking like a half drowned rat with her trademark smile and proceeded to dispense of her wet clothes in full view of the thirty of so assembled throng chatting away with the enthusiasm of a schoolgirl just back her first school trip. This I noted was clearly no ordinary lady.

The only time I really spoke at any length to Ruth was over the phone last September to talk her through the Two Breweries route, because in her own self-deprecating manner she thought there may not be too many people to follow later in the race. Her genuine warmth and love of the hills shone through in that brief conversation The attached photo which I took a few days later on the first hill summed all this up perfectly. Whilst all the runners ahead of her had been deep in thought and concentrating on the job in hand Ruth had time for a smile and a quick exchange of words. Looking back it was clear who the real winner was that day. My thoughts are with her family and friends. - John Telfer
---
Both Iain and I have had the privilege of knowing Ruth for nearly 20 years, through triathlon and fell running. We were so shocked by the news but will hold dear the memories of Ruth and her outgoing personality that will always make us smile. You could always hear Ruth before you saw her. Standing at the start of a race you would hear Ruth's laughter, it would bring a smile to our faces because we would soon get a funny tale from her latest adventures. She had a heart of gold and will be missed by us and our kids who got to know and love Ruth. Our thoughts are with Bill and Ruth's family. - Karen and Iain Robertson
---
I am pleased that I saw Ruth at Beacon Hill on Thursday night. She drove into the car park, all smiles, and stopped in the middle without parking up. Of course she was bursting to tell another tale! After the Chevy, she had gone to the Forum cinema in Hexham. After the film, she had stiffened up sufficiently for them to offer her the use of the stair lift!! Of course, she shrieked with laughter at this! During the course of the evening, I heard her telling this story many times, each time accompanied by the usual laughter.
At the presentation, Paul announced that the NFR ladies had won the team prize - Karen, myself and Ruth. She was 'delighted' to actually be in the team, she said, not just the mascot! You will have seen the stray message from Ruth referring to a message that I had sent her when she had said that she didn't think she was good enough for the FRA relays anymore. I asked her to be the mascot, because I wanted her to be part of our team and partly because I knew she'd find it funny. (We had a laugh about it at Beacon Hill!)
I'll miss her at that race in particular because I know that she would have been a fantastic 'mascot'. We would have heard her voice around the course wherever we were!
Ruth had energy and enthusiasm in bucketfuls. She even tried to persuade me to do some night orienteering at the Chevy! I don't even know which way is up on a map, never mind in the dark. She didn't see this as a problem!!
I will think of Ruth as I run those relays, and no doubt at many other times. I will remember her positive attitude and determination and her vitality, so sadly taken away.
You will still be our mascot Ruth and I will still hear you cheering us on. - Steph Scott
---
We are really shocked and saddened that Ruth has died so suddenly. She was such a vivacious and interesting woman. Our thoughts go out to Ruth's loved ones. - Sally and Allon Welsh
---
Ruth was one of the first people to welcome me to the club. She always had time for a chat and a laugh. My thoughts go to her family. - Lyle Nicholson
---
I was cut to the bone this morning to find out about Ruth! I, like many people exchanged lots of cheery hellos at the start and end of races with Ruth, but never really went further. But just seeing the look of sheer determination on her face as she went around the hills and fells inspired me and I guess lots of others around her.
A truly sad day for the people and the hills of the North! - Karl Wait (Wooler RC)
---
It was a great shock to learn of the sudden death of Ruth. She was so full of life, so full of unself-conscious and infectious enthusiasm and so full of running that it is difficult to take in that we will no longer hear her familiar, reassuring voice ringing across the fells.

Over the last few years we had in common a habit of starting fell races from the very back (this because of her medical problem, as she told me later, mine because of laziness). Until I joined NFR this year I was running for NYMAC, but it was characteristic of Ruth to make friends with all-comers. We would frequently pass and re-pass each other, her presence behind being loudly announced by a humorous quip; she would then slow for fell banter before pressing ahead. If you caught her up, there was more banter and generous encouragement. On the Windy Gyle Race this June she was counting out loud as she passed me. I enquired why she was doing this "twenty walking, twenty running.. it gets me there". It certainly did. On the Chevy this year we were once again both at the very back at the start. Later on the approach to Cheviot heel I was running with Keith Cooper when a voice from behind preceded Ruth storming up at speed. As usual she slackened off to discuss our relative progress. My last memories of her are of her disappearing up Cheviot at a rapid pace and thinking "how does she do that". When I focussed up ahead I could see she was running twenty and walking twenty and it not only got her there but also to a good time and the v60 prize.

We will all be much the poorer for the loss of Ruth but at the back of the field we will especially miss the camaraderie and humour she brought to our fell-running lives. - Peter Whewell
---
I was immensely saddened to learn of the tragic death of Ruth in a diving accident last Sunday.

I had known her for many years, well before the formation of NFR, as we were runners who had migrated to the Lakeland fell races in the 1980/90's.

Whilst I am no longer racing and had not seen her for some time, I well remember her exuberant enthusiasm and joy of living.

May she rest in peace and my sincere condolences to her family. - Ed Watson
---
I was very saddened to hear of the loss of Ruth. Having just lost my mother, I am quite sensitive to hearing of the loss of anyone I know but it is particularly sad to me when someone so active and full of life dies tragically. It is a stark reminder of our own mortality. As one of the first members of NFR, I knew Ruth well back in the early to mid – nineties but having had to give up running in 1998 due to chronic back problems, lost touch somewhat in recent years. However, I still have a soft spot for fell running and do miss it and Ruth has a big place in my fond memories of those times when I could grace the fells with my presence. - Simon Gakhar
---