> Ruth Fletcher: a tribute from Dexter
Ruth Fletcher [1951 - 2011]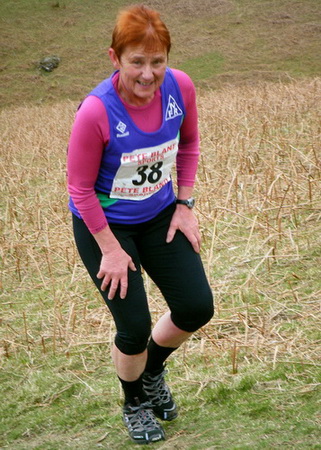 Ruth at Buttermere Sailbeck Race 2010
(photo: P. Armstrong)
Quite where does one start to do a brief tribute to Dr Ruth Fletcher? She truly was a one-off.

Ruth's achievements in athletic circles are too numerous to mention, and are spread over such a long period that many precede even my time of knowing Ruth, which covers close to 20 years.

But I am aware of enough of them to hold her in awe. These weren't simple disciplines; Ruth excelled in events that required immense dedication and talent, across a range of specialisms. She gained World and European titles in her age categories in Triathlon and in Quadrathlon, which is an extension of the Triathlon disciplines to also include canoeing.

I think I am right in saying she was recognised for her achievements by being voted "Tynedale Sports Personality of the Year" back in the 1990's.

One of Ruth's favourite training days, which became a regular weekend jaunt for her, was to cycle from her home in Stocksfield up to Allenheads, where she would treat herself to tea and cakes in the café, before cycling back again … and then continuing her training by swimming, running or canoeing!

Ruth did remarkably well in fell races across the country, many of which were the hardest in the calendar; such as the Wadsworth Trog and the Ben Nevis. I particularly remember my first Ben race in 1994. Ruth was there too. As I reached the summit, relieved to finally have the punishing climb over, I was about to turn for the descent, and whose raucous giggle did I hear only yards behind me? Yes, Ruth. Chattering and laughing with those around her, as only Ruth could do, even after fighting her way to the top of Ben Nevis!

Ruth achieved all her success whilst balancing a successful career as a Doctor. She then overcame some serious health issues during the mid-2000s, and a very demanding period travelling back and forward to her native Derbyshire every week to care for her family. She eventually returned to challenging fell running in her late 50s, after several years away from the sport, and having overcome an illness that she had thought had ended her athletic days. She returned with such relish, enjoying every one, no matter how challenging. And she ignored the fact that the early outings of her return to action, often, after so long away from the sport, left her trailing at the back of the field. But she didn't mind. She just loved being back out there amongst it, and her fitness duly returned.

I still fondly recall one of her "Big" birthdays. Probably her 50th, but my memory plays tricks. Ruth celebrated the event, not by throwing a big party, but by organising "Ruth's Birthday Race" from Allendale Fire Station to the Chimneys and back, followed by tea and cakes at Angus Tait's. There were more than 20 of us took part, and it was better than any big party would have been.
 
Ruth excelled in sports that involved water, with her swimming and her canoeing. They gave her so much pleasure and success over the years. It is particularly poignant, that in the end, it was water that claimed her life, after she had enjoyed so many years conquering it.

She and Angus Tait were very close friends, having raced and trained together for a great many years. It is a comfort that they will now be re-united in that great fell running place in the sky. I can just see them now, already organising the "Heaven Hill Race", where they will be able to race against Jim Wilkinson, Mike Fry and Geoff Scott in their very own celestial NFR Championships!

Which is rather a sobering reminder, of how NFR has suffered more than its share of sadness and tragedy, amongst its small membership, in its relatively short years of existence. Of how we should all grasp our moment and just get out there and enjoy doing it, as we never know when our time will be up. Ruth certainly knew how to get out and enjoy it, and she did so with such aplomb. She will be long remembered and sorely missed by those of us that were lucky enough to know her and share it with her.
Dexter