> Callums Wish to Walk & Hadrians Wall Run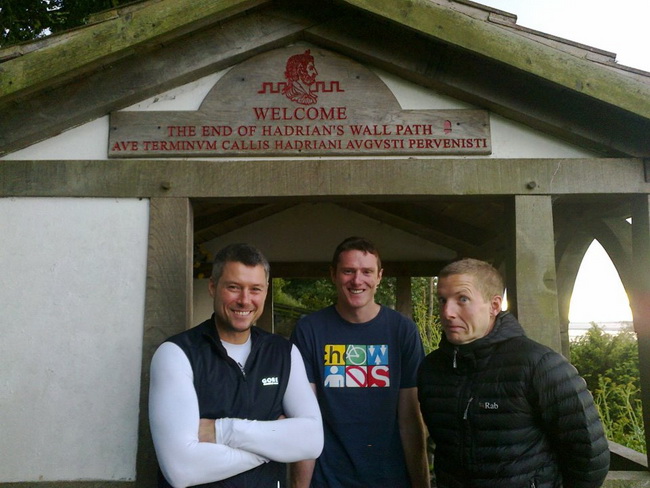 Matt, Phil and Lee - photo: Phil Smith
From Phil:
We set off last Saturday at 9pm and finished in Wallsend at 7:30pm on Sunday running the Hadrians Wall Way in 22hrs 40min. I'd like to let any NFR members know so that they may support us by sponsoring and and helping Callum if they wish.
Email below says it all.

Cheers

Phil

"Thanks for taking the time to read this email. I know it's cheeky to beg on a Friday but I'm not shy... I'm going for a run at 9pm tomorrow night...It will last for about 20 hours, over 86 tough miles of Hadrian's Wall from Bowness-on-Solway to Wallsend. To be honest, I'm shaking just thinking about it. It's possibly the biggest challenge I've ever taken on but I'll be in good company with my pal Phil Smith (he was born running) and he will be running the whole way with me.The weather is going to be horrendous, which means that my sandwiches will get wet and that always upsets me. And I'll probably get chased by a bull or something as well. This utter madness is all in support of a young lad called Callum Brown who has a wish to be able to walk again. The monies raised will help to send him to America for a life-changing operation, which is nothing short of awesome. Please make my pain, suffering and bull-fights worthwhile - All donations will be gratefully received and for those that can't be bothered, I'd like to point out that I'm a qualified sniper... No pressure there then. Donate here: http://www.justgiving.com/wallbangers, and then imagine the biggest thanks ever with a cherry on top... right at you! For simplicity, you can also text 'MERQ53 £1' to 70070. You can replace the £1 with another amount, but just £1 is good! Best wishes, Matt."