> Bob Graham Round: Allon Welsh
Bob Graham Round, Saturday 26th June 2010
I started at 7.00am on a 23 hour 30 minute schedule with Paul Appleby, Peter Reed, Jeff Ross and Phil Green. The day was bright with almost no wind, and promised to be warm.  We ran across the fields to Portinscale and then along the road at an easy pace.  I stopped briefly just after Little Town where Sally was waiting, along with other support drivers Les and Gwenda Cavill, and changed out of road shoes and into fell shoes.  On the short climb up to High Snab I was keen to get off the tarmac and onto the fells.  It felt good to run up the gentle track, but sweat started to pour off us on the steep grassy climb onto Robinson's ridge.  However, a cool breeze arrived and kept the rest of the first leg enjoyable. Visibility was good, and the views were superb. Everywhere underfoot was bone dry after weeks with almost no rain.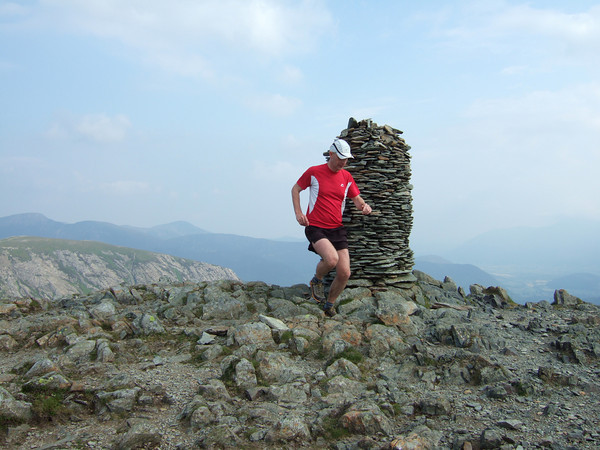 After an admiring glance back down the Newlands Valley from the summit of Dale Head, we reached Honister two minutes up on my schedule, but I was satisfied as I'd planned a gentle start to the day.  A cup of tea, and I changed into more robust trail shoes for the rocky sections ahead.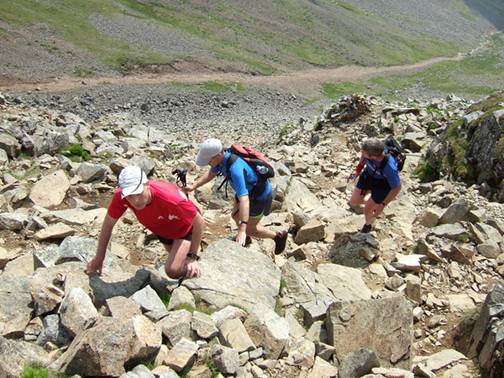 Paul and Jeff continued with me, along with John Telfer.  The sun was getting stronger, but we kept to the schedule and it felt good to get up onto the summit of Great Gable.  Jeff led me on a fast descent down a scree gully and I arrived on Kirk Fell 15 minutes faster than scheduled.  The rest of leg 2 passed in brilliant sunshine and with fantastic views: the long drag up to Pillar, the rocky crossing over Scoat Fell to Steeple, where passed the first of a number of clockwise Bob Graham parties.  Clouds were gathering by now over Sca Fell, and I wondered whether the excellent visibility would last.  We made good progress over Red Pike, with a fast descent to reach the rocky trod below Yewbarrow.  The descent into Wasdale was memorable, running down gentle grassy slopes to the lip of the drop, and suddenly seeing the car park appearing as if directly below us.  We found a good path, lost the good path and then found it again, and luckily didn't have too much trouble with the bracken which had shot up since my last recce.  I was glad of a bowl of soup and a fresh pair of socks to put on, and enjoyed reclining in my deckchair.  One of the strangest things I found about doing the Bob Graham is being the constant centre of attention; I remember glancing up from my soup when the conversation stopped temporarily to see a large semi-circle of people intently watching me.  Perhaps they just wanted me to finish the soup and get on with it.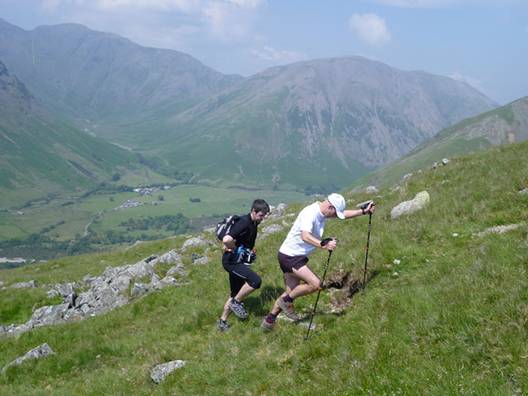 Peter Hayle, Keith Wood and Dave Atkinson joined me for leg 3, with the long drag up Sca Fell being the first challenge.  Although almost 3000 feet of continuous ascent,   it was surprisingly not as bad as I had feared, especially given how hot it was.  I made sure I drank frequently, and I was 25 minutes up after leg 2, so I felt relaxed and took it steady.  It was a relief to get over the loose scree near the top and have some more food.  Dave led us down Deep Ghyll, still cool, damp and gloomy  even after all the dry weather, to the West Wall Traverse and down the loose rock and scree of Lord's Rake. We pushed on up to Mickledore beneath the climbers on the cliffs and began the long crossing of the stony summits to Bowfell.  After a good descent, I started my "bad patch" between Rossett Pike and the Langdales:  a baby fox dashed into the rocks as we descended into Langdale Comb, but on the long drag up the heat of the day started to tell; my weariness grew and I had to battle off negative thoughts.  However, five minutes rest on Harrison Stickle with food revived me; I think I just needed a sit down. The worst of leg 3 was over and we set off at a trot towards Thunacar Knott.  The shadows were starting to lengthen now, and slowly the heat began to lessen.  No one was up on the fells now in the early evening, and the contrast to the crowds on Scafell Pike was welcome.  The grassy descent off High Raise and Sergeant Man were a pleasure.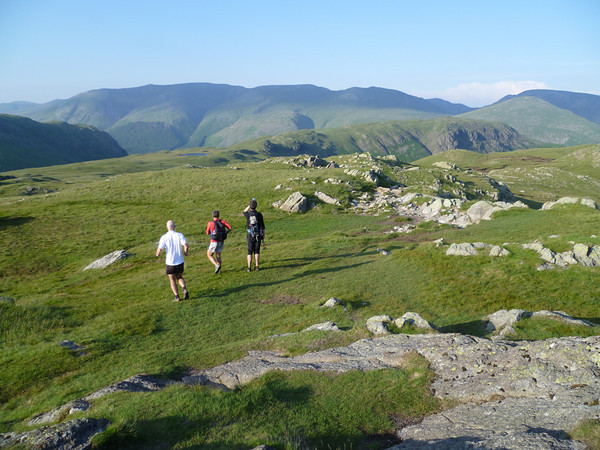 My spirits rallied in the cooler air; Calf Crag and Steel Fell seemed easy after the rocky tops of earlier that afternoon, and I felt I was going well.  As well as being the centre of attention, another odd (and gratifying) thing is how your support team cater for your every whim: all I had to say was "Water/ isotonic/ sandwich etc please!" and there it appeared. Dave sprinted down Steel Fell to place my order for macaroni cheese at his camper van where Val was waiting.  At Dunmail I was 45 minutes up, and past half way.  If only I could hack the steep lower slopes and long drag up Seat Sandal, and then the slog up Fairfield on schedule…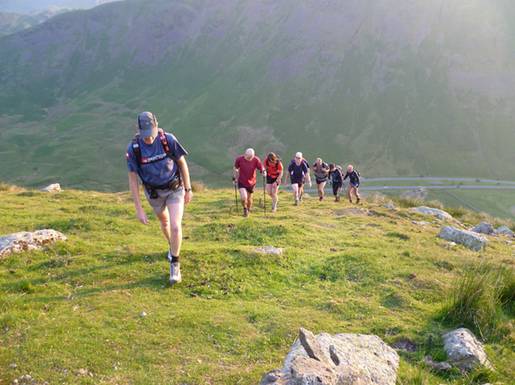 The support team mushroomed for leg 4; Peter Hayle continued and we were joined by Kevin Bray, Peter Moralee, Graham Daglish, Mike Jeffrey and my wife Sally, plus two of Kevin's friends. Seat Sandal felt hard but taken steadily was climbed just under scheduled time, as was Fairfield, its western side glowing almost pink in the light of the setting sun.  As we turned north with time in hand I knew I would complete the round, if only I could keep on going.  We had an exciting descent straight down scree slopes and steep grass to the outflow of Grisedale Tarn, and were joined by two Sues, Jeffrey and Calvert, who would do the section as far as Sticks Pass.  We were cheered on by a dozen teenagers camped at Grisedale Tarn; one asked if I was doing the Bob Graham, and when I said yes was told "You is a warrior!"  Unused to such compliments, all I could do was mumble, "Oh…thank you!"  as I headed on up the built path towards Dollywaggon Pike. The tops of the Helvellyn range were steadily crossed, as the sun sank over Skiddaw and a yellow full moon emerged intermittently from behind the darkening clouds in the south.  It stayed low in the sky and wasn't much use in lighting our way.  However, Kevin was a masterly navigator, and by the top of Clough Head I was elated to find that I was over an hour up on my schedule.  We lost a bit of that on the long descent, but got to Threlkeld still well up.
I forced food down and set off with Kevin, Will Horsley, Bob Sewell and John Telfer for the last leg. I managed the long climb of Hall's Fell to the summit of Blencathra a little faster than anticipated, but needed a couple of minutes rest at the top.  It was pretty cold, sitting on the ground in the darkness trying to eat and drink, so we started the long, gloomy drag across to Great Calva.  The dawn came little by little and it was light when we crossed the river to slog through the heather and reeds to reach the fence line for the climb.  It passed quite quickly and I found myself actually enjoying the run down on a dry peat path across to the base of Skiddaw.  I knew I had plenty of time in hand and enjoyed the luxury of a breather half way up.  Crossing the fence, it started to get cold, but reaching that last summit felt amazing.  My wife Sally joined us just after we began the descent, and we were joined also by lots of other friends from my support team on the way down.  I reached the Moot Hall at 6.24 am hardly believing I'd done it.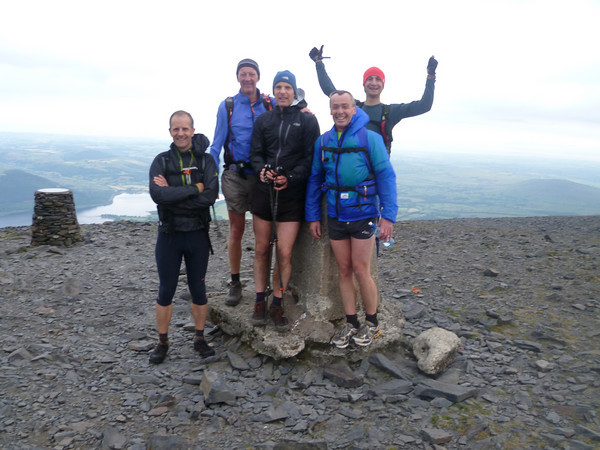 I must thank the brilliant and experienced team who supported me so well, both up on the fells and at the road crossings, many of whom encouraged, advised and trained with me in the months beforehand.  Massive thanks go to my NFR friends Paul Appleby, Peter Reed, Jeff Ross, Phil Green, John Telfer, Peter Hayle, Dave Atkinson, Peter Moralee, and Will Horsley; to Keith Wood of Saltwell Harriers; to my friends from Morpeth Harriers Kevin and Linda Bray, Bob Sewell, Sue Calvert, Mike and Sue Jeffrey, Neil McAnany, Les and Gwenda Cavill; and to Graham Daglish and Val Atkinson.  Finally and most importantly I have to thank my wife Sally who put up with months of Bob Graham talk and who did such a great job with the organisation needed on the day.
As well as being lucky to have such a great group of people to help me, I was blessed with clear weather and dry conditions under foot, which made the round a real pleasure as well as an achievement.  It's a day I'll never forget.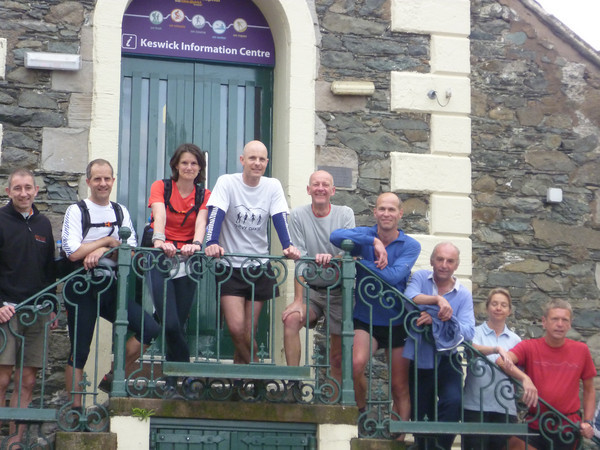 Allon Welsh
10.7.10