> Bob Graham Round: Chris Little
22nd May 2004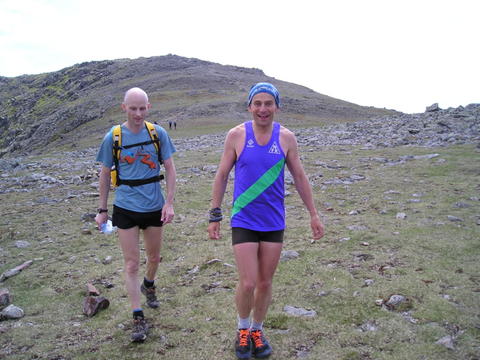 Background
I first started, off-road running last year, (in fact any proper running since being in Wallsend Harriers at least 17 years ago!) With a few recent Great North Runs and Boxing Day Pudding Runs, with accompanying hangovers, I made a New Years resolution to get fit and start running again. After a couple of trail races my first fell race was Alwinton on 17th May 2003 I finished toward the back of the field but really enjoyed it and after the Chevy Chase in July decided to have a go at the Lakeland Threethousanders. This was suggested by a friend, John Allen who normally accompanies me on caving and climbing trips but who also liked the challenge of undertaking these sort of things! The two of us completed this in 18 hours mainly walking and jogging the easy bits. It was during this that we discussed the Bob Graham Round, and what an incredulous thing this was. I couldn't imagine ever being able to do this and believed that this was only for the very elite of the fell running world, but marvelled at what it must be like to actually complete the round. Judging by the way I felt after finishing this I didn't even contemplate the BG being within my grasp! After completing some more fell races I found I really started to enjoy the longer races and did the Borrowdale and some of the other Lakeland Classics. I was now hooked, and even joined my local running club (North Shields Poly) to improve on the flat bits (which was my weakness) The BG now came back to mind, I read the reports on the NFR web-site and was just so inspired. I had to give it a try! I decided I needed a partner to train with, I needed the motivation to get out and do all that was going to be required so I put a post on the NFR e-group and very quickly got a reply from Paul Creighton. We agreed a date for our attempt and started training........
The Start
6.15am and I was anxious to get to Moot Hall in good time that morning I rounded up Dave, Lewis and Jan and we jumped in the car and drove to Keswick, arriving with enough time to sit in the car park for 5 minutes in nervous anticipation of what I was about to do. We found Paul and Lynne waiting at Moot Hall and were soon joined by John Dallinson, and David Burn in NFR vest and shorts (our navigator and pacer for sections 1 & 2) it was a bright clear morning but it was still cold and I admired their hardy constitutions as I donned my Ron Hills and Down Jacket waiting for 7.0am to arrive. A crowd of supporters and pacers had now gathered including 4 lads from Carnethy wearing yellow club vests who were also attempting the round. A quick round up for photo's then we were off...............
Section 1 - Keswick to Honister (The disorganised bit)
Support: John Dallinson (Navigator), David Burn (Pacer), Dave Eardley, Lewis Grundy.
I was following John Dallinson talking about which way he wanted to navigate us off Gable when he stopped at a street corner in Keswick and asked whether this was the way!! I thought he was joking, he wasn't! Neither of us had actually thought about having to navigate our way out of Keswick! The Carnethy lads came past so we followed them, over the footbridge and onto the roads towards Robinson. We were running at a good pace and chattering with the lads from Carnethy, I felt great. Dave Eardley another climbing buddy who I'd recruited for this section warned me not to talk all the way round otherwise I'd expend a lot of energy just gabbling on. Good advice which served me well in the later stages.
We approached Little Town to see the Carnethy support crew with fell running shoes lined up and refreshments but no sign of Jan or the Royal Mail van carrying all the support runners back packs with water and food. We waited for a few minutes to no avail and then decided to continue, leaving Lewis Grundy in case they should turn up. (I think in the hope he could maybe get some gear from them and catch us up! After all he'd completed his BG in 20.5hours) It was getting hotter and I was concerned we might become dehydrated, I was also concerned about running on the hills in road running shoes. We stopped at the stream from the reservoir before the climb to Robinson to have a drink. We reached Robinson and briefly admired the views as far as the sea, it must have been the clearest I'd seen it up here. Onto Hindscarth and running down towards Dalehead ridge where Paul swiftly descended past me, then pirouetted around as his road running shoes slipped on the grassy hill, nicely recovered and on up to Dalehead. Just before the ascent up, Lewis appeared carrying a Berghaus PacLite Jacket ingeneously tuned inside out and arranged as a water carrier from which we all had a slurp before continuing to Dalehead summit, six minutes up on schedule. (Thanks Lewis) We descended to Honister to find Susan Davies signalling Paul to the left car park and me to the right where our respective support vehicles were waiting. Neither had realised the other had arrived until they saw us descending by which time it was to late to reload tables and chairs etc and join up. This made things confusing because I couldn't see Paul to work out when to leave, so I hurriedly downed some food and water and started to walk towards them closely followed by Jane Grundy and Katherine Davis (supporting on section 2).......
Section 2 - Honister to Wasdale (The bloated bit)
Support: John Dallinson (Navigator), David Burn (Pacer), Jane Grundy, Katherine Davis, Glen McWilliams, Steve Walker.
We were soon all on our way up Grey Knotts; I was trying to down a ham sandwich, which Jan had thrown in my hand as I was leaving. I am not good at eating on the move and Jan had given strict instructions to my support crew to keep me eating. This was very firmly taken on board by Jane, as I was about to find out! I really enjoyed this section, the panorama and views are fantastic and you can just about see the whole route from Gable. We reached this without incident 2 minutes up on schedule for this stage. I was feeling really strong and actually felt the pace was slow, but was very aware that I'd only been going for 3.5 hours and needed to conserve energy. We followed John down the screes from Gable where he demonstrated his superior descending skills leaving us in his wake. He waited at the bottom for Paul and I, the rest of the team were still descending. Jane stopped to tell two walkers on their way up a better way to ascend rather than risk being stoned to death by flying rocks that were being dislodged by the rampaging fell runners. We continued on schedule to Kirkfell and Pillar, while chatting with Jane and being force-fed flap jacks and milky ways. We approached Steeple a solitary, pinnacle shaped outcrop with a lone walker perched on the very top. This is a really beautiful summit more akin to those on the Cullins in Skye. Onto Red Pike and then along a rocky traverse which leads onto the summit of Yewbarrow. Knocking off a minute on each against the schedule. This was the only part of the route I had not reccied and Paul had told me about how he was not looking forward to the descent off Yewbarrow. Rocks and divets were hidden by heather combined with the gradient of a double diamond black run it was not the easiest of descents to negotiate. We both descended together and in just over half an hour were running in to be greeted by a crowd of supporters at Wasdale. What a great reception!
Section 3 - Wasdale to Dunmail (The up and down bit)
Support: John Allen (Navigator), Jeff Davidson (Pacer), John Russell, Martin Armstrong, Paul Hainsworth
We were both sat down in chairs and our every need tended to. Food in hand, socks changed, drinks, energy gels. Jan told me she had been in radio contact with Martin and Paul Hainsworth who were setting up the ropes on the West Wall Traverse and that all was in place. John Dallinson & David Burn had done a fantastic job of navigating and pacing and were now to be replaced by a new team including John Russell, Jeff Davidson and the aforementioned John Allen who I'd recruited for his navigational skills. From this stage onwards we each had our own support team and we had agreed that we would each go at our own pace over the coming sections, and so we set off up Scafell, expecting to be pretty much together. We gained an unexpected lead on Paul as we neared the top of the steep section, I kept looking back to check on their progress to see them slowing until they were out of sight. I knew that something was wrong when they did not appear at the top of the gully, my heart sank and I realised that Paul had not continued. We'd planned on completing this together and had both put so much into training and organisation for this day, I felt very sorry for Paul but at the same time felt even more pressure to complete the round because of all the people who had turned out in support. I tried to put this to the back of my mind and pushed on to Scafell. We caught Martin and Paul by surprise who had not expected us up here so quickly, and saw them both run to the top of the gully which they had roped up. Martin handed me a Red Bull as John Allen descended first, I followed hand over hand using the rope to secure myself on the first steep loose section of gully this really speeded things up. Jeff soon followed and we made our way up towards Mickledore ridge and onto Scafell Pike, we'd managed to get between the two Scafells in 32 minutes! Onto Broad Crag and Ill Crag where John had to take a quick bearing to confirm which of the two outcrops with cairns was actually Ill Crag, of course it had to be the biggest and most rocky one. John then directed me and Jeff (pacing) from the path to the summit of Great End from where we were to re-join the path and hopefully the two Johns heading in the direction of Esk Pike. From the summit we got mixed up and headed off toward Glaramara by mistake, to be caught by John Russell in the nick of time who pointed us back in the right direction. Next onto Bowfell where again only me and Jeff summitted! we then carefully picked our way down the indistinct grassy traverse (which had taken us 3 weekends to find) to Rossett Crag, again witnessed by Jeff while the two Johns made there way around the path below. At Pike O' Stickle Jeff said his legs were getting knackered and volunteered John Russell to follow me to the top instead. At each top we seemed to be knocking off at least 2-3 minutes from the schedule and we continued to move at a quick pace. We'd kept leaving John Russell behind on the stoney sections (with 30 years of road racing and being new to the fells this was not his cup of tea) and now we were back on grassy tracks he was back on the pace. From Seargent Man we started the fast grassy descent following the line of fence posts. The lads now had the end firmly in mind and were talking about how much they looked forward to finishing soon and the pub afterwards, I reminded them that I still had another ten hours to go and to shut up! John skilfully navigated us on to Calf Crag and then to Steel Fell where I recognised the fence line from where to begin the descent. I could see a line of cars and people on the roadside waiting for our arrival as Jeff shot off down the hill and I struggled to keep up. Another amazing reception, as 20-30 people gathered by the roadside to cheer me in, even Dave Atkinson and co had put in an appearance after completing the Old County Tops. This was just so motivational!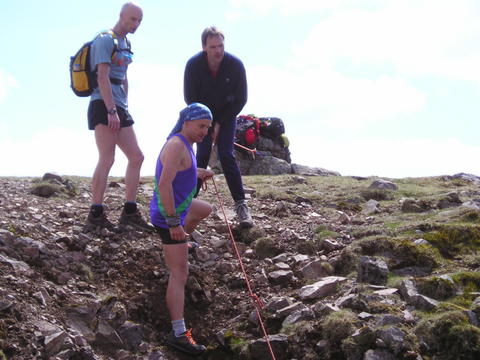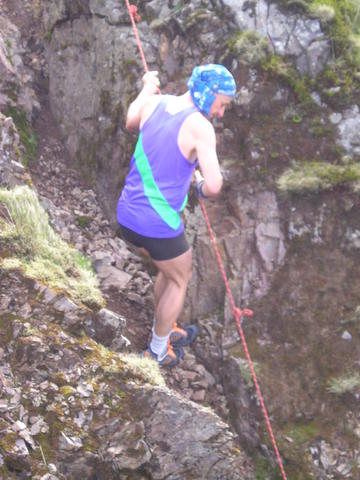 Section 4 - Dunmail to Threlkeld (The Night time bit)
Support: Geoff Davis (Navigator), Graham Daglish (Pacer), Paul O' Hara, John Metson, Kevin Bray & Nick Spencer
I knew I was in safe hands on this next section surrounded by an experienced team led by Geoff Davis (navigating) and Graham Daglish (pacing) We set off up Seat Sandal at 7.50pm at a quick pace, I was starting to feel the first signs of fatigue and sapping energy. There were another two big climbs ahead before the easier Helvelyn ridge. We reached Fairfield with the Carnethy lads just in front but took a better line of descent to Grisedale Tarn to leave them in our wake. On the last big ascent to Dollywagon Pike I was starting to feel drained, and didn't have the energy or inclination to talk. Geoff kept asking if I was ok, I replied, "fine"each time knowing that I had to stay focused and just keep going. Geoff was keen for us to reach Nethermost Pike before it got dark, this small summit is probably the most difficult to find but we got to it without any problems and continued along the ridge to Helvelyn then Lower Man, Whiteside and Raise as it was becoming dark. I'd stopped asking how we were doing against time and couldn't stop thinking about the next section and the climb up Halls Fell Ridge to Blencathra, I was really worried about this and whether I could manage it. I had hit a real low point, when Geoff asked if I wanted to know how I was doing against the schedule; overall, I was over 1 hours and 40 minutes up. Suddenly my mood changed and I knew I had plenty of time to spare and even if I did struggle up Blencathra I should have enough time in the bag to complete on time. Re-energised and motivated again we pushed on to the Dodds, even admiring the lights of Keswick and Penrith against the black, clear skyline chatting with Paul O'Hara. One overriding memory of this section is the support offered by everyone particularly Graham, whenever I asked for any select type of drink or snack that appealed the hunt would start through back-packs and amongst the line of support runners and they would always come up with the goods. We finally reached Great Dodd then descended Clough Head pulling back even more time thanks to Geoff's navigation. We met Susan Davis on the road leading to the A66, crossed this and headed to the next change over before the dreaded climb up Blencathra......
Section 5 - Threlkeld to Keswick (The Hard Bit)
Support: Stewart Gardner (Navigator), Charlotte Roberts (pacer), Kevin Atwell, Geoff Davis
We expected the cars to be waiting by the telephone box on the road junction but found nobody there, so we continued up the road towards the kennels to find only Charlotte & Stewart waiting, Jan was not their. We had arrived an hour before they'd expected us and when they did get their couldn't find us. A call to Charlottes mobile and they joined us 10 minutes later. A quick change of socks, and blister packs bravely assisted by John Allen who'd now joined Jan in the support vehicle and we were off. I had told Charlotte that I was really worried about this next climb I was reassured and told there was enough time to stop and rest on the ridge, but once I'd started I couldn't allow myself to stop I really thought that I'd never get going again! I was drawing on my very last reserves and was beginning to feel light headed and dizzy; I stumbled backwards halfway up the ridge to be restrained by Charlotte (thanks for stopping me falling off!) Eventually made the summit only 5 minutes behind schedule, I was amazed I felt as if I was so slow.
At the top Stewart took a bearing for Great Calva and we were off traversing around the hillside and descending towards the river at the bottom. It was black dark, no moonlight to even silhouette Calva. Stewart stopped to get the map out and check our location, he kept on doing this and even sat down with map and compass to figure out where we were, we traversed up and down changing direction, I kept quiet but was becoming increasingly anxious, could we be lost! I had visions of it all slipping away. However, after another map check and bearing we crossed the river and picked up the path & fence line to Great Calva, what relief! I asked how we were doing and we were still ahead of schedule. We bagged the summit and headed for Skiddaw we could see the lights of the Carnethy team now ahead of us, heading across to the slopes of Skiddaw. It was now starting to get light as the sun was rising, I knew that there was only one summit left before the descent to Keswick, this spurred me on and we started to catch the Carnethy crew. Three quarters of the way up and we were level with them and chatting away about experiences along the route. Two lone figures appeared on the summit of Skiddaw; Geoff Davis & Kevin Atwell had climbed up to meet us. We arrived on the summit with just over 2 hours left to reach Keswick; Charlotte said enough time to walk the rest and still finish before 7.0am. I knew then, I'd done it! With rekindled energy I decided to run the rest and the four of us set off on the long descent. We reached the car park at the bottom of Skiddaw to find Susan Davis, and Amanda with Jan and John waiting with my seat, food, drinks and road running shoes. I didn't need any of it, a quick hug for Jan and we were off again I didn't want to delay finishing. Cassy (Stewart & Charlottes dog) got stuck into eating the food that Jan had prepared for me and left in a pan on the ground. A few harsh words from Stewart and she came running. I felt quite emotional as I ran towards the bridge that crossed the A66 before Keswick; we cut through the houses to Fitz Park and approached Keswick High Street through the cut from the main car park. As we did Stewart shouted, "If you sprint this next bit you'll get in sub 23 hours. Imagine I'm just ahead of you in a fell race" I charged past him and through the cut into the High Street to a round of applause from everyone at Moot Hall. Paul Creighton was the first to congratulate me as I arrived it was great to see him. I was handed a bottle of champagne and sat down in my seat and felt proud of what I had achieved. Shortly after, three, of the four Carnethy team arrived to complete the round. We swigged back champagne (including theirs which they couldn't manage!) and I received congratulations from all there.
I do feel very privileged to have received all this support from everyone over the weekend. It really was a great team effort that got me around and enabled me to achieve one of my greatest goals to date.
Special thanks to Geoff and Susan Davis for all their help in pulling this together and supporting me throughout, and to Paul Creighton for all the support before and during the weekend, and especially to Jan for her 24 hour non-stop challenge of catering for and organising me and all in support at the road stops.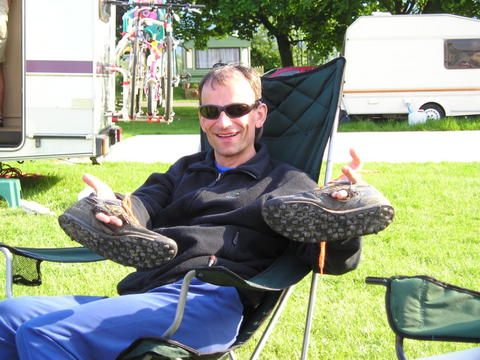 Chris Little