> Bob Graham Round: Charlotte Roberts
The 8th Wonder of the World: Charlotte's Bob Graham Round
1st-2nd June 1996
[Yes, believe it or not, I DID complete the BG way back in 1996 (aged 39), the year that I was the fittest I've ever been!]; this is an abridged version of my BG report with a little bit of hindsight. To anybody contemplating this challenge here are a few recommendations you may or may not want to take on board:
Start planning early – two years before you intend to attempt it so that if you get injured (like I did in 1995) you can defer for a year!
Do it whichever way round you want – there are pros and cons to both. If you want a good night's sleep before it do it my way (anticlockwise) - that's if you can sleep, which I can. If you want a pint or two at the end do it the Calder Valley Fell Runners (my previous club) way (clockwise). Whichever you choose, train the way round you intend to do it, stick to it, and don't get phased by what people say (but remember that you have the same distance and climb whichever way you go). Some people think clockwise is a bit easier but anticlockwise you have a wonderful end to the BG (straight off Skiddaw to Keswick – no running down the roads from Robinson
Choose a first class support team like I did as it really does help
Don't wear a watch (or at least don't be ruled by one) and don't ask the time until you get on top of the last peak, but this may not suit everyone (somebody will tell you if you are behind time)
I decided to go it alone as I did not want to be held back by a slower person or be struggling to keep up with a faster fell runner
Don't go "eyeballs out" enjoy the day and take as much as you want of the 24 hours you have (it's not a race!)
The hardest thing about doing the BG is planning the actual arrangements for the day – the training's easy in comparison! I left it late probably because I still had doubts about my attempt even three weeks beforehand. Anyway, everybody I asked to help were happy to do so which was a great weight off my mind (and they were chosen very carefully, mainly for their cheerful easy going dispositions i.e. people who could cheer me up and encourage me if the going got tough). So – if you are doing it anticlockwise and intending to get a good night's sleep, don't camp – a B and B is much more civilised.
THE DAY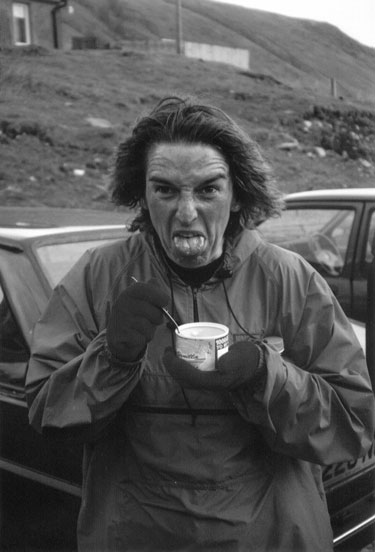 Keswick to Honister
6am came very quickly; the weather looked promising and Irene and Ted came to find me at 7.30am with all my belongings and food enough to feed everybody in the Lake District for 24 hours! What was great about my support team was that I didn't have to tell anybody what to do because they just knew what was expected. Jeff Winder and Neil Kemp were waiting at the Moot Hall for the 1 stleg but there were also the Simons (Lee and Fowler), and Andy Thompson, along with four children, to see me off (one his, one Jeff's and the other two for good luck – Irene and Ted were looking forward to entertaining them for a while). We set off to Honister on really quite a pleasant morning. Jeff knew the footpaths to avoid the Newlands Valley road – very pleasant – and we made good time to Honister even thought the wind was up a bit.
Honister to Wasdale
I felt good and, with some food and drink, I was soon off up Grey Knotts with Louise, Jeff and Andy, leaving a veritable army of support back at the youth hostel (Val Smith had turned up too). However, soon we had hit thick mist but Jeff's route finding was superb and before long we got to Great Gable. Next a mini-disaster struck. Myself and Jeff hurtled off down the screes to the tarns (well, Jeff really – I just went as fast as I could!). We arrived at the bottom to no sign of Louise or Andy – what to do – we waited a while, blew the whistle a few times and then decided to move on. There were two, no three, problems here: 1. Andy had all my gear (and in my caving days the motto was always never be separated from your gear), 2. Andy was doing the recording and had the pencil and paper, and 3. We did not know whether they were OK. Jeff assured me we had enough food and extra clothing for me and so we continued, assuming Andy and Louise were OK. Between us we remembered the times for all the tops on the next section. The mist lifted and dropped all the way to Wasdale but there were no further mishaps (and excellent navigation by Jeff – book him for your BG!). As we dropped into Wasdale via a lovely scree run we got a brilliant view and a great welcome from Irene, Ted, Jackie, Pete, Jess, Val (and Louise), whilst Andy arrived spluttering behind us by about 10 minutes with my rucksack – a great effort and pure dedication to the cause. They had not been able to keep with us down from Great Gable, had also got lost, and then split up with Andy following us on and Louise heading straight down into Wasdale.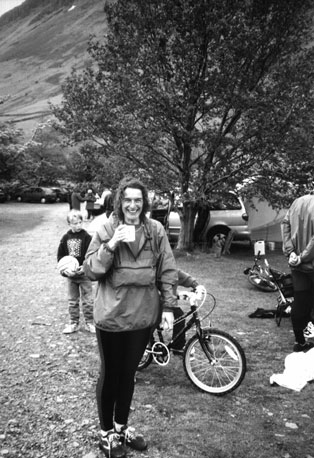 Wasdale to Dunmail
Irene's soup was perfect fodder here before the long climb to Scafell with Pete White and Jess Palmer. I was looking forward to this leg more than any other because during training I had enjoyed it the most, and how could I not enjoy the time with Pete and Jess? And so, up into the clag again but Pete had already got his compass out and bearings from his 1981 round (admitting they would have changed a bit over the years). We had organised for Simon F to meet us at the top of the descent to Broad Stand – very helpful, considering the weather. It was desperate down to the ropes that Simon L had rigged – very greasy. As we neared them, a display of food appeared and Simon L assured us we could eat what we wanted so we did!. The ropes (one round the waist and one as a hand line) were invaluable and we were soon on our way. One problem – Neil had got lost somewhere and had intended to accompany us to Dunmail! He had followed Simon F to the top of Broad Stand to check he was in the right place to lead us down. Neil then missed the four of us as we came down and was later discovered coming up Lord's Rake, having been nearly to Scafell, back down to Lord's Rake, Mickledore and almost to Scafell Pike where he had turned 180 degrees around and returned to Lord's Rake where he was found by Simon F. This made them all somewhat late getting down to Wasdale, knowing they had to pick up John Crummett and Mick Banks in Keswick. Amazing how I was totally unaware what was going on! To resume: we started to meet lots of people in the Scafell Pike area who were quite clearly lost but fortunately Pete and I got our navigation right between us (along with John Crummett's detailed route description)! Coming off Bowfell, we suddenly dropped out of the mist to the most stupendous views of Langdale, which we stopped to enjoy. We had a very pleasant jaunt to Dunmail, soaking up the views – this for me was what the BG was all about (enjoying the fells and the company). This section, however, contained one of my two lows on the BG – the long trudge up Martcragg Moor as it seemed to go on a bit!). A particular high was being in front of Jess on the fells for the first and last time in my life – well he had done the 60 odd mile Fellsman's Hike (in around 12 hours) and the LDWA 100 miler only a few weeks back, but it was gratifying to hear him comment that he thought pacers were supposed to be in front!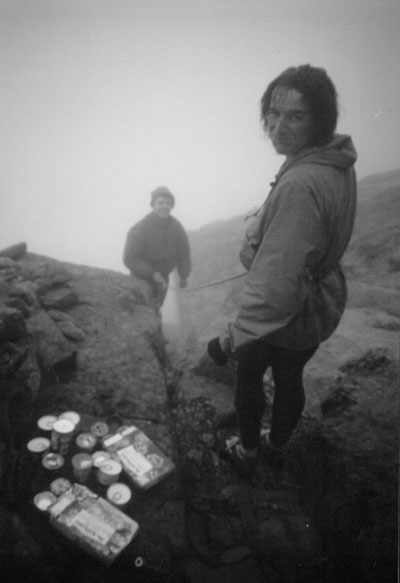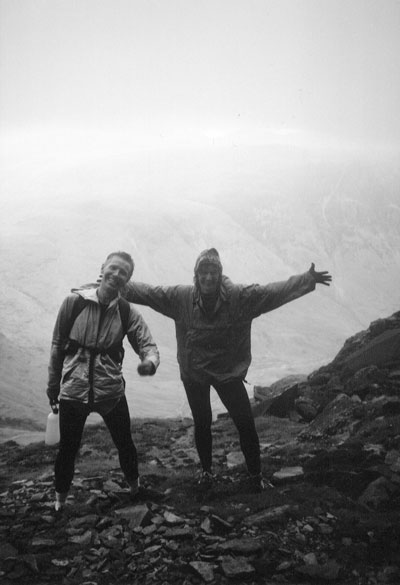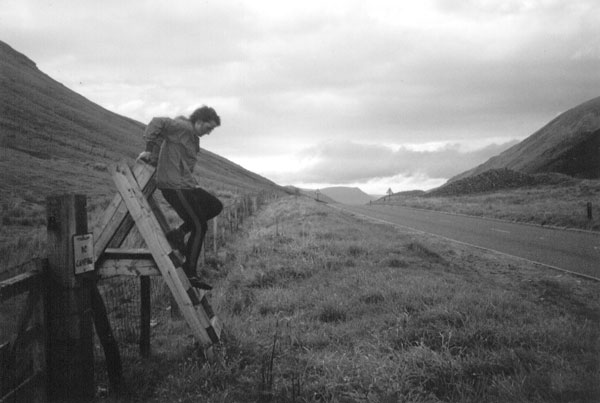 Dunmail to Threlkeld
At Dunmail Ted, Irene, the Simons, Neil (found), Jackie, Mick Banks, John Crummett and Penny White (the dog) were patiently waiting, although I don't think I was that far behind schedule! It was at this point that I started not to feel like eating but I had eaten and drunk so much up to that time that I wasn't too worried.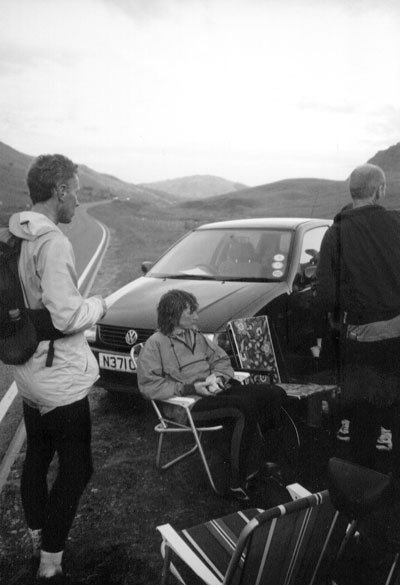 It wasn't long before we (John, Mick and Neil) were heading up Seat Sandal. I was dreading the next bit but it really wasn't that bad after all. Neil and Mick had a very interesting conversation about quantum physics which I was glad not to be able to contribute to so I could concentrate on the climbing; John went ahead leading the way. It was dark by the time we got to Fairfield but it was pretty clear and it wasn't long before Dollywaggon Pike was conquered (another hill I wasn't too keen on – not bad in the dark). We stopped for sustenance at the shelter before Helvellyn briefly (very cold and windy and the mist was well down), and then walked briskly along the Dodds to Clough Head. I couldn';t quite believe how well everything was going and how reasonable I felt at this point, and then the mist cleared. John found the bog by the fence down to Threlkeld from the coach road (thanks John) and we were met at the road by Irene, Ted, Simon L, Simon F and Jess (the latter two a little worse for wear from alcohol consumption). I think some whiskey had been drunk at Dunmail, then they had proceeded to drink in the pub at Castlerigg, and then in Simon L's car *the carry outs). I don't think Irene and Ted had ever envisaged what supporting a BG could have been like!
Threlkeld to Keswick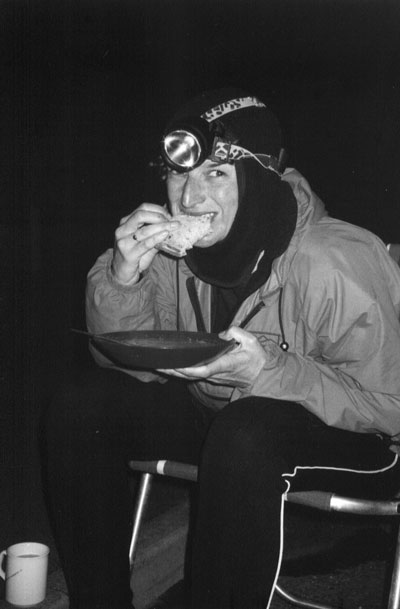 The last leg beckoned and some more of Irene's soup set me on my way (and John said I was late – it turned out to be 1 minute by his watch!). My other low point came next and that was the first steep section of Blencathra. I knew that I had to reach the top before dawn broke. We did, the weather improved and a wonderful dawn came; the sun shone and the Lakes looked fantastic. Great Calva was a doddle this year because all the heather on both sides had been burnt. Skiddaw wasn't as bad as anticipated – just a long slog but pleasant. I felt a little light headed at the top but stuffed some jelly babies down and felt much better. At this point I asked if we were OK for time. The answer was yes – we had 90 minutes to get to Keswick. The morning was perfect, the company great, and we mostly walked to Keswick. Irene, Ted, the Simons, Pete and Jackie were there to greet me at the Moot Hall. I felt pretty good – another of my life's ambitions accomplished.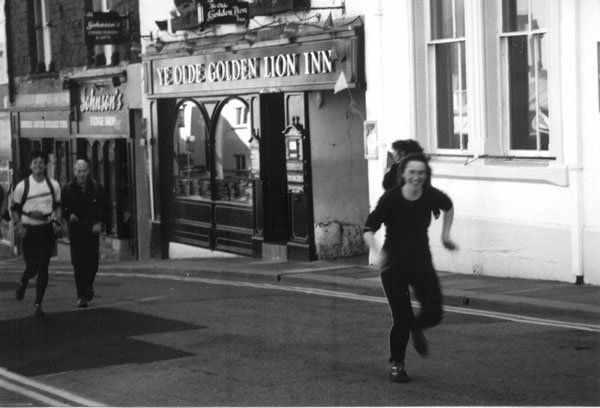 Many thanks to all of you who helped on the day (I would book you all again), and to those who weren't there but encouraged me during those winter training months. Last but not least, thanks to work for being so stressful that days in the hills had to be the best way to relieve the tension (and train for the BG).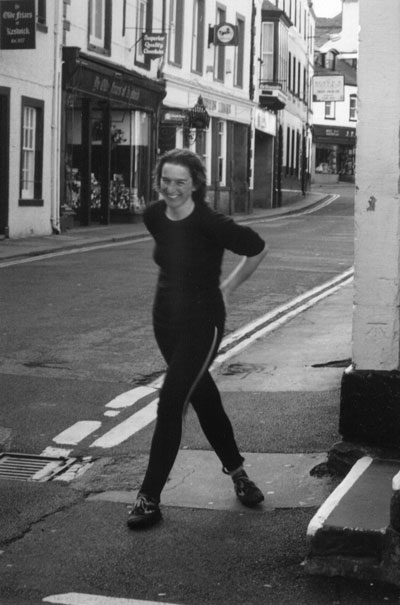 Schedule
Keswick to Honister
2hrs 17 minutes
Honister to Wasdale
3hrs 51 minutes
Wasdale to Dunmail
6hrs 24 minutes
Dunmail to Threlkeld
5hrs 17 minutes
Threlkeld to Keswick
4hrs 42 minutes
Total time:
23hrs 42 minutes
Rest time
1hr 11 minutes
Detailed schedule
Keswick
08-00
Robinson
09-34
Hindsgarth
09-53
Dale head
10-06
Honister
10-17
Honister
10-27
Grey Knotts
10-49
Brandreth
10-56
Green Gable
11-11
Great Gable
11-23
Kirkfell
12-05
Pillar
12-50
Steeple
13-10
Red Pike
13-30
Yewbarrow
14-00
Wasdale
14-18
Wasdale
14-43
Scafell
15-55
Scafell Pike
16-31
Broad Crag
16-44
Ill Crag
16-57
Great End
17-07
Esk Pike
17-32
Bowfell
17-52
Rossett Pike
18-25
Pike O'Stickle
19-10
Harrison Stickle
19-25
Thunacar Knott
19-33
Sergeant Man
19-48
High Raise
19-55
Calf Crag
20-20
Steel Fell
20-45
Dunmail
21-07
Dunmail
21-27
Seat Sandal
22-06
Fairfield
22-37
Dollywagon Pike
23-22
Nethermost Pike
23-40
Helvellyn
23-53
Helvellyn Low Man
00-04
White Side
00-14
Raise
00-31
Stybarrow Dodd
00-53
Watson Dodd
01-05
Great Dodd
01-20
Clough Head
01-56
Threlkeld
02-44
Threlkeld
03-00
Blencathra
04-00
Great Calva
05-14
Skiddaw
06-26
Keswick
07-42
Training for the BG
Psychologically speaking, to achieve the BG I needed to head for the Lake District at any opportunity to train on the hills and over the route (and learn it well). However, I know people who have completed the Round without ever training in the Lakes or knowing the route (although I feel that not knowing the route is a disadvantage; if you do a lot of your training there then you know what is coming and can pace yourself). However, attempting the BG shouldsurely include getting to know the route! I concentrated on long distance races and 'events' in the year before my BG, and climbing several thousand feet many weekends in the Lakes, but also in the Howgills or Yorkshire Dales when I couldn't spare the time to travel much further. Below is my training log which may be helpful to those contemplating the BG in the future. I trained with many different people, and with some who also completed the BG the same year (Andy and Jess two weeks later). I also did a lot of training on my own; it has to be said that it was often painful to get up early yet again at a weekend after a hard week's work to be in the Lakes at 9am but it was well worth it!:
1995
June
Ennerdale Horseshoe Race (23 miles)
Capricorn two day orienteering (A class)
July
Saunders MM
Walking in the Pyrenees
August
Borrowdale Race (17 miles)
Dalesway 84 miles walking and running
Kettlewell 15 miles walking and running
Cray to Hawes 15 miles
Lake District walking and running 15 miles
September
LAMM (Mull)
Lake District Mountain Trial (15 miles and 5000 feet)
October
Ian Hodgson Mt Relay 1st leg
Howgills 15 miles walking and running
KIMM (Long Score)
November
Copeland Chase (Long Orienteering)
Winter Hill race (15 miles)
December
Snowdon walking for 10 miles
Calderdale Way Relay Leg 6
Stoop Fell Race 5 miles
Scotland for 4 days walking and skiiing
(additionally running with Calder Valley Fell Runners every Tuesday night for 1.5 to 2 hours on hills)
1996 (more detailed)
January
6th-7th Marsden to Edale walking return (40 miles)
9th Run 10 miles
12th Run 6 miles
14th Dales walking and running 18 miles
16th Run 12 miles
18th Cycle to work (25 miles round trip - hilly)
20th Run 6 miles
21st Lakes 12 miles and 2700 feet walking and running
23rd Run 10 miles
February
4th Howgills 10 miles 5500 feet walking and running
10th Haworth area (3 hrs slogging through deep snow)
11th Derbyshire training for the High Peak marathon
18th Dales walking 15 miles
24th Wadsworth Trog race 20 miles 4500 feet
March
1st-2nd High Peak Marathon (40 miles)
9th Langdale to Patterdale 18 miles 4000 feet walking and running
16th Haworth Hobble 33 miles 4500 feet
23rd Patterdale 15 miles 5000 feet walking and running
24th Kentmere 12 miles 2400 feet walking and running
30th Lakes 15 miles walking and running
April
(in USA most of April; I was very worried about losing out on training but I did as much as I could and was in to the Lakes as soon as I got back!)
3rd-4th walking in Great Smokey Mountains
6th Run 8 miles
9th Run 6 miles
12th Run 6 miles
14th Run 4 miles
23rd Run 10 miles
25th Run 6 miles
27th Lakes Wasdale to Wasdale round trip
28th 3 Peaks Race (support up Pen Y Ghent and Ingleborough)
May
1st Great Whernside walking 10 miles
2nd Run 6 miles
4th Honister to Wasdale to Honister
5th Dunmail to Keswick
6th Keswick to Honister to Keswick
9th Run 6 miles
12th Howgills running and walking 14 miles 6000 feet
14th Run 6 miles
16th Lakes 6000 feet
18th Lakes 6000 feet
20th Cycle to work
23rd Lakes 15 miles 5000 feet
24th Short walk
25th Short run
31st BOB GRAHAM ROUND
So – you don't have to do masses of training but the training has to involve climbing a lot and long distances ('time on your feet'). I did a lot of long distance races and all three Mountain Marathons the year before, but in 1996 I only did three races ( bold), at the end of February and the beginning of March. I had a reasonable idea of my times over the main five sections but I never timed myself between the tops. I do believe that if you do quality training and know the route, have a good support team and weather, then there is every reason to believe that you can complete the BG in 24 hours. It is a fabulous route and has to rate as my best 24 hours on the fells – a truly enjoyable day. Go on, you know you want to!
Charlotte Roberts