> Bob Graham Round: Lewis Grundy
2nd May 2004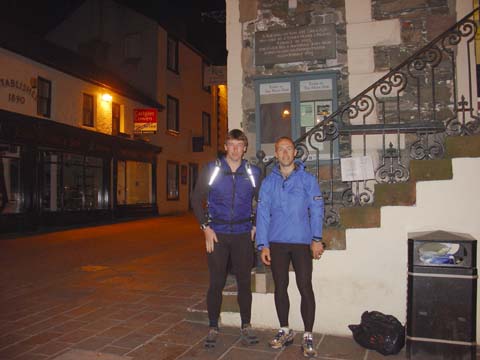 Suddenly it was really happening! As I jogged through Fitz park feeling sluggish with food, I began to realize that my attempt was finally underway. Joe and I headed out alone, deliberately just us two, as I wanted to take the first leg steadily and calmly. I remember the moon, the countless little pains and niggles in knees, hamstrings and head that had been with me all week, the quiet remoteness on the summit of Great Calva and marveling at the perfect weather and forecast - warm, dry, windless - all down to me now ! We made perfect time, and perfectly on course hit the summit of Blencathra at 3.25am, the rest of the round out there ahead in the dark. A dry Hall's Fell Ridge was fun, despite Joe's torch going, and we jogged into Threlkeld only a few minutes down, despite a solo contender also called Joe running through ahead of us to confuse the next leg team!
I was thrust in a car, fed rice pudding and coffee, and put in the hands of Nick, Clare and Wayne, the same team that took Jane round the same leg, 4 years ago. By the summit of Cleugh Head we were up on schedule, and the four of us shared a magical 3 hours 49 minutes watching the night sky lighten, the orange glowing moon slip away and a still, beautiful dawn break over Cross Fell.
All the way round, though the pace felt good, I couldn't tell how quickly we were going - I needn't have worried, but a doubt that lasted 'til Gable as to whether we were too fast or too slow was one of the few things that detracted from the beautiful views. Joe had warned me about the dawn wobble, as lack of sleep kicks in, and I had mine going up Fairfield. The climb looked big as we jogged down Dollywaggon, my left knee was starting to hurt and Yewbarrow felt a long way away! The pace stayed solid though, Seat Sandal came and went and we shuffled down to the road, really looking forward to a change of shoes, cup of coffee and seeing Jane.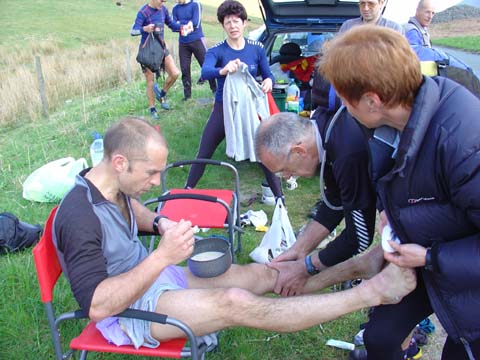 I was met by a pit team to rival Schumacher's, and simultaneously shoes were removed, knees massaged, porridge presented and coffee thrust into my hand. I felt physically lifted by the support of all those there. It was a beautiful morning, and very soon it was time to be up and moving before life in the deckchair got too comfortable! The coffee was great, but I overdid the porridge and Steel Fell was a bit of a struggle with a great lump of warm oats dragging me down.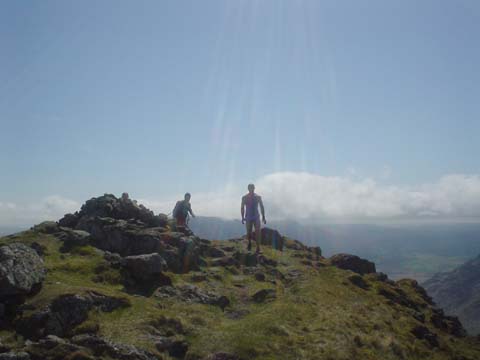 The weather was warming up, and with Dennis demonstrating his inch perfect navigation on leg 3, we enjoyed a beautiful morning, steadily ticking peaks off.
Every so often I would look around and realize that this was it - it was actually happening! Malcolm and Chris did a good job of feeding me, John told jokes and took the photos, and together we made good time. Chris Little's Broad Stand set-up was text book standard and though my left knee was getting really painful by now, I jogged happily down into Wasdale, feeling so lucky to have such professional support and perfect weather!
Yewbarrow was my personal bogey hill - the ascent had always loomed large in training runs, but after a sunny and relaxed stop in Wasdale, the climb went well, and soon Mike, Dave and Jerry were leading me round my favourite leg. I was tired, but determinedly stuffing the food and drink down at least every hour and enjoying the fact that it was cooling down a little, with some cloud finally blowing in to cover the tops. Having lots of the NFR club around to listen to helped, as one of the tricks is to try and put your mind somewhere else when things start to hurt.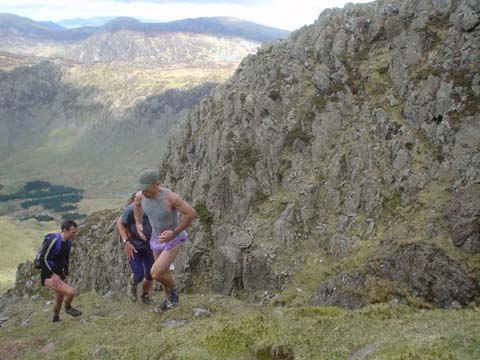 What they say is true - the downs are worse than the ups after a while, and my legs were complaining a little now. I still enjoyed my favourite descent though - if you get the line right down to Honister from Grey Knotts, it's a swooping grassy line, at just the right angle to let gravity help, and I jogged into the slate mines knowing that little could stand in my way. The team were inch perfect, even in location of the deck chair and food ! Jane and the road crew had had to revise their times progressively further and further forward as we made time on the schedule, but looked like they were happy that it was going well. It was gradually turning into a day full of smiles.
Eating was hard now, most things no longer tempting me (Jane will never believe that my dustbin capacity appetite had waned !) Chocolate and Go drink still worked though and I sucked down a final bottle as we chugged up Dale Head, the last tough climb. Stewart and Charlotte were in charge now, and actually had to put their navigation skills to use as the cloud base lowered below the last few tops.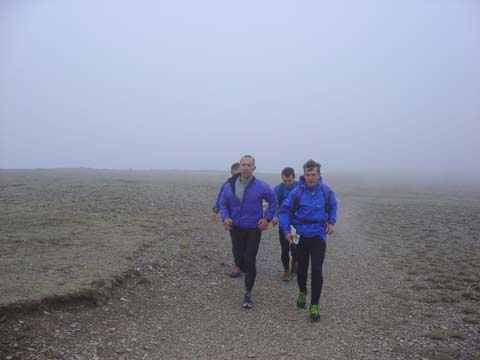 The fantastic preparation of all my support team was one of the high points of day for me - not a second was wasted from start to finish, not a single wrong step or poor line taken and, as all I really had to do was keep jogging along, it felt like a real team effort.
The road was hard - at least changing into road shoes was a temporary relief, Ruth wasting no time in ripping my fell shoes off - but only grim determination kept me running through the final few miles to the outskirts of Keswick. The party around me was growing, well wishers joining up and as we jogged up towards the Moot Hall, I was surrounded by a happy crowd.
I touched the Hall, stopped my watch and kissed Jane. 20 hours, 34 minutes and 53 seconds. A wonderful, moving, sunny, mad and stubborn day, full of hills and friends. What a fantastic mix!
I made it to the pub as promised - beer and crisps at the end had been the challenge. It was a bit surreal, sharing a pint with the team, holiday makers and locals, and it was a mistake, as Jane had assured me. The chips lay uneaten as I crashed out at Joe and Lindsey's. The aches and pains of the week that followed are a whole different story ........
Thank you to all who helped me - it was a perfect day!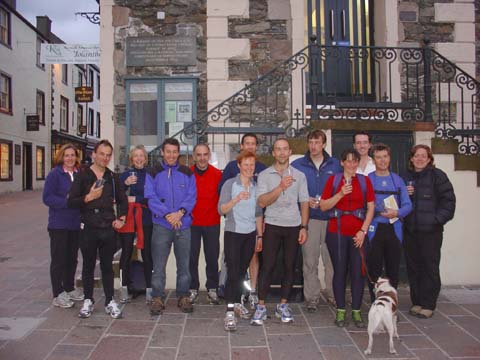 Lewis Grundy