> Bob Graham Round: Louise Wilkinson
Louise Wilkinson's Bob Graham Round
23rd May 2008, Clockwise
Background
It all started back in 2004 when a certain Chris Little fresh from his successful Bob Graham Round started to nag me. It was something I thought was amazing but would I ever be able to do it? I put it on my 'to do' list along with a Mountain Marathon and series of different Lakeland Classics. Years went by and I was working through my list well but the lifelong ambition of a Bob Graham Round was still there at the top. Every time I did a Lakes fell race I thought how could people do 24hrs on this kind of terrain? But after more years of nagging from Chris, I realised that there is no time like the present, you only have one life so live it.
Preparation
I wouldn't say I got the best run up toward my BG. I had a background of multi-day adventure racing under my belt so sleep deprivation and the need to keep going was manageable, plus being a farmer's daughter I was getting plenty of practice from the lambing.
Four weeks before the attempt I entered the Three Peaks thinking it would be good training for the BG. As I was climbing up Pen y Ghent I fell over, too busy watching the leaders coming back down the hill. I badly bruised my right knee but in true style I kept going and finished. The next day I could hardly walk. I had arranged to recce part of leg 3 with John Allen. This ended up with me hobbling with poles from Dunmail to Rossett Pike then down to Langdale. I thought 'that's it I have thrown all my months of training away over one race'. So lesson learnt, don't do anything silly near to an attempt.
Two weeks passed and I hadn't run, I know people taper down, but four weeks beforehand - was I pushing it? The knee was tested and luckily it stood up and so the BG was back on. Phew!!
A wise man once told me that the hardest part is getting to the start line.
Leg 1 Keswick – Threlkeld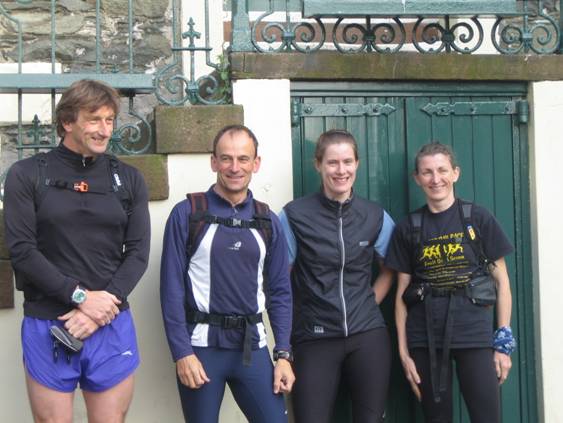 Left to right: Joe, Chris, Louise and Karen (Photo: Louise Billcliffe)
I started my attempt at 6.30pm on 23rd May 2008. Why 6.30pm? Well I couldn't decide between 6pm or 7pm, both having its advantages and disadvantages, plus we would be back for the pubs, I did have my pacers' and helpers' best interests at heart!
I met up with Joe Faulkner, Chris Little and Karen Robertson; a few photos were taken then we were off. The weather was lovely, I remember looking back and seeing the Dodds and Helvellyn. The beautiful evening sun gave us fantastic views all around, although it was a bit windy. I was feeling good and the usual joking banter helped. We found out that Karen had never been up Skiddaw which surprised us all. In no time we were on top of Skiddaw already 6 mins up. The recent dry spell of weather made the ground from Skiddaw to Great Calva very runnable, I was at home on the heather and grassy slopes. A perfect line and we were on top of Great Calva now 20 mins up on schedule. I didn't get my feet wet at the stream crossing which apparently is a rare sight! I remember going through here in February helping on a winter BG and having to break through the ice cold water at 2am at -4c, this time it was totally different.
| | |
| --- | --- |
| Jenkin Hill (Photo: Chris Little) | Sunset on Great Calva (Photo: Karen Robertson) |
The sun was beginning to set behind us as we reached the summit of Blencathra then we steadily descended a dry Hall's Fell ridge. It was just getting dark when we got to the first stop which was well timed. We were 20 minutes up, Joe advised me to use this time wisely on leg 2.
Leg 2 Threlkeld – Dunmail
Not used to being waited on I just wanted to find my box and get my own stuff, but was ordered to "sit and eat". Here is where Geoff Davis, Tom Reeve, Garry Beardwood, Simon Clintey, Paul Jackson and Guinness (the dog not the drink!) joined me on leg 2.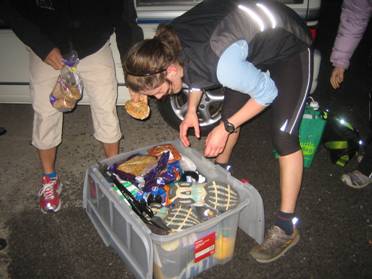 What should I have to eat? (Photo: Mandy Dawson)
Torches on and we were off into the night. I found the climb up Clough Head hard, I was starting to feel nauseous, maybe I hadn't eaten enough but by the time we reached Watson Dodd it had gone. Guinness was great to take my mind off things, I was wishing I had that much energy. Then I thought my eyes were going blurred, no the clag had come in. Geoff's navigating was amazing as we kept knocking off the summits. The sound of the wind rising over the Helvellyn ridge was spooky but at least there were no snow drifts up to the knee which I had been used to from training. Garry saved the day by producing a bag of Wine Gums, they were the best and the only thing I could stomach.
Coming off Dollywaggon there was a torch light coming down Fairfield, someone else was out here? We found out it was a solo BG attempt. Fairfield was my biggest psychological barrier. I plodded on - as another wise man once said 'it's just one foot in front of another' - then we were at the top. Coming down Seat Sandal my right knee started to niggle but the welcoming lights of Joe and Dave Atkinson's vans were waiting. By now we were only 3 mins up but I wasn't worried, there was still a long way to go.
Leg 3 Dunmail – Wasdale – The Tortoise leg!
By now no food was appealing to me. I had a cup of tea and a few Pringles, not the best for starting the longest leg of the round. John Allen, Dave Atkinson, Jane & Lewis Grundy joined me. The climb up Steel Fell was tough, in training I didn't mind this hill but today I was breathing like a steam train and I felt like I was going backward plus the sickness feeling was back.
Dawn was breaking around us by the time we reached High Raise. My right knee was now painful and the downs were hurting. Jane and Dave were trying their best to feed me but the only thing that was being eating into was the time. I was storing what little food I could eat like a hamster in my cheeks.
Lewis's reassuring words of 'you're fine' at each summit helped but I knew it was going to be a long slog to Wasdale. I was trying to take the whole thing in, here I was at 6am, beautiful sunny morning on top of the fells, it couldn't get better but I knew Bowfell was to come. John did a brilliant line up Bowfell and soon we were at the top. We saw our first people of the day on Esk Pike, spookily they knew Lewis. By now I was going into my shell, like a tortoise, I couldn't find the energy to speak, I wasn't sleepy but I just couldn't explain what was happening.

The views up here are brilliant! (Photo: John Allen)
Arriving at Scafell Pike 8.12am, 11 mins down on schedule, there were about 14 people wanting John to take a picture of them. I touched the cairn then ran on and John caught up. The sun was shining bright but the wind was getting strong so a last minute decision took me very carefully up Lord's Rake. Standing on Scafell I knew the most painful downhill to Wasdale was to follow. I was very glad to see Joe's van and crew at Wasdale.
Leg 4 Wasdale – Honister – Come back kid!
Lewis Hamilton would have been envious of my road crew. I sat down and found I could eat a tin of Ravioli and then a pot of custard, I had to have something. I found out what true friends I have when John took off my shoes to remove any scree and Joe changed my socks. I felt like a two year old but if it saves energy every bit counts. This was the only time I changed socks. I kept my Montrail Highlanders on for the whole round. I asked Joe how the time was doing, I was 24 minutes down. Even though there were 36 minutes to play with I knew that leg 4 can be make or break and I wasn't going to give in. With my knee supported, painkiller taken, I decided that the poles should come out of the box, anything to preserve the knee.
Paul Hainsworth, Phil & Rachel Vincent joined me with Jane, Lewis and Dave staying on. The weather was on my side, clear tops, sunny and a cooling wind, it was meant to be, all I had to do was keep going. Paul made a brilliant line up Yewbarrow. The poles seemed to be helping and when it came to the flats and downs Rachel and Dave carried them. Rachel had the never-ending bag of Jelly Babies which was the only thing I could stomach. The climb up Red Pike I could see looming in the distance Kirk Fell and Gable and boy, were they a long way away. But then something just clicked - second wind? Who knows? I remember thinking it's just a bit of Wasdale, Borrowdale and Anniversary Waltz to go and then it would be over. I was soaking up the atmosphere and really enjoying the day, we caught up and overtook the solo attempt guy on the way to Steeple, then John rejoined us at Kirk Fell. The views were amazing and by the time we got to Brandreth we had made up the 24 minutes and we were back on schedule. It was starting to look good.
| | |
| --- | --- |
| Running down Gable (Photo: John Allen) | |
Leg 5 Honister – Keswick – Going home
Arriving at Honister I was met by a crowd of people, it was a hive of activity. I didn't have time to take it all in, all I knew was that I had 10 mins to refuel and get going. Joe had a tin of beans and a cup of tea ready for me, I also managed a pot of custard and a bottle of coke. I got to my feet in 8 minutes, why put off the inevitable?
A cast of many joined me on the final leg, an entourage consisting of Geoff & Susan Davis, Chris Little, Karen Robertson, Louise Billcliffe, Mandy Dawson, Graham Dalgleish then Paul Hainsworth and Rachel Vincent stayed on.
The climb up Dalehead is usually one of my favourites in the Borrowdale Fell Race but today the climb seemed to go on forever. Once at the top you start to think just two hills to go but it ain't over till the fat lady sings. Hindscarth was quickly done and all that was left was Robinson. I was still feeling good apart from my knee which I was trying hard not to think about. Reaching the summit of Robinson that was all the 42 peaks, now all that was left was the lovely tarmac (not) back to Keswick. Geoff had a great sneaky route to miss out the rock step off Robinson which I was very thankful for.
| | |
| --- | --- |
| The run off Hindscarth (photo: Mandy Dawson) | The final run into Keswick (photo: Mandy Dawson) |
At the bottom I glimpsed at my watch and thought if I kept running I might just make under 23hrs! Valerie Atkinson joined in and Jan Little rode her bike. I couldn't believe I was still running after 22hrs on the hills but I felt strong. There was something driving me to keep going, I was on a mission, determined to get sub 23. After Portinscale Bridge I was handed my club vest, no time to stop it was put on whilst still being on the move.
The last 400m into Keswick will never be forgotten, it was bank holiday and the place was buzzing. Paul Hainsworth took his life in his own hands by stopping traffic at the roundabout. Shouts from across the street 'go on Louise'. Jan was trying to clear people out of the way. One last sprint and I slammed the Moot Hall wall in 22hrs 57min. I couldn't believe the time, I never thought I would be under 23hrs more close to 24hrs. After a couple of minutes trying to get my breath back there was champagne, beers and hugs all around.
| | |
| --- | --- |
| The Finish (photo: Joe Faulkner) | Relaxing (photo: Louise Billcliffe) |
The evening entertainment at Bassenthwaite campsite was spent eating Jan's awesome chilli, rice and garlic bread washed down with beer and tea. I still don't know how she managed to feed all of us out of the caravan. I wasn't the first to go to bed either.
I would like to thank everyone who helped and supported me, it was a great team effort.

Lindsey & Joe Faulkner, Chris & Jan Little, Dave & Valerie Atkinson, Geoff & Susan Davis, Karen Robertson, Garry Beardwood, Simon Clintey, Paul Jackson, Tom Reeve, John & Louise Allen, Jane & Lewis Grundy, Paul Hainsworth, Rachel and Phil Vincent, Louise Billcliffe, Mandy Dawson, Graham Dalgleish and last but not least Guinness and Nel the dogs.
To my family who thought I had a new postcode in the Lakes as I was never at home, thank you for understanding.
I feel honoured, privileged and a bit overwhelmed by all your kindness. I'm indebted to you all.

If you have been inspired and not been put off by this report, go on and do it, don't put off till tomorrow what you can do today.
Now someone get me a pen so I can cross off the Bob Graham Round from my 'to do' list.
Louise Wilkinson
photos from leg 3 by John Allen