> Bob Graham Round: Paul J Hainsworth
Saturday 26th May 2007
A MASSIVE THANK YOU to all those that helped me get round the Bob Graham Round, anticlockwise, on 26th May. According to Bob Sewell, I'm now a "Graham Bobber" – but I can live with that. Although there have been enough BG reports written to sink a battle ship, I have put a few comments and pictures together so that those who were good enough to accompany me can relive the moments and also, importantly, to remind me when I'm not so fit what a privilege it was to be able to do this and in such company.
Standing at Moot Hall just before 7 am marked the culmination of four months intense training, nine months gestation, and two years suspicion that I might not to be able to avoid this challenge. I wondered whether I might claim the record for the heaviest BGer – 13¾ stone usually but down to a relatively lean 13¼ after training.
The seeds of suspicion were first sown at the time of the Wasdale Fell Race in 2004 when I caught Geoff Davis up below the summit of Scafell. Geoff was of course a proper fell runner and of legendary BG fame. I was very much an amateur pretender but flattered when he suggested I had the right 'stuff' to think about the BG. I thought no more about it but jumped at the opportunity to assist Chris Little and Jeff Ross and on the latter round got talking to Bob Sewell seriously about the possibility. He suggested the best approach was just to announce a date, preferably a May Bank Holiday because it gives you a second potential day to start if the weather's bad and is better for people like me who suffer in the heat. Good advice Bob.
During a very brisk and hot Leg 3 on Jeff's anti-clockwise round, I was keen to glean from Bob what were the pros and cons of either direction of travel. He felt anti-clockwise swapped certain difficult climbs for others e.g. Scafell instead of Yewbarrow, Hall's Fell Ridge for Clough Head; the road section was out of the way early on whilst the end was eased by the lights of Keswick coming into view off Skiddaw; it allowed the long rocky sections to be completed earlier; it permitted starting at a time of day which suited most folks' body-clock; and finally it may be arguably 20 mins quicker.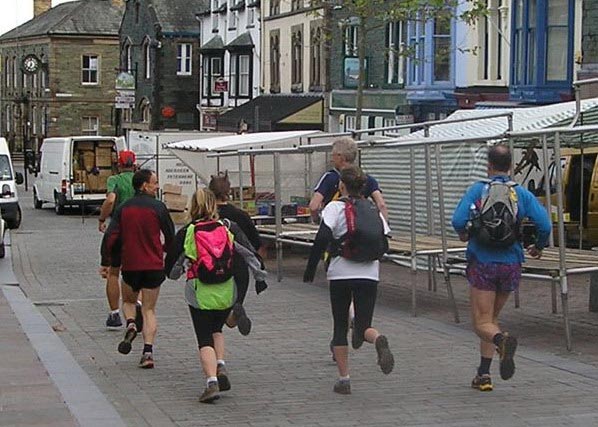 07:00 Moot Hall (photo: Deb Hainsworth)
May 26th 2007 brought a window of cool, bright weather and 10 mph winds - ideal. Possible hail was forecast with bad weather blowing in from Scotland on Sunday, bringing high winds and possible snow on higher ground. In fact, we had near perfect running conditions until dusk.
My starting line up of Steve Walker, Steph Scott and Karen Robertson was swelled by Dave Armstrong (Dexter) joining for Legs 1 and 2 and a real bonus for the road section, 'Captain Cool' Chris Little and Katherine Davis. Another contender from Sheffield pitched up at 6:57 but we left slightly ahead, dead on time. Despite walking the ups, 5 miles of road went quickly with comments about how fast it was. I was just delighted to be finally on the way. I usually feel knackered on Saturdays after work but I'd had a week off (highly recommended) and apart from brewing a slight sniffle/sore throat, felt great. I'd been in two minds about where to cut up onto the Robinson ridge and also whether to avoid the rock steps. I decided en route to go up early by the wall because it breaks the ascent up into two chunks. The ground was dry so Dexter and I chose the direct line, not without consequences as later reported by Steph:
"Don't know if you realised that Karen and I got held up at the rocks on Robinson as I didn't have my long legs on and she had to pull me up the rocks by the handle on the top of my rucksack, which was one reason why we got left behind."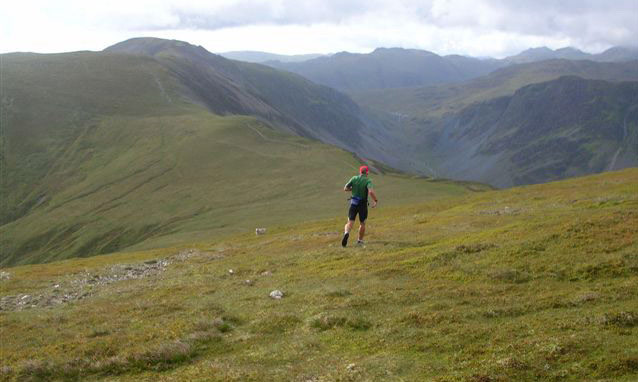 Robinson to Hindscarth (photo: David Armstrong)
We arrived at Honister 22 mins up but, cognisant of the forecast and taking into account Bob's advice to allow more time for leg 5, I was happy. Sweet tea and bacon butties and we were off up Grey Knotts. Leg 2 was great. With John Dallinson navigating a perfect line off Great Gable and excellent support from Dexter, Will Horsley, Peter Reed, Craig Hunter and Paul Creighton, we trotted happily away. I was advised that we were saving 6 mins on every peak and although there were some comments about pace, freed of the burden of a pack with which I'd done all my training, it all felt very comfortable. I'd recce'd the route off Yewbarrow several times, each a different way and each equally horrid, but now found an easy trod and short scree run that was the best ever.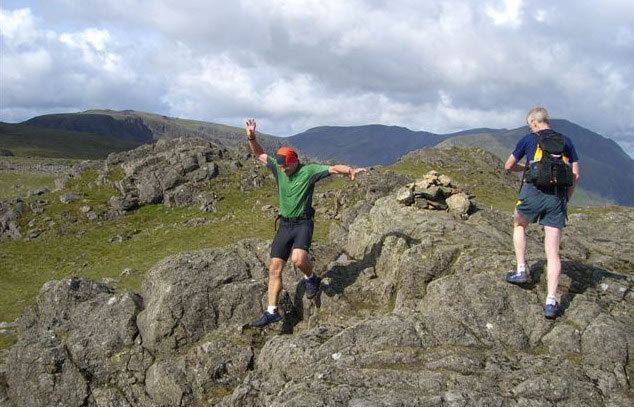 Grey Knotts (photo: Will Horsley)
We reached the Wasdale National Trust car park 1h 20mins ahead of our 23½ hour schedule to shakes of the head from our next navigator, KIMM elite star and BG veteran, Jerry Sharp: "He needs to slow down. I'll slow him down." Jerry then presided over the fastest of all the eventual legs (clocking 5:23), ably paced by Phil James, Paul Appleby, Peter Morrelly and Kath Brierly who met us at Mickledore.
Leg 3 was sheer delight for me. I'd always felt rough on the 3000' drag up Scafell when done on the back of descending Yewbarrow or after a cooked breakfast, but this felt fine and we summited in 63m. West Wall Traverse and Lord's Rake were busy and we had to be careful not to send blocks down on heads below.
Jerry picked up the sneaky descent off Bowfell to the top of Rossett Ghyll with ease, and we took the wide arching, runable route off Rossett Pike avoiding the descent to Langdale Coomb. There was very warm, still sunshine as we traversed the Langdale Pikes which made for good progress, prompted further by a fear of how the weather was scheduled to change.
On all the runs I've done with Jerry, he always finds a bog to disappear into. Over the back of Calf Crag I piped up: "You haven't found a peat hag to fall in yet Jerry." Two minutes later, Jerry's little legs couldn't reach the first stepping stone in a hag and he was up to his thighs – exactly where he'd gone in two weeks before. And he's a bright guy.
Kath recognised we were significantly ahead of schedule and kept trying to get a mobile call through, which she eventually managed as we approached Steel Fell. We were down in 10 mins to find no pacers for the next leg. Deborah, my wife, reports that on seeing our group on the skyline at Dunmail one of the unprepared Sheffield team cried: "Oh, for ***s sake!!" He was relieved it was us, but we had our own logistic problems.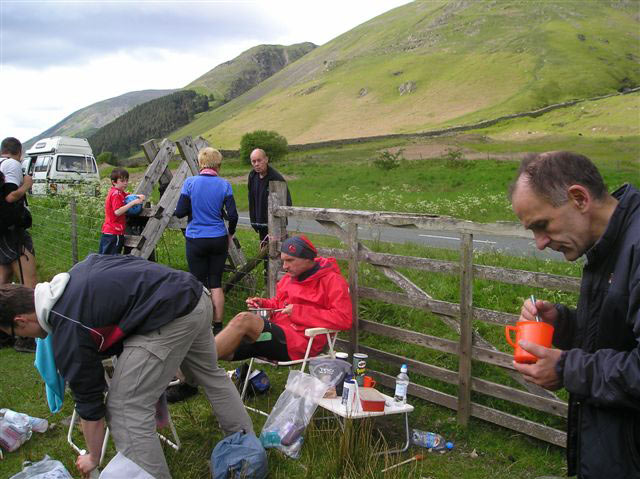 Dunmail Raise (photo: Deb Hainsworth)
We'd tucked the first three legs away 2¾ hours ahead of what was probably too conservative a schedule. However, I'd felt good and didn't feel that we'd pushed it at all. I was keen to leave after a 20min stop and let the pacers cut us off at Grisedale Tarn. Jerry Sharp, bless his cotton socks, insisted on grabbing some supplies and joining me. "I'll carry on but might drop off the back because of my ankle. But I'll get to Threlkeld somehow so wait for me…I'll have a bit of that pasta." John Crummett, an excellent fellsman who'd only intended to support because of recent knee problems, kindly proffered: "I'll go with Paul…the only problem is I can only go uphill because of my knees, so I'm not sure how I'll get down again!" Jerry was later found shivering in a bus shelter at Threlkeld, having hitched a lift, and uncertain of where our support team was.
Leg 4 and I knew the going was going to get hard now – three steep climbs in quick succession. Geoff Davis is a brilliant nocturnal navigator, gearing up for his 50 @ 50, and I was relieved when he caught us up on the first climb. Graham Dagleish was later seen running off from Dunmail Raise with my kit in carrier bags and looking as though he was rushing back from Asda.
It had started to hail on Seat Sandal but we gained further time and on Fairfield discussed which was the fastest way off: John Crummett elected to take a trod near Cofa Pike favoured by Joss Naylor and we didn't see him again to speak to – not a fair test of Joss's route choices nor of John's knees.
We met our other pacers, Graham, Kevin Bray and Paul McLeod at Grisedale Tarn. Dollywaggon came easily enough, but hail turned to sleet, it was cold and we had to tog up. Helvellyn through to Whiteside was white but it wasn't windy and the snow made for a soft footfall. To this point, I'd managed to keep the nausea which had been a problem in very long training runs at bay – but it was now profound and preoccupying. Over the Dodds I was running on empty and the most I could manage was half a banana spaced out in one inch increments and a bottle of water. Because we were so far ahead we didn't don torches until Calfhow Pike and descended to Threlkeld and past the friendly Sheffield camp nearly 3 hours ahead.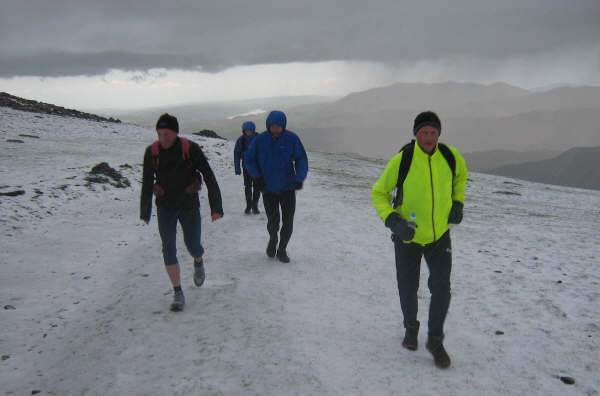 Nethermost Pike plateau (photo: Kevin Bray)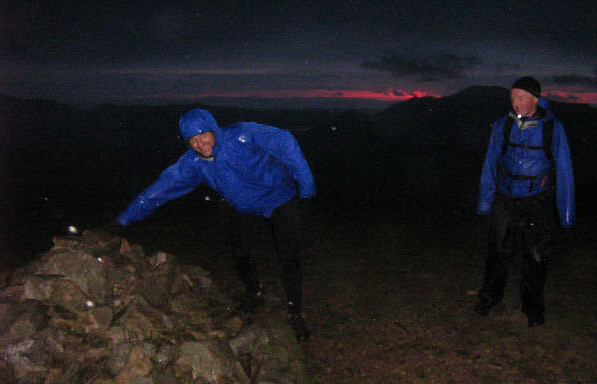 The Dodds (photo: Kevin Bray)
After an extended stop, futile attempt to refuel and successful re-warming, Chris Little navigated us to the top of Hall's Fell Ridge. Katherine and John had rejoined us together with Chris's paragliding friend, Kay Myercourse. We experienced steady rain and the girls were very attentive to my temperature regulation with which I was having much more trouble than my companions. We reached the top of Blencathra inside schedule and with significant effort, but my stomach then rejected everything left inside it, and the last two tops were a drawn-out experience. I felt sorry for my pacers having to go so slowly but the weather had improved again and a couple of stars were visible.
John tried to refuel me in vain and provided the steady, silent support that blokes know about and which was now required. Great Calva was a trial requiring several minute pauses but I knew it was just a question of carrying on. Katherine was keen to point out we only had …three…two...and then one top to go, but I was having none of it until we'd got down. I could still fall flat on my face. As we thrashed through heather to the north of Hare Crag I apologised "for being a miserable git" but was reassured I was just knackered. Thanks chaps.
There were lights (Sheffield variety) coming off Calva and we reckoned they were 30-40 minutes behind us – no matter, I wasn't going to race. As we crested Skiddaw the wind whipped up from the North-East, having swung round from the South-West and heralded some very threatening Scottish Clouds which enveloped Skiddaw after we'd departed. It was brilliant to see Jan and Paul at Latrigg Car Park where we unwittingly nicked their mugs of tea – nectar! We knew we'd lost time but were determined to dip under the 21½ hour mark which, after a final sprint to the Moot Hall, we did by a minute. 21:29 – unbelievable for a bloke like me.

Keswick 04:29 (photo: Deb Hainsworth)
It's taken me three days to unscramble my brain and sit down to write this report. During the round, I was asked what on earth I was going to do when it was all over – to which I replied, "drink Sneck Lifter… and a few more." This is a once in a lifetime experience which I didn't want to repeat, but now…?
---
I am indebted to everyone who has helped me achieve this very special goal, especially my wife for letting me be an absent husband and father for 4 months. Friends and partners from NFR have been absolutely fantastic in joining me in training and on the day. The spirit of collaboration rather than competition has made this very special. Jackie and Chris Oliphant, my secretary and her husband, were brilliant at organising pacers food and transport. There's one person without whose nurturing and help in training I could not have even contemplated the BGR, and that's Geoff Davis – thanks Geoff.
Paul J Hainsworth
a few more photos from leg 2 from Will Horsley