> Bob Graham Round: Peter Moralee
May 17th 2008
As we stood among family and friends with other contenders waiting for 1am to arrive, it seemed that, at last, the weather was going to be kind. I had spent March and April travelling to the Lake District and training in appalling weather. Snow underfoot had persisted into early May, and I had once nearly perished between Dunmail and Wasdale (my own fault for being under-dressed).
Now, however, it was warm and still and I waited with Will Horsley, young NFR star and wondered if at 58 I had bitten off more than I could chew. This was reinforced when a lad in the nearby group was heard to say "I got my Dad to drive me here but I didn't expect him to run as well".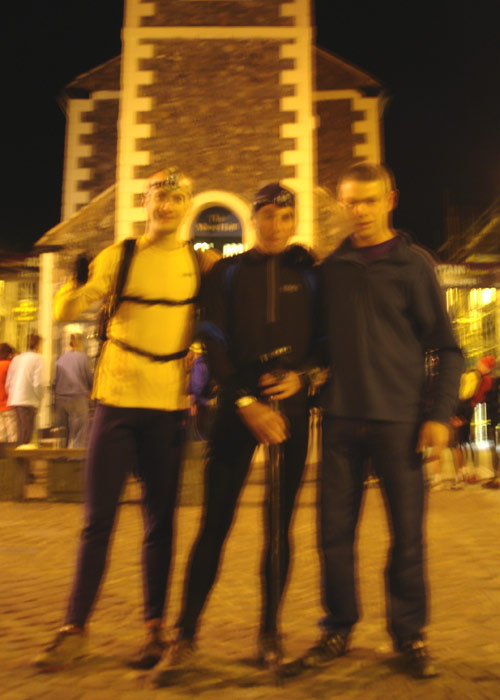 Young pretender, old contender and right hand man.
Then we were off jogging through Fitz Park and then facing up to mighty Skiddaw. One of my many reasons for going clockwise was that one quickly had to settle into a steep climb thus squashing any idea of setting off too quickly. This was one of the legs where I was to do my own navigation, Will had kindly volunteered for two legs a few weeks earlier saying "I'll carry anything but don't ask me the way". On an earlier night time recce I came completely unstuck coming off Skiddaw, a combination of darkness, clag and failing eyesight. Having been up again in the daylight I thought that I was more organised this time until I discovered I had left my compass behind. I asked Will if he had one and he said "yes – in the car". However another group came alongside with the front man holding out a GPS like a Geiger counter. We tagged along with them until the bottom of Great Calva when we went in front. Yet another group was further on and we used them as a guide down to the river Caldew (it's a good job somebody knew where they were going!). We pushed up over Mungrisdale and at this stage I was pleased to see the dawn beginning to break. The corner of Blencathra was shrouded in mist but we chose this way rather than cutting the corner as the others did. We didn't need the head torches for a brisk descent of Hall's Fell Ridge and arrived at Threlkeld about 15 minutes up on our 23hr schedule.
I was pleased to see Michele all set up and ready for us. She said as my sole supporter at this point that she had felt like an intruder in the F1 pit lane at a Grand Prix, between teams of folk in matching fluorescent lycra. Also there were my team for the next leg, now I knew that navigation would move from kindergarten to 'S' level standard and so it proved with Geoff Davis in charge accompanied by his friend Tom Reeves and Will who carried on staunchly. Geoff took, for me, a new line up Clough Head and we knocked more time off the schedule and this continued right through leg 2. Although it got colder and I needed to put on hat and coat, with Geoff's expert guidance and Tom & Will's care and attention, we reached Dunmail about an hour up on schedule. Geoff was obviously a bit concerned, probably quite rightly, that I was going too fast, but I felt buoyed up by a little bit of gain at each summit. This carried on all the way through, I would ask for the time achieved vs. the schedule and my spirits would rise or fall with the result.
| | |
| --- | --- |
| | |
Our team at Dunmail had swollen, physio daughter Jenny & boyfriend Simon and nutritionist daughter Kathryn, Susan Davis and Paul and Wendy Appleby were all there. Paul had manfully agreed to be my sole support on leg 3, this was to be more of the DIY navigation. I tried to load him up with as much as possible, I've never been able to keep up with him in races. Michele had made all sorts of goodies to tempt my palate but even by Dunmail I was finding eating difficult so most of the food in Paul's bag was for his benefit. Susan Davis stepped in to veto my overcoat being put into the rucksack which daughter Kathryn said she could hardly lift.
| | |
| --- | --- |
| | |

So the two of us set off up Steel Fell on the longest section of the round. Now it became a question of hanging in to keep to the schedule, no more gains but we didn't fall behind either. We managed the Langdale Pikes, and I even felt frisky enough to offer to race two girls down to Dungeon Gill, but then on the long drag round to Rossett Pike I started to have a real downer. Paul couldn't have been more solicitous, offering me bits of banana, drinks etc but for a while I was feeling sick. It's always been my least favourite bit of the course with Bowfell looming threateningly. However after a brief rest on Rossett Pike I led off up Bowfell and managed to find the route reasonably well. Paul cheered me up at the top by saying that we had made it a precious minute inside the schedule. We gained time to Esk Pike and then saw Susan Davis waiting for us at Esk Hause; she had far exceeded her brief of roadside assistance and trekked up with gels and more liquid, thank you Susan. At the same spot we bumped into Bob Sewell and Kevin Bray who were doing the Old County Tops. By now the clag had come down for the first time during the day. Previously this had been blowing away but now just at a bad time things closed in. Just as I was about to ask Bob and Kevin for a lead they disappeared into the mist. We made it up Great End but then didn't take enough care coming off and were suddenly off course. However after some map reading and taking of bearings we got ourselves back on line for Ill Crag and then Broad Crag. At this point we met Matt from Derby, training for his own Bob Graham in June. He proved to be good company and asked if he could join us up Lords Rake to Scafell. At the top we came down out of the cloud and Matt led us down a good scree run and hence to Brackenclose carpark at Wasdale. Michele took a fancy to Matt and was delighted to feed him the sandwiches and pasta that I couldn't eat. Although I wasn't eating much I felt better now and was reassured by the commanding presence of Paul Hainsworth who was to navigate over leg 4, he already had my support team standing to attention. We had first met a year earlier in the same place as he powered through in the opposite direction on his Graham Bob round. Paul Appleby refuelled and carried on his minders job for another leg.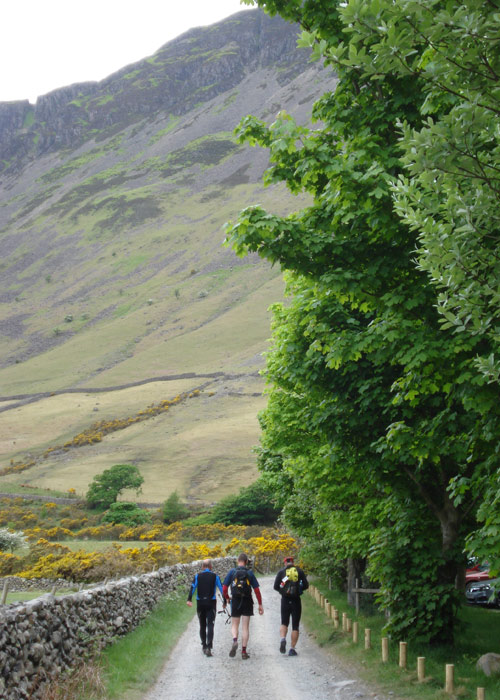 Yewbarrow beckons
This was moving into unknown territory and Yewbarrow seems to feature large in all clockwise rounds but, sandwiched between the two Pauls I reached the top in 6 minutes less than the scheduled 50 minutes. This was the story of the leg, Paul navigating immaculately and me sticking close to him, probably to the point of irritating him as he looked ahead for the best line. With Paul Appleby close up behind telling me to concentrate on where I was putting my feet, we gradually ticked off the big climbs of leg 4, gaining a little more time. At last we reached Grey Knotts and after a brief discussion over which side of the fence to descend we arrived at a very cold Honister where I sat down briefly and got a bout of the shivers. Geoff Davis had heroically agreed to see me through leg 5 and urged me not to sit around getting cold. Graham Wilkinson was also there to carry supplies and me if necessary.
As we climbed up Dale Head we saw some yellow figures in front, could this be another Bob Graham group? It proved to be the group who had led us down to the Caldew many hours before and we exchanged best wishes as we overtook them after Hindscarth. After reaching the last top, Robinson, Geoff raced off with Graham and I trying to keep up. The benefit of this was revealed when, still in daylight, he took us round a cunning traverse that avoided the rock steps off Robinson. In doing this we overtook another Bob Graham group that I didn't recognise. Geoff spoke to them and told me that they had left at midnight. "That makes me feel better" I said, "I thought it would" he said.
After that it was on to my favourite spot of the whole round, turn right at the rowan tree and let go down a smooth green slope towards the path down to High Snab. We surprised a full car park at Little Town, we weren't supposed to be first there, and after a quick change of shoes and dumping of bags we set off on the last stretch to Keswick along the road. I didn't have much left in the tank but managed a mixture of slow jog and fast walk and as we left Portinscale I determined to jog the rest of the way along the footpath into Keswick. As we came into Keswick, Geoff and Graham consulted watches and said that I might make it in under 22hrs. So with Graham urging me on I did my best to accelerate up the hill to the Moot Hall and banged the door in 21.59.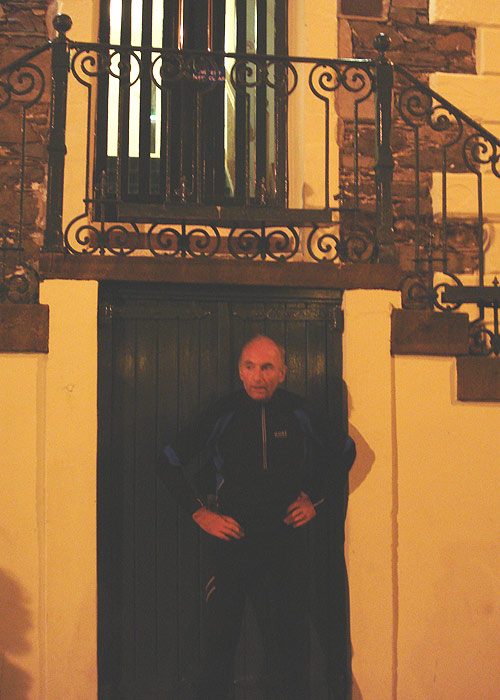 Made it ...
Afterwards, tiredness, elation, relief and above all gratitude. Michele said that she was amazed at how friendly and helpful everyone was, both the other groups, and our own band of helpers. Having been at one or two of these occasions, I wasn't surprised, but when the effort and kindness is pointed in your direction it becomes quite humbling.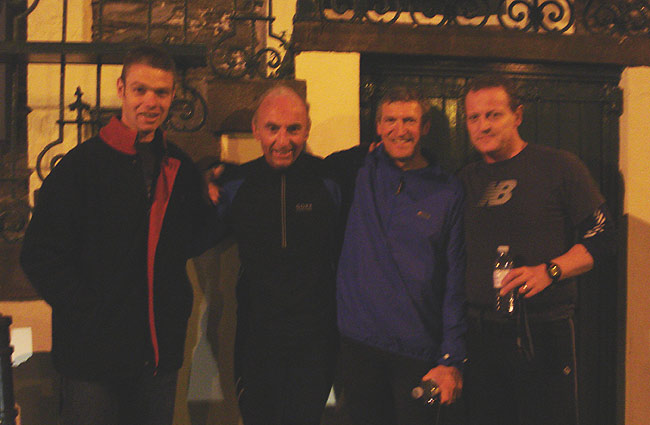 ... but couldn't have made it without them
My thanks then to those who would have helped but couldn't, Peter Reed, Garry Owens and Dave Atkinson. Will Horsley with his enthusiasm and cheerful banter got me off to a great start. Tom Reeves had never met me but happily filled me with gels and jelly babies through leg 2, I gather he particularly enjoyed the climb up Clough Head. Graham Wilkinson put aside his vehicular traumas of earlier in the day to cheer me up and urge me on over leg 5. I was very lucky to have great navigation on leg 4 from Paul Hainsworth who made himself available late on and gave me expert and knowledgeable encouragement.
It seems that everyone doing this challenge looks to NFR's own Mr BG, Geoff Davis, for help and advice and sure enough he came through for me too with sage advice before the event, led me expertly over leg 2 and then rose from his bed like Lazarus to see me over leg 5 with brilliant navigation. Thanks, Geoff for telling me to slow down on leg 2 and then whisking my body through leg 5 faster than it wanted to go Thank you also to Susan for her comforting presence and the long tramp up to Esk Hause
Paul Appleby and I have talked endlessly about doing the Bob Graham, he's put pressure on me for over a year by telling everyone we met in the fell running world that I was going to have a go. We've shared lots of cold wet training outings and on the day he was my mainstay over two difficult legs. So thanks for all that Paul, its soon going to be my turn to help you. Thank you too to Wendy for helping on the day, it's just a question of what colour lycra to dress your team in.
Lastly I have to thank my family for their tolerance and support. They all spent months thinking me quite mad. Ruth (in Australia) found it a bit too far to come over for the day and Peter was stuck at university doing exams but Jenny and Kathryn (along with Simon) came to keep Michele company and change my socks, taking bets on which toenail would come off first.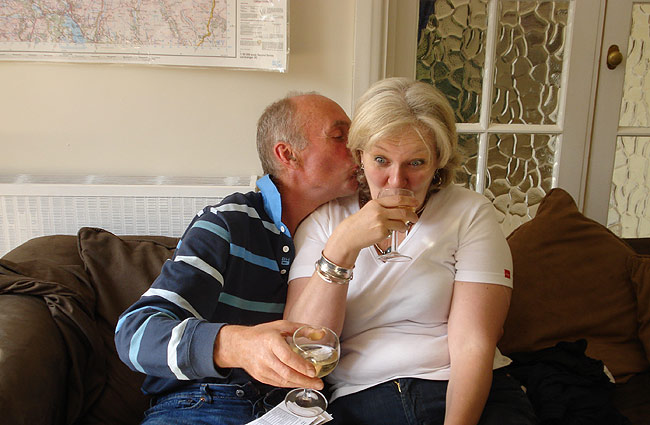 Was it really only yesterday?
Michele of course bore the main burden over the months but after nearly 30 years of putting up with my daft ideas, she took it all in her stride with just the occasional whinge, "not another trip to Wasdale". A big thank you for all that time spent waiting in cold car parks and lay-bys wondering when to call out the mountain rescue, as well as a marathon effort on the day itself.
Peter Moralee