> Bob Graham Round: Phil Smith
Clockwise Bob Graham Round 5th May 2012 10pm
To get this attempt under way was a challenge in itself, many emails and telephone calls, last minute schedule changes and a deep apprehension that my heavily pregnant wife could deliver at anytime; she was due in four weeks!

I had questioned the attempt a few weeks prior; a chest infection had put a stop to any training for ten days. A crisis of confidence perhaps but a last minute spurt of three big weeks with some fantastic recce's with Ian, Emily & Murphy got me back on track & added support from Dave Atkinson and JB worked wonders. Then one week before D day Eve & Seb went down with sickness and vomiting. I have no idea how I didn't catch that one!

So Saturday May 5 is now officially the second longest day of my life, second only to my wedding day. I think the nerves were palpable on the start line, lots of attention which is not my thing, a finish occurring from another runner minutes before my start gave me a bizarre insight to what I was undertaking and a brief discussion with a random guy who completed his BGR in 2003, telling me my bag was too big and I shouldn't wear a watch was slightly disconcerting, but we were off, finally!!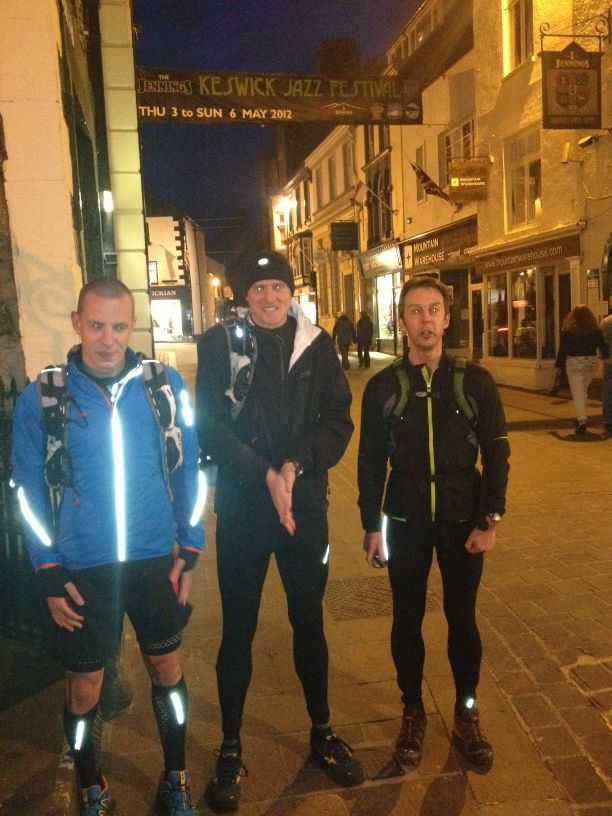 First leg was expertly supported by Paul from Up & Running in Keswick and Nick Wadd who did his BGR in 22hrs 2011. The moon was full so no need for head torches on the way up Skiddaw. The views down over Keswick were a nice distraction. It was fantastic to see Dave Atkinson on the way up, he was the inspiration behind me doing this crazy thing.
Nick instinctively led us around this leg picking all the best lines. Paul was shifting so easily and discussions over his training and racing led me to realise this boy was a strong runner. However my legs hadn't kicked in as expected and this was a little worrying.
An effortless descent of Halls Fell had us straight into CP1 20minutes up on schedule. I thought this might be too fast but was happy none the less. Now; my first and I believe only mistake of the run, Noodle soup!! Perhaps too spicy or just too much too quick but I reckon it didn't agree with me.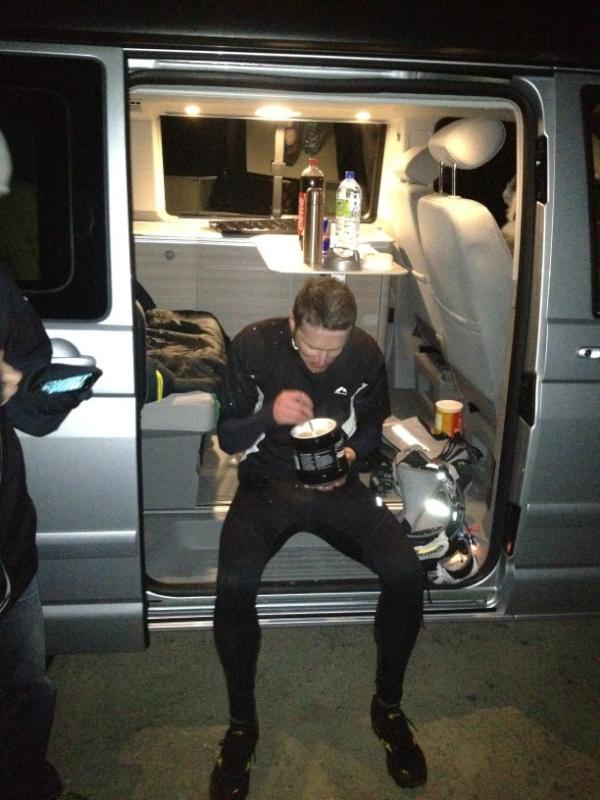 A ten minute transition, unlike my triathlon days, quick thank you and good bye to Nick who was driving home that night and Paul who had to work in 6 hours time then me and Ian & Murphy the dog and Lee were off.

We crossed paths with a group descending Clough Hill on another BGR, gunning for the oldest to complete record I believe in anti-clockwise route. I still didn't feel great and stayed quiet throughout this night section. It got pretty chilly and I was moving between hot and cold, just couldn't get the legs working for some reason so decided to curse the Noodles. No more bloody noodles; I was sure we were losing time.




We kept grinding on and were soon descending Dollywaggon to skirt Grisdale Tarn. Dawn was upon us and Ian mentioned we were up on schedule which was a relief however the climb up to Fairfield I felt would slow us right down. Ian decided to regale me here with some of his exploits in the hills involving ghosts. I still have no idea if these were true or made up; certainly made me laugh and wonder! We tried to bomb down and up Seat Sandal and were specifically cautious to pick up the line to drop into Dunmail.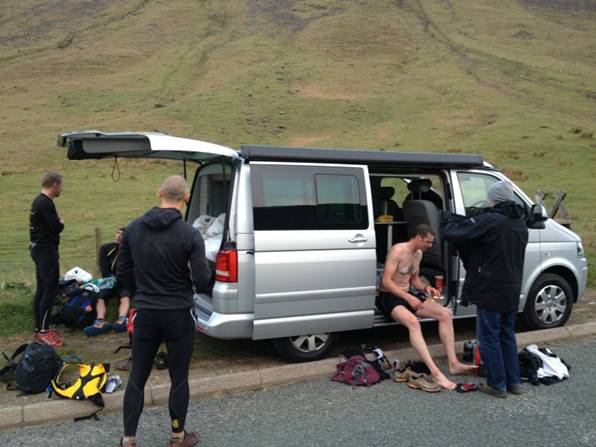 Now it may have been one of those sweet snakes of Ian's or the mighty fart I cast out but something happened and my legs returned, or shall I say finally turned up!! The descent into Dunmail was awesome, especially to see the guys and Aide standing ready to rock! Something clicked here and I think I finally accepted I was going to get this done and just crack on with it regardless. The site of Ian crouched behind a rock with trousers down certainly relaxed everyone and gave us the perfect opportunity of a few jibes, to say the least!

Leg 3 was fantastic; I wanted to run every bit of the run-able sections as lots of the back end is so steep and rocky. Ian's hawk like vision located site of a deer and huge Stag on the way which added to the sense of isolation and wildness of this leg. We were moving so well that Lee got dropped after stopping to tie his shoe lace and was just a dot in the distance by the time we noticed his absence. We soon blasted over to Rossett Pike where Richard Woodrow was crouched in a hole with several flasks of coffee. This was an incredible gesture in my mind. He was unwell and we had never met face to face yet he was there. In a place quite isolated and I needed every bit of the hot sugary coffee he supplied. We sat for several minutes and chatted about stuff, the line up Bowfell etc whilst Murphy licked the salt off Ian's shins and Aide's head!! It was a cracking and perfect distraction which I will never forget.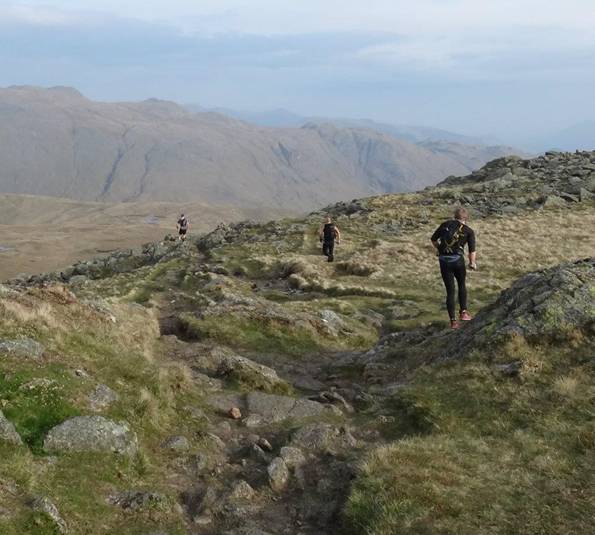 Over Bowfell the snow was drifting in and we re-routed our west wall traverse of Broadstand to Foxes Tarn due to the ice build up. This was slightly disappointing as it cost some time but it was the most sensible and safe decision. Off Scafell the descent into Wasdale was awesome. We dropped past Steph from NFR who was planning a BGR in two weeks time. She was cheering and shouting us on which made me feel like I was in race! We descended Rake head crag which gives you a cushioned floating feeling due to the loose shale, I think Lee liked this bit, its just epic to look back on the fun of that. We whizzed down past a group of kids who asked 'is this your first or second mountain of the day?' I chuckled at this as we blasted down a nice trail to the car park; catching site of Eve & Seb sitting by the stream on the way was sweet.

Into the van, Emily had come up to meet Ian, James and Matt were ready to rock, the sun was out, Murphy was getting some scran in, JB patched up my feet, I refuelled on coffee and coke. Seb pinched my chocolate and crisps, the place was buzzing and summery! I said goodbye to Aide who had to shoot to see his sister who was unwell which made his gesture of coming up to run with me even more astonishing. Ian & Lee took a rest too, it felt like a team was breaking up but I had another one to help me out.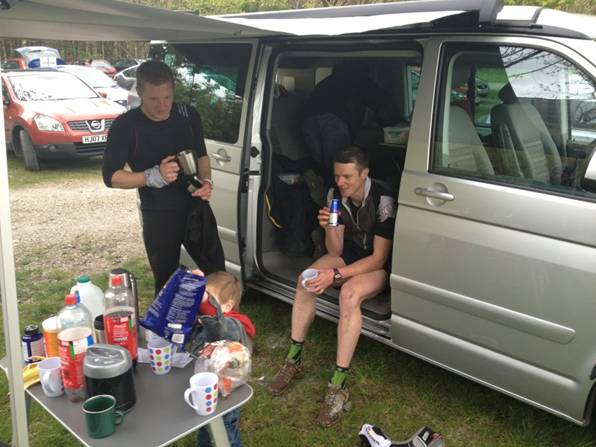 James led up Yewbarrow with Matt behind. We blitzed this and I had been worried since Eric Blakie had told me he named it Yew-Bastard on his BGR!! We picked up a un-recce'd descent off this which worked well and got Matt very directly familiar with Fell running. This leg felt slow but again in reality we were 30minutes up on schedule largely due to James calm pacing and accurate navigation. I think I got tired on this and I little hot, worried that I had no sunscreen on and had heat stroke hot!

Kirk Fell may well have been the hardest climb of the whole round and a red bull at the top was perfect! Great Gable was tough also but this was the last big climb in my mind. That done and the drop into Honister waited. We lost Matt here due to his severely battered quads going into cramp, this was a big jump for him especially with a recent injury and dodgy choice of foot wear but he never let up.

Honister gave me & James a little panic; we couldn't find the support crew!! They had switched vehicles and we didn't notice. We walked over the road and I was ready to just crack on when Coulson found us. We walked back to the car, got fuelled up then pretty much all of us set off on leg 5.

This was so much fun – the coffee and sugar got me going again and I wanted to bash this leg. Matt was suffering but I knew he could handle himself and wouldn't let up. Gray rolled his ankle within what seemed like 5minutes! Lee was running like he had crapped himself wearing most of my gear! The crack was awesome which just made me go faster. It was nice to have some run-able terrain again and blasted it all the way to the foot of Robinson. The descent off Robinson was so funny, Gray was scared of heights and I knew what was coming, but he handled it, we were so concerned about this that we left poor old Michael to his own devices, a distant cry of 'its alright lads, don't worry about me!!' had us in hysterics.




We floated the trail down into Newlands were Eve, Seb & JB had walked up to meet us. We ran straight past them to get to the car, the race was on! I remember JB saying 'it's alright take your time', & Eve running with Seb to get back in time before we left and me shouting don't you run!! Matt had got himself to the car before us some how???!!!

Trainers on ditched all our gear and happy days, I walked back to catch Eve & Seb, quick kiss and we were off, the road section and comfort! At least so I thought but the road being so hard my feet were in agony. This hurt, and with us re-grouped and up on time I considered just taking my time. James gave me a pace from his GPS of 9min miles and I was disappointed with that speed. Then it got faster, Gray worked out what we needed to do to get under 21hrs. He new I would be upset if I just missed that so we opened up the gas.

It felt awesome, we blasted into Keswick running sub 7min mile's with Gray by my side and Lee & James, I loved it and strangely felt amazingly good, no leg soreness, no breathing issues, just very sore feet!!

This well and truly gave me a new concept of endurance, I realised that until now I really hadn't explored my own true limits and at this point I felt I could go on forever and for the last several hours my legs had felt unbelievably strong; shame about the feet though!

A final sprint up to moot hall with some traffic and pedestrian dodging, the lads shouting from behind leaving me to the glory and Eve & Seb and the others waiting was perfect.

An incredible journey was complete, a life changing experience and while life in many ways is made of a collection of memories; I had created a bucket load over the last 20 odd hours.
The simple words thank you is not nearly enough but I have to say them again and again to everyone who helped me achieve my crazy dream. It was the collective experience of people who are kind, good, great, and a bunch of people who can suddenly come together and selflessly help each other which made this special. That and a shared love for the mountains and lifestyle which we strive to live.

Thank you Eve & Seb especially in Eve's heavily pregnant state, for putting up with me disappearing for the weekend at silly o'clock in the morning. To JB and PG & PC for keeping me focussed and on track and to all for giving up their well earned weekend to run with me or meet me at bizarre locations in the middle of the night just to sort my feet and give me some coke/coffee and never again Noodles! To Ian, Emily & Murphy & Aide & Lee & Michael (But not for the stinking whiskey!!) & James & Nick & Paul & Richard for the best coffee in the world, (you have no idea how much I would have paid for that Richard, you could make a fortune!!) to Matt for suffering like we are used to and donating legs and toe nails to the cause, proper shoes next time boyo! To Dave Atkinson for planting the seeds and Eric Blakie for helping me out when you had much bigger issues to crack on with. To Benfield for that cracking camper van, I still want one!!!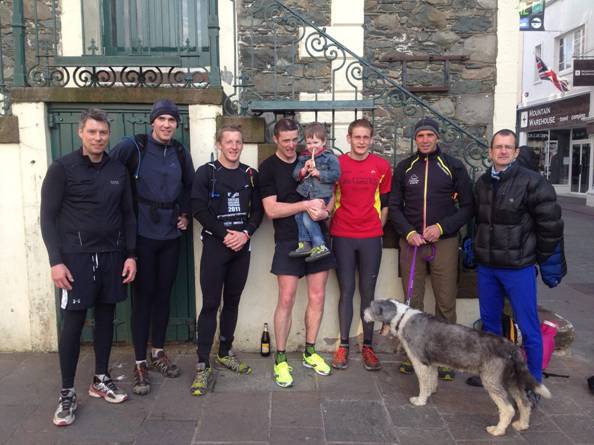 Phil Smith