> Bob Graham Round: Steph Scott
The Bob Graham Round on a Wing and a Prayer ………

& WITH A LOT OF HELP FROM MY FRIENDS!!

Steph Scott's Bob Graham Round Report – An account of the most surreal 23 hours and 32 minutes of my life, so far…….

After a snowy Spring training (or trying to) in the Lakes, Sunday 3rd June 2012 suddenly became "next Sunday"! I knew that if I was to have any chance of completing this mammoth task in the required 24 hours, I would need good weather on the day and relatively dry underfoot conditions. I was as happy as anyone to enjoy the hot sunny days in the preceding week, knowing that it would dry the ground nicely for me. I didn't need to do much running that weekend as what relatively little training that I could fit in had already been done. I also had faith in the British weather – there was surely no way that it could be baking hot for 2 consecutive weekends, especially not when it was a Bank Holiday and the Jubilee at that!! I could have attempted the BG any day that week, as it was half term, but in my mind, there wasn't really a reserve date!
Anyone who knows me would know that my BG would be planned, scheduled, checked and double checked!!! Karen Robertson was my solo roadie and she needed to be sure of being in the right place at the right time at the road crossings so we even scheduled her movements too! Karen was also running leg 1 so on Sunday at 5.50 am, we met up at Rheghed with George Nicholson (a first time BG supporter) and Bernard Kivlehan to drive into Keswick and headed to the Moot Hall.
As 'the time' approached a Motley Crew began to congregate…………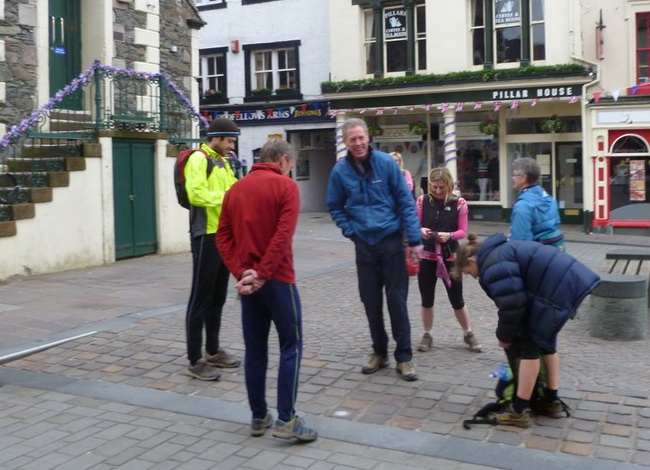 A Veritable 'Who's Who?' of Fell Running Assemble at the Moot Hall!! (photo: John Telfer)
At 7am, I touched the Moot Hall door and it was time to start this very surreal, incredible challenge. The weather was perfect for me, fine and clear, as we set off at a fair lick down the High Street.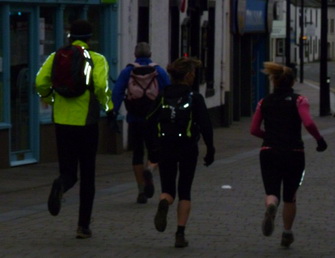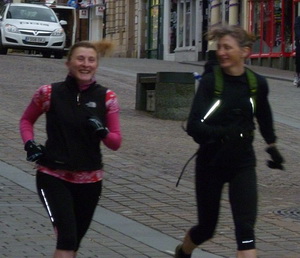 And We're Off! (photos: John Telfer)
Before we got out of the town, incident #1 occurred and a reveller from the Keswick Beer Festival joined us, half pint glass in hand, asking if we were doing a half marathon and were we going anywhere near Braithwaite!! He joined us to Portinscale where my able navigator, Geoff Davis, pointed him in the right direction ie: the opposite one to us! We continued at what seemed a good pace to Little Town where we were met by Tynedale BGer Rachel Chinnery who joined us until Robinson. I think Geoff had had 3 Shredded Wheat for breakfast as he zoomed up to the summit 15 mins below schedule, no wonder I felt like I was in a race! This was one of the few parts I'd paced out so I was surprised to be so fast. We continued at speed through leg 1, only stopping to put on my waterproof coat (it was so windy that Geoff had to hold it for me to put it on!) and to choke on a jelly snake! This aside we arrived at the changeover in 2hours 13 mins.
I ran leg 1 in Salomon trail shoes so needed to change these at Honister for some lovely purple Salomon fell shoes, shoved a few mouthfuls of porridge and coffee down and onto leg 2, barely speaking to Joanne Lee (Tynedale) who had come to say hello and just be a part of it on the day.
At Honister, I picked up Paul Hainsworth (not literally!), Bev Redfern (Tynedale BGer) and Bernard Kivlehan. These 3 had a massive advantage over me on this leg – they had done it all more than once before! My only visit to leg 2 had been in the snow and ice at Easter so my schedule was a combination of Bev's and a guess! I had no idea how long it would take and the descent off Yewbarrow was not top of my list of 'favourite things to do on a Sunday'!! The one thing I was sure of was Paul's navigation. This was a major theme of my BG and a big key to my success – the quality of the support. I had a team that I trusted and I knew that they knew what to do, when I just didn't. I could only consider getting round if all I had to do was cover the ground. And so leg 2 came and went in 4h 19 with Great Gable scaled and Kirkfell scrambled slowly down, 17 mins up on the guess, better than expected! Even the descent of Yewbarrow was faster than it felt, but perhaps it was the excitement of being met at the bottom by our very own Secretary, John Telfer, that spurred me on!! He assured me that I was doing well and that there was no need to go so fast along the road, but I'm not sure if that was because he couldn't keep up!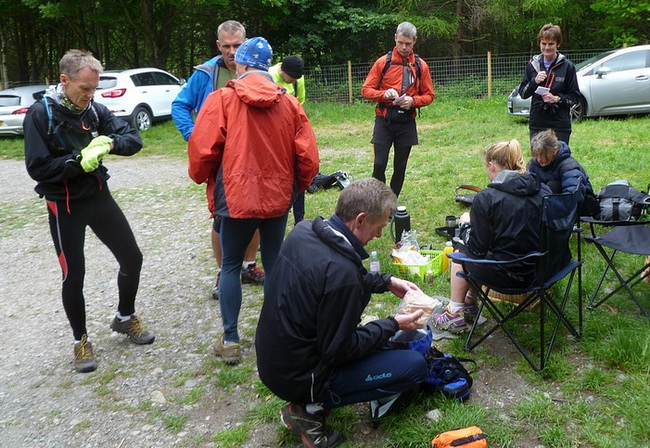 Wasdale Changeover (photo: John Telfer)
It was lovely to see everyone at Wasdale car park and even have time to sit down and enjoy some French Fries with my coffee! Leg 3 I always think of as taking all day. I remember last year being at the Roman Wall show when Rachel Chinnery was on her leg 3 and having time to enjoy that and drive over to the shops in Keswick. I found that amazing at the time – and now it was my turn! There had been much discussion about this leg at Harriers. I was worried about the rocky sections and I didn't know the whole leg (no real surprise there then!!) but Phil Vincent in his usual calm and casual way said "It's ok, I know the way!" As he was the navigator, that was that. We also had discussions about the best way between the Scafells. Phil knew a ledge that Steve Birkinshaw uses which is a good recommendation in anyone's book so Paul Hainsworth took me and Bernard on a mission to find it, and find it we did! Needless to say, I reverted to the Lord's Rake route choice! Paul Appleby and John T went to find the best approach in the days before my BG so that they were totally familiar with the entrance to the gully and just so that there was no mistaking the way, John adorned it with a pink ribbon!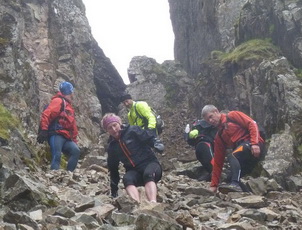 The other leg 3 supporters were Tynedale crew, Neil Cassidy (very helpful, very positive, very encouraging) and Steve Hill (calm and competent). The start of this leg is hard with 73 mins of climbing up to Scafell. My back was starting to ache with the plodding up hill and I stopped to stretch it out on the ascent. Realistically, you can't expect the climb to the highest peak in England to be easy and as Phil said "It's all downhill from here!" Hey ho! Onwards and upwards, we went across the rocks, bagging the peaks without much trouble. I was still eating and drinking and running wherever the terrain allowed. Steve wondered if I should be given special dispensation for having such short legs as he didn't know how I'd managed to get to some of the places! He probably also wondered what on Earth I was doing when he asked, "How many legs have you put back to back in training?" and my reply was "just one!" In fact I had never done all of leg 3, though I had done most of it in bits but again mainly in snow. Phil continued to impress the NFRs with his route choice. I just kept going with Paul always nearby, always reassuring. He was described to me as 'the best pacer on the planet'. Before my BG, I didn't know Paul particularly well. I can't put into words what he did, but he was just 'there', solid as a rock. As we came down Steel Fell, another descent that I find tricky (steep and gritty on BG day) Paul stayed by my side and told me just to take my time. He was right, there was no rush. We were an hour up on the 'guess-timate' which meant more light for leg 4 and time in the bag just in case a bad spell came upon me later. I think Phil had finished his cup of tea by the time I reached the carnival atmosphere at Dunmail Raise. It would be quicker to name those who weren't there! It was a lovely reception. Thank you all for being there.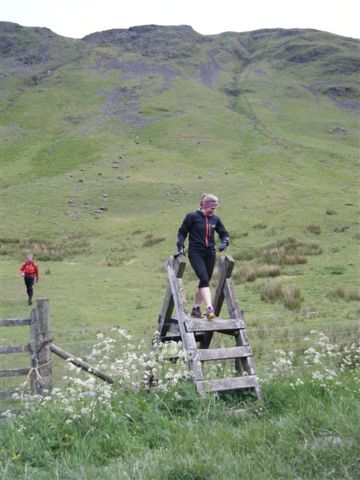 Just Checking……
(……… how far is Paul behind??!!)
Paul H had brought his van for me to use at the changeover so I changed my tops just in case the night got cold. I had more porridge and coffee and after 10 mins sit down, it was onto leg 4.
In my mind, leg 4 was my favourite. I'd had happy days there in races and on other BGs. Geoff was navigating and Pete Murphy another Tynedale BGer was coming along to find the screes off Fairfield. We were joined by Peter Reed, Ruth Dance (hoping to do her own BG in Aug), Kevin Bray, David Gibson and David Hall. Of course, I hadn't actually run a leg in dark in training, but there's a first time for everything! I trudged up Seat Sandal and Fairfield, down the screes and we were onto Dollywaggon when Ruth pointed out that according to the schedule, I should just be starting the leg! That was a nice feeling. I hadn't had to put my head torch on by then, but darkness came soon after. Geoff did a brilliant job on the nav, running on ahead to find the best route, shining his torch which Pete would see and then guide me along the correct path. This is how the leg progressed, following a torch light! It wasn't what I'd expected of leg 4. I'd envisaged running more, but I guess that's the effect of the dark. I was still running when I could.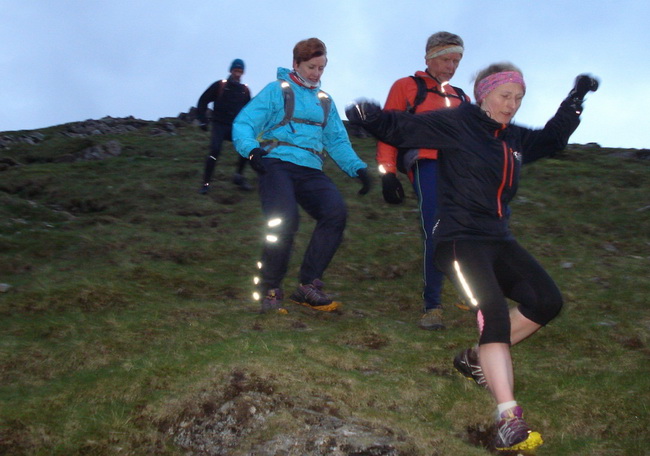 Still Running on Leg 4!

Ruth was kindly attending to my nutritional needs until Peter Reed came along with the trump card – Capri Sun! When did that orange drink ever taste so good??!! (Never actually, because I don't even like it normally, but today it was like Amber Nectar, as they say!). The BG does some strange, but good things to you and somehow Peter Reed just knew what to do on leg 4. He just ran along nice and steadily in front of me at a pace that I could follow and every now and then he gave me a slurp of the lovely Capri Sun and a wine gum. I know - it just doesn't get any better!!! Apparently there was a lovely moon. I wasn't very good at looking up without falling over for the whole BG, so I gave it up and got on with the running! Coming off Clough Head is not my favourite thing either, but we were soon on that lovely, lovely tarmac and fleeing along to Threlkeld Cricket Club.

A quick stop and an incredible 12 hours after we'd left Wasdale, we left Threlkeld. I had 5 hrs 13 mins to do leg 5. I was still fine, but I knew better people than me had lost it all on the last leg. We wandered along the road, for some reason not bothering to run and set off up Blencathra in the dark. Unsurprisingly, Hall's Fell Ridge isn't one of my favourite places either!! I trudged up the path with Kevin, Bernard, Chris Little and David Hall. An eerie mist swirled around the rocky summit, testing Kevin's navigation to the limit and challenging my nerve on the ledges, but we weren't to be beaten at this stage! I was keen to keep moving and trotted off the summit into oblivion, not realising that Kevin had a more sensible method of route finding and was about to pace it out on a bearing. Chris shouted me back and we followed Kevin's more direct route across the nothingness that is Mungrisdale Common. The slight downhill gradient and tufty grass jarred my knees so Bernard held my hand which meant we could run down to the river. We waded through and headed to Great Calva, the penultimate peak. Something told me that it would be a really tough climb, but it wasn't as bad as I'd anticipated and even better, it meant only one more to go! We summited at 4.26am which meant I had 2 and a half hours to get back to that Moot Hall door. In my mind, I thought I needed an hour to get up Skiddaw and an hour to get down. There was no real reason for thinking that, but I'd checked with Geoff how long I'd need to get 'home' from Skiddaw and he said to make sure I had an hour. The sun rise was lovely and it lit the path up Skiddaw. It looked different to how I remembered it and it surely felt longer. For the first time I think I said to Bernard that I could feel a bit sleepy. No wonder really! We dragged ourselves up Skiddaw – well Bernard and Kevin held my hands which was nice. Who needs walking poles?! Skiddaw didn't disappoint; it was a bleak and blustery as ever! I had the luxury of not having to run across the slate path and risking tripping. I even looked up and saw the sunlight reflecting beautifully off the lake. It was a totally wonderful sight. We didn't get far down the path before there was another wonderful sight – Karen and Katherine Davis coming to meet us! They were so smiley! It was great to see them. We wandered down to the Latrigg car park where Susan Davis was waiting at the gate. She was smiling too "It's in the bag, Steph" I remember her saying "You've done it!" I looked at my watch and there were 45 mins or so to go, but in my head I wasn't finished until I got to the Moot Hall. I knew I could still trip or go over on my ankle. Susan was fantastic, leading us down the path and through Fitz Park at a good pace. Katherine remarked that we were still running, not just trotting. Geoff Davis and Linda Bray were at the edge of the grass waiting for us as Susan took a nifty route into Keswick. Once Karen and I knew where we were, we couldn't help ourselves but push on to the line. What do you expect?! I wasn't bothered about the time by now, it was just how I felt approaching the finish – foot down, touch that door. And so I did. I stopped my watch at 23.32. Well, I'd done it. Lots of lovely people cheered and clapped and said "Well done". I'd wondered what that moment would feel like, if I'd get there 'in time'. I think I was relieved to have done it. I was remarkably 'in control' on the day. I didn't have any 'lows', didn't consider stopping, my body held up, no nausea or falling asleep. I don't know why that should be the case. The weather was as close to perfect as you get in the Lakes. My support team were perfect. Somehow that was 'my day'. Clive Short said to me "Be lucky!" and thank goodness, I was!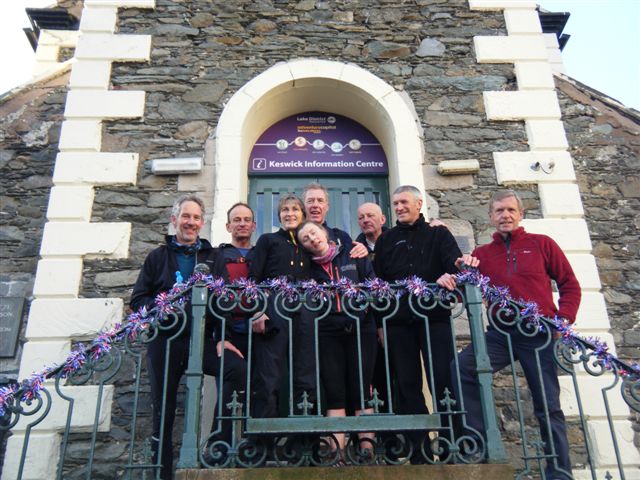 The End!
I didn't embark on the BG adventure knowing I could do it, in fact I often thought I couldn't! I always thought I'd be pushing it to get round. There were lots of times during training that I wondered if I was too slow, so rubbish on the rocks, too slow descending, not technically good enough, if I'd set myself up for a challenge too great…….. It's not often you embark on something not knowing or being able to imagine the outcome. Most races you have some idea of about what time you will finish in and how it will pan out. Not the BG, at least not for me. I could easily have failed because there were lots of things that I could have looked back on and said that I didn't do during my preparation. There were 2 things that were keys to my success – my support team, not just on the day but in the months before, particularly Geoff Davis and Paul Hainsworth who have dragged me from glorified road runner up into something approaching a Lakes runner (still a long way to go!) giving me so much of their time and patience, even when they were both training for their own Joss Naylor Challenges and the one thing I had myself, the determination ( some might say stroppiness, stubbornness, grit and probably worse!). I knew that I wouldn't give up.

It's a funny thing, the Bob Graham Round and when you are training for it and doing it, it's all you can talk about! (Sorry, everyone!). Just like you could write about it for ages, too! But it's hard to define it, what it feels like, before/during/after. Perhaps that's the magic of the Challenge, that it's different for everyone. To me it's still quite surreal, but 'everyone' says "Well done!" and what a great achievement it is. I'm proud that I've done it and not many women can say that. I've done the Bob Graham Round and like Beth Gregory-Smith said to me, I don't have to do it again!!
Steph Scott
BGR 3 June 2012
(Yeh, that's right. It was me! I actually did it!)
more photos from John Telfer