Ian Hodgson Mountain Relay 2006
1st October 2006
NFR again reached new heights in this year's event on 1st October. Last year we achieved a highest ever placing of 15th but this year we improved on that noticeably to finish 12th out of 62 teams with a very consistent team performance.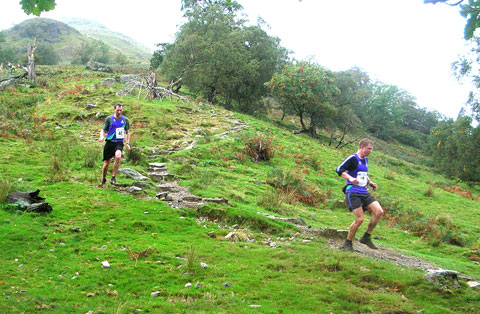 Francis Blunt & Aengus McCullough, who turned out despite carrying a heavy cold, both marked their debuts in the event with an excellent 12th place in leg 1. Dave Atkinson and David Steel took over for leg 2 and finished 14th. Leg 3 paired Charlie Stead and Steve Birkinshaw who ran strongly to lift the placing to 11th as they handed over to David Armstrong & Mike Jeffrey for leg 4.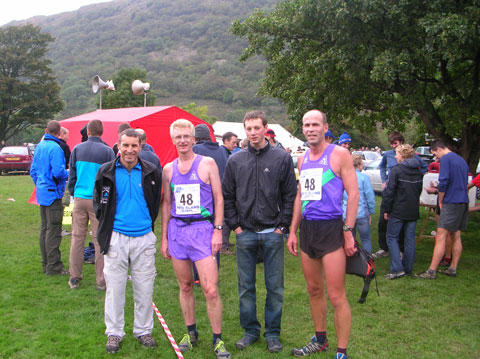 David Armstrong
---
Ben Nevis Hill Race
2nd September 2006
David Armstrong and Jeff Ross competed in the tough Ben Nevis Hill Race this year. David is seen here descending the flagged path lower down the Ben, I guess. The image was kindly supplied from many by Darian of Borrowdale Fell Runners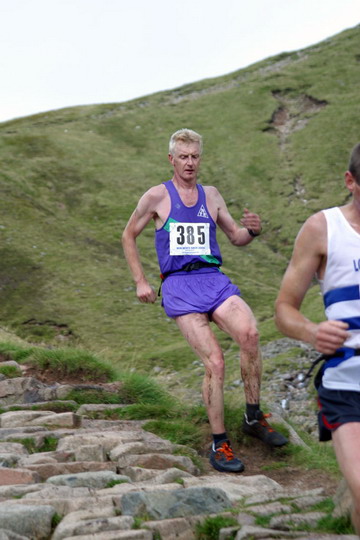 Paul Jameson
---
Three Shires
16th September 2006
As Old Cheviot struggled up the North Face of Wetherlam, he reflected that it was perhaps a tad warm for running. There were unbroken blue skies, and the sun was beating down on the rocks. But at least the views were fantastic and route finding was not a problem.
The climbs kept coming thick and fast. At Swirl How David and Val Atkinson were cheering NFR on. The climb up Pike O'Blisco appeared runnable, but most definitely wasn't. Blea Tarn offered heartbreak to several (David Steel and Martin Scott weren't overly-impressed by it), and Lingmoor heartbreak to everyone (just when was the last climb going to end?). The finish line was a welcome sight. Afterwards, soup and buns provided great value for the £5 entry fee. And with Hainsworth Taxis in operation, there was even a chance for a pint of Jennings in the pub.
Steve Birkinshaw, fresh from his Paddy Buckley success, was first NFR followed in by Dexter and Lewis. Jane Grundy was first NFR lady (OC thinks), followed by Steph Scott and Michelle Armstrong. Others who were pleased to get round were Phil James, Geoff Davis, and Bernard Kivlehan.
Forthcoming Lakeland runs are the Hodgson Relay where we have a crack team entered, and the Langdale Horsehoe (pre-entry and organiser's details have changed from the handbook - OC intends to be back for another crack this year). The next championship race is The Screes on 21 Oct.
Elsewhere, Charlie Stead had a fantastic run at Peris today, finishing 15th in this British Championship race.
Old Cheviot
---
Borrowdale Fell Race
5th August 2006
A bit of a toughie. Little sunshine, but plenty of humidity, low cloud, and slippy rocks
Mike Jeffrey lead NFR runner, with Lewis Grundy not far behind
Katherine Davis first NFR lady (I think) followed by Jane Grundy
Running performance of the day from Susan Davis and Bernard Kivlehan who beat the Honister time-out by 4 minutes so both able to finish
Climbing performance of the day from David Atkinson for a midnight ascent of the dance-marquee pole
Vital support from Jane Saul, Val Atkinson & Louise Wilkinson at Sty Head with jelly babies, water, and encouragement
"Will this hill never end?" - cry of distress led by Old Cheviot and taken up by several others on ascent of Dale Head
Brief race resume: mad dash up Bessyboot; long traverse to Esk Hause; slippy climb to Scafell Pike and then a great scree run off; Corridor Route tricky in fog (ask David Steel who was spotted peering into the abyss at one point); never ending climb of Great Gable; Chris Little star navigator over Brandreth and Grey Knotts; Dale Head heartbreak for many; quadtastic descent to the finish at Rosthwaite.
A belter!
John Duff
---
The Saltwell Harriers Fell Race
4th July 2006
The Saltwell Harriers Fell Race takes place in an area of outstanding natural beauty and the beautiful summer's evening that greeted the entrants to the eleventh running of this race helped to show off this area in all its glory.
Conditions underfoot were very dry; though the breaking of the course record was unlikely due to the heat wave we were experiencing. The leading group on the first climb to Collier Law consisted of two V45's in Armstrong and Smith who maintained their pace to the summit with their younger rivals Abdelnoor, Mustill and Vincent. It wasn't long before the experienced men of the mountains dropped two of the youngsters to leave Abdelnoor setting the pace, which he maintained despite Saltwell's Fred Smith tracking his every move and believing he had enough left in his tank to overtake Ambleside's Ben Abdelnoor on the tough climb to the finish. However, Abdelnoor had no intention of relinquishing his lead and increased the gap to his senior rival, arriving at the top of the last climb and the finishing post with a 90 second winning margin.
Karen Robertson maintained her position as one of the best women fell runners in the North East (ever) with another victory in this race, finishing in 12th position overall. This was a good win coming on the back of a Chevy Chase win four days earlier. Karen's victory was also matched by the performance of the improving Rachel Vincent, who despite a bad fall came home in 15th position overall. The standard of women's fell running in the North East is clearly getting stronger and this was evident in the excellent 3rd place and 16th position overall of race debutant Angie Watson of Chester-le-Street.
The Saltwell Harriers Fell Race is now well established and continues to attract new faces as well as those who competed in the very first race. It was pleasing to see the return of William Tait one of the founding fathers of Northumberland Fell Runners make an appearance after a few years out through injury as well as the ever present brigade like Matt Simms (you asked me to mention you Matt), who with a bit more training will break the one hour barrier for this race. Notable performances from other regular participants were those of the over 65's namely Joe Garbarino (once teacher of the man who came home in 2nd place) and David Wright of Tynedale, still competing in his 73rd year.
The men's team event was keenly contested, between Saltwell, Tynedale and Northumberland Fell Runners, with Tynedale just succumbing to Saltwell's superiority to leave the host club once again the premier Fell Running club in the North East.
As usual probably the best fell race presentation in the world took place in the Moorcock pub, where prizes for all competitors was supplemented by much laughter and good banter, essential characteristics of a great fell race.
Keith Wood
---
Allendale Challenge
April 8th
Last year's memory of snow, wind and cloud clearly wasn't enough to put off 50 runners from entering the Allendale Challenge today. However if they thought that this year couldn't possibly be as bad, then they were in for a shock.

The first hailstorm arrived at The Chimneys, and the second as we neared Hard Rigg. The path to Black Hill was suitably boggy and there was 3 inches of snow at the road crossing. It was clearly too much to expect Kilhope Law to be free of cloud, and the snow/hail storm duly arrived with even a clap of thunder for the later runners. Fortunately the earlier walkers had broken trail through the snow, so navigation was not a problem as you simply had to follow the crocodile of walkers to the summit.

Coming off Kilhope Law the weather cleared up for a while, but came back with avengence on the Long Drag to Ladle Well. A stiff wind and snow/sleet greeted the field for the last few tough miles to the finish.

Steve Birkinshaw excelled in the harsh conditions, wining comfortably in 3 hours 42 minutes. He was followed in by Nick Swinburn and Garry Owens to give NFR a 1-2-3. I briefly caught up with Dexter at Sparty Lea as he was going through a bad patch. But this passed and he left me for dead on the drag. Reports that he was spurred on by the siren call of the ladies of Allendale are thought to be untrue, although he had commented at the start that you never knew what challenges the Allendale might throw up.

Elsewhere in the field, Phil James pipped Chris Little on the run-in; Louise Wilkinson was flying the flag for NFR ladies; and Bernard Kivlehan ran his first long race in NFR colours having been spurred on by John Humble who was running his nth Allendale. Pie & peas (and the odd beer or two) went down well in The Golden Lion after the rigours of the day.

No doubt we will all be back for more next year. The weather can't be as bad again - can it?
John Duff