26/08/07
Bellingham Show Fell Race
- from Rob Stephens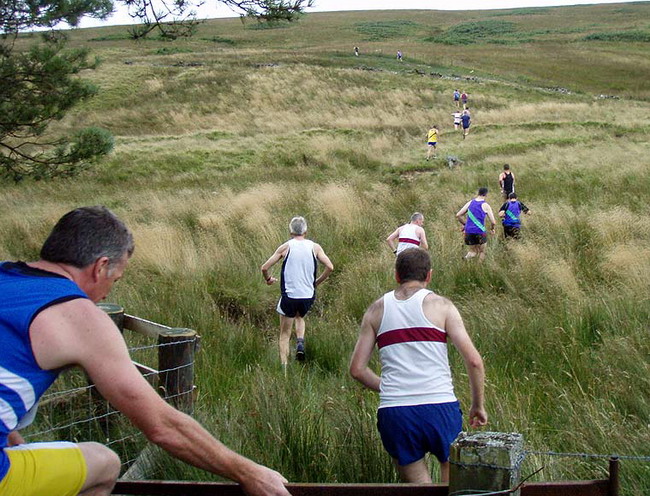 Tim Wylie leads the field
4 miles / 600' (BS)
Fell races aren't often accompanied by motivational music, but on this occasion, rock ballads such as All Right Now by Free and Can't Explain by The Who boomed across Bellingham showground to set the mood - a powerful live band playing in the marquee, so young they had to be seen to be believed (photo)!
Around 33 runners were lined up in the showfield main ring. Given the word, they were released like terriers in front of a grandstand audience, and bolted out of the showground into the wild to chase the tapes.
Gary Jones got off to an early lead but within half a mile, he was reeled in by Tynedale's Tim Wylie and the gap just grew! Going by the photos, behind them came Dave Atkinson, John Stephens (Low Fell) and Keith Murray (Teviotdale) all battling for third, with an ever-present Brian Robson in hot pursuit.
Further back, positions in the next group changed frequently with seemingly everyone taking the lead at some stage. Rob Stephens managed to veer off course for a few strides, which cost a couple of places, then loose shoelaces cost Rob and Allon Welsh even more places. Peter Hayle then took over the helm and he was away!
Further back, the wind played havoc with Sally Welsh's hair, Keith Cooper enjoyed reeling a few runners in, David Coxon had trouble with tight quads and Pat Cooper had to herd some errant cattle!
The juniors had a good race at the same time but unlike last year, race organiser Michael Shields couldn't keep up with this lot around the field!
Good fun and nice atmosphere all round. Thanks to Michael and all the marshals and helpers. Seniors' race winners:
1 Tim Wylie (Tynedale)
2 Gary Jones
3 John Stephens (Low Fell)
4 Dave Atkinson
1st Lady: Sally Welsh
2nd Lady: Pat Cooper
Team prize: NFR - Gary Jones, Dave Atkinson and Peter Hayle
Rob Stephens