29/04/07
Cheviot Summit and Back
- from Old Cheviot (photos Pat & Rob)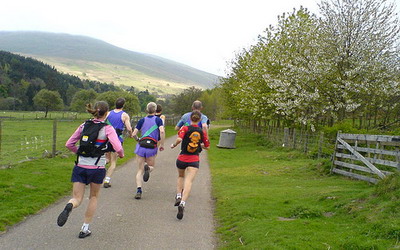 Front runners get off to a fast start but there's a big hilly bit just round the corner
(photo: Rob Stephens)
Old Cheviot knows this area like the back of his hand. He has climbed The Cheviot from every conceivable angle. Or he thought he had, until he ran up the path from Langleeford and realised this was a first. His aged bones could not quite cope with running all the way to Scald Hill, but ahead he did spy Will Horsley leading the NFR charge and most definitely running all the way.
After a long bursting climb to the first checkpoint at Cheviot Knee, there was a brief respite before the final pull to the top. As OC crested the ridge, Will came charging back leaving James and Syd from Tynedale and Aengus, Dexter and David Steel in his wake. OC pressed on to the top where Pat was snapping all the runners (watch out for photos on Rob Stephens' website). As this was an out and back route, he exchanged pleasantries with the other runners on the return leg (though Martin Scott was otherwise engaged as OC passed). It was very dry underfoot and so a fast descent back to the finish.
Will won by several minutes and Rachel Vincent pipped Veronique (from Norham) for the ladies' race. Steph Scott was first NFR lady followed by Susan Davis. Further down the field, Peter Reed kept up his impressive list of races completed for the year; Keith Cooper ran well despite missing out on his pre-race beer the night before; and Jane Saul brought NFR ladies home.
This race was a classic - a 2000 ft climb with a fast descent - all run in near perfect spring conditions with just some light cloud on the top. Many thanks to Glen McWilliams for an excellent race.
Old Cheviot
---
An alternative view on the Cheviot Summit race from Dave Hicklenton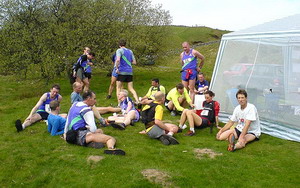 Not many have the energy to stand after the race

Rob Stephens