27/05/07
The Dodd Fell Race
- from Gary Jones
On Sunday, Bernard Kivlehan and myself did the Dodd Fell Race (AS / 4.5m / 1100ft). This was a very good proper fell course starting and finishing at Duerley Farm.
The initial 400m was up steep track, then onto open steep grass fellside, then peat hags near the top of Dodd Fell. We then descended towards four stone walls, which we climbed, finally finishing on a steep grass descent which was very fast and enjoyable - apart from my spectacular fall/somersault through a nettle patch …
For the record, there were 26 entries, with Gary Devine of Pudsey and Bramley winning by 2 minutes, myself in 3rd place and Bernard around 14th place.
Gary Jones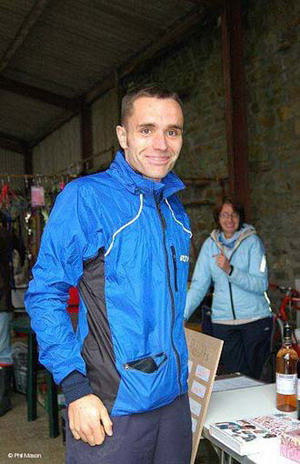 Gary gets third place (photo: Phil Mason)