02/06/07
Duddon 2007
- from Old Cheviot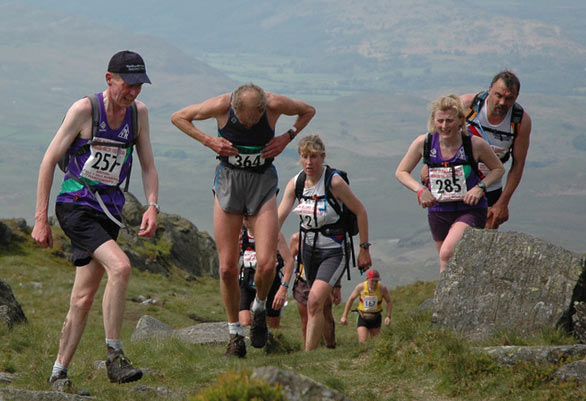 NFRs Bernard Kivlehan and Steph Scott near the top of Harter Fell (photo: Will Ross)
As Old Cheviot descended from Hard Knott, he stared forlornly at the stream of runners climbing Little Stand. The near vertical face seemed even more imposing close-up. Under a hot sun and with little breeze in the valley, the climb was a tough one. The Duddon Valley Fell Race was well and truly underway.
Over 10 runners from NFR had gathered at the start, which had been moved to accommodate the large field generated by a British and English Championship race. After a long approach through woods and moor, the race began in earnest with the first climb up Harter Fell. After ticking off Hard Knott and Little Stand, there was 20 minutes of glorious running through Gatkins to the Three Shire Stone checkpoint.
By now the sky had clouded over, so the climb to the race highpoint of Swirl How was tough but cool. And from there, those with sufficient energy could run to Dow Crag and on to White Pike. Old Cheviot did his best, though the last ascent up Caw seemed never ending. Finally the top was reached, and there was a fast descent to the finish at Seathwaite.
Aengus McCullough was NFR's top performer, coming home under 3.5 hours. Garry Owens came home ahead of David Armstrong to avenge his Borderer defeat, and Karen Robertson finished 20-ish in the ladies' race. Steph Scott and Bernard Kivlehan ran together to notch up their first Lakeland SuperLong race. Which just left Graham Wilkinson to bring NFR home.
At the sharp end, Ian Holmes notched up his first Duddon victory at the ripe old age of a veteran. Perhaps there's hope for Old Cheviot after all.
Old Cheviot