02/12/07
Hexhamshire Hobble
- from Stewart Beaty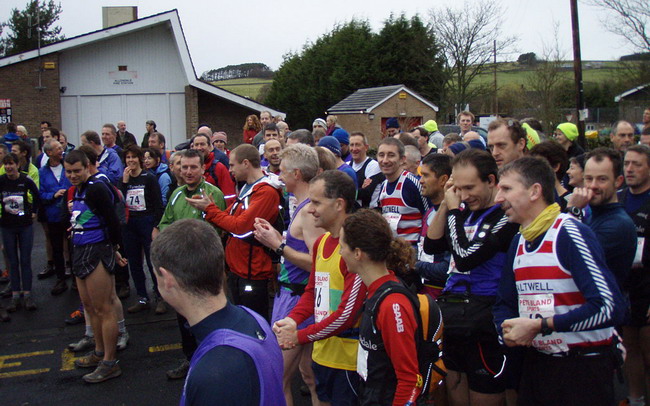 Runners eagerly await the start (photo: Rob Stephens)
Race Organiser's report:
The forecast was bad, the rain came down and it was pretty cold but fortunately the wind dropped making for much better running conditions than last year. This was reflected in the generally quicker times although conditions underfoot were pretty wet.
Fantastic turnout with 100 finishers and great runs by Charles Stead and Steve Birkinshaw with the ladies having a really close finish with Rachel Vincent winning for the second year running, with 5 times winner Karen Robertson only 14 seconds behind.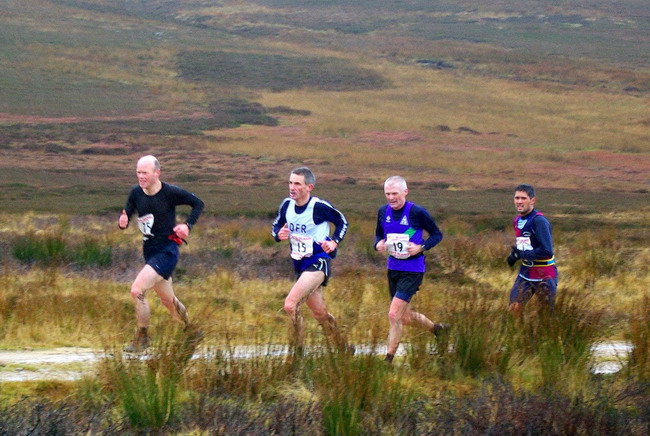 Full steam ahead to the first stop at Hangman Hill
L-R: Hugh Bingham - Tynedale (V40 winner); Michael Mallen - DFR; Geoff Scott - NFR; Brendon Jackson - Allen Valley Striders (first local).(photo: Stewart Beaty)
Tremendous support from local running clubs Tynedale Harriers, Northumberland Fell Runners and Allen Valley Striders who helped us with marshalling.
Marshal for many years and participant in some of the early races, Jim Wilkinson from Haydon Bridge died suddenly whilst out cycling in the Cheviot Hills just over a fortnight ago. He will be greatly missed by his many friends.
Thanks for coming and to all helpers, Allen Valley First Responders, marshals etc. Fire Chief William Huddleston (proceeds to Fire Service Benevolent Fund and Allen Valley First Responders) & Allenheads Grouse Moor for vehicular access.
Next years race is scheduled to take place December 7th 2008
Stewart Beaty