08/09/07
Ingram Show Hill Race
- from Rob Stephens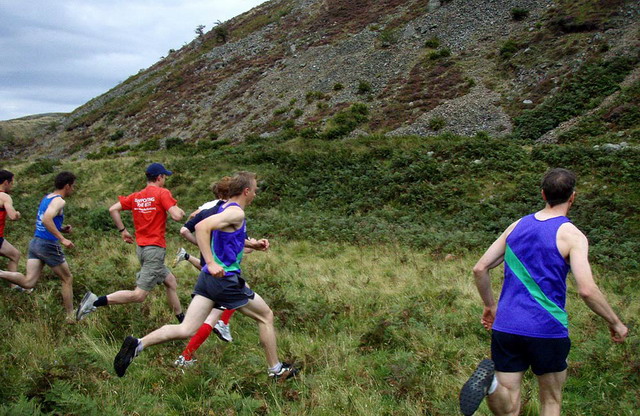 Nick Swinburn (centre) poised to notch up another win (photo: Rob)
0.9 mile and 450ft of ascent
This has to be the oldest, most traditional and probably the shortest fell race in Northumberland! I've read that the origins of this Hill Race can be traced back to 1923 (and Ingram Show 1909) when a Silver Cup was awarded to the first local (Ingram) runner - a tradition that is maintained to this day. The course remains the same too.
The race is a little different from the usual: no race numbers, no age categories other than senior or junior, nor was there any official time-keeping that I could see. But all this fitted well with this casual and friendly show where the sports events - which were a great laugh - were more like party games! After an afternoon of sack races, three-legged races, tug-of-war and bar and bolster fighting, the 'famous' Ingram Hill Race was the grand finale.
Twenty-two senior runners and four juniors lined up at the foot of Ingram Glidders staring up the steep scree slope with trepidation. A few minutes earlier some of us had watched a hare bolt up the same slope with such explosive energy it left us in awe - if only we could do the same!
On the word, a few long strides over sedge and thistle, then it's onto the slope scrambling for the firmest footholds amidst the loose rock. Nick Swinburn is right up front as you'd expect, David Steel on his tail, then a local favourite or two and a few others who probably started off a little too hard. A little further back, I battle with Brian Robson and Nick's brother Greg, who complete with proper-fitting shoes this time (unlike at Forest Burn) is going great guns. I also struggle to keep up with a quick young whippersnapper in shiny new football boots! Further back, flying rock from a runner above hits Keith Cooper in the shin, but he's ok.
Hearts pumping hard and lungs fit to burst, we round the top. No time to catch breath though as it's straight back down again. To my horror, it's not the smooth sheep-mown track that we use in the Brough Law Fell Race - no, it's some hoof-rutted, bracken-veiled narrow track alongside the wood. The track does improve later on though, so throttle on full to the finish.
Not sure of the times exactly but Nick wins about 30 secs ahead of David (somewhere around 8 mins). First local is in 5th, Brian 6th and I get beaten by the lad with the football boots into 8th! Greg comes in 9th or 10th I think. Pat Cooper has a good run, overtaking some big strapping lads towards the finish. Pat's photos give a good idea of who came where.
Very enjoyable race, especially if you make a day of it at Ingram Show, but I doubt there'll be any official results for this one!
Nick Swinburn was also 1st u21 and 5th overall at the Puma Trailfox Derwentwater Trail Race on the 1st Sept.
Rob Stephens