06/10/07
Langdale Horseshoe
- two reports: from Phil Green and from Old Cheviot
14m / 4000' (AL) *
from Phil Green: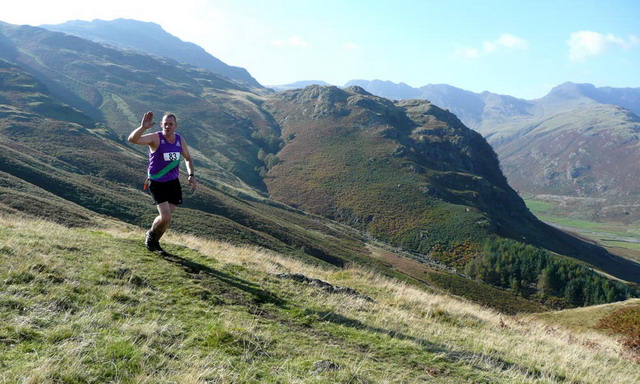 Saturday morning, and mist lies on the Tyne Valley as I drive rapidly towards Mickley to pick Andy and David up. The run over belies the splendid day ahead, fog banks and police speed traps willy-nilly!
Over into Langdale via the Red Bank to Chapel Stile road, meeting little traffic. The car park done and numbers issued, we gather at the start. A good turnout, with Jane and Lewis Grundy, Steve Birkinshaw, Rob Stephens, David Coxon, Paul Hainsworth, Old Cheviot, Young Andy Irving from Tynedale, and myself. Also running was the unattached but very able Alastair Horsfield from Gosforth.
The race started at 11 as per cue and we were off up towards Pavey Ark. What a long slog up the stiff climb - it was in heat best suited for mid July rather than early October. Sun blazing on backs, it was off over the bogs from Thunacar towards Black Crags, which we climbed amid the clatter of the rescue helicopter over at Langdale Pikes (looking for a fallen rock climber).
Nice bit of contouring through a giant rockery got us from Esk Hause to Ore Gap, and then the plod up to Bow Fell. I tagged on with a chap from Achille Ratti who led me round Crinkle Crags by a dark and devious way to catch up with Paul Hainsworth. After the drop down from Crinkle via the Bad Step (which I bypassed) it was fair running towards Pike O'Blisco. I managed to get cramp in both thighs at once on the climb up, which had me nearly "crying for me mam". My race was plodded from this point onwards which gave me the chance to look at the Langdales in all their glory. A procession of people passed and then there was the lovely Pat camera in hand ready to click me doing my best Plug-from-the-Beano impression!
A run down to the valley was rewarded with several cups of sports drink and a seat. Best of all, we adjourned to the pub for pasty and some lime and lemon (thanks Paul n Steve).
Finishing order (times taken from photo of incomplete results - Rob):
Ben Abdelnoor (once of NFR) won in 2hrs 14
Steve Birkinshaw 3rd in 2hrs 22
(Alastair H 11th)
Lewis Grundy 20th
John Duff 63rd
Rob Stephens
Paul Hainsworth
Jane Grundy
Phil Green
David Coxon
Andy Irving bringing us home (2nd ever fell race, having previously done Thropton Show race!)
Tremendous day out all round!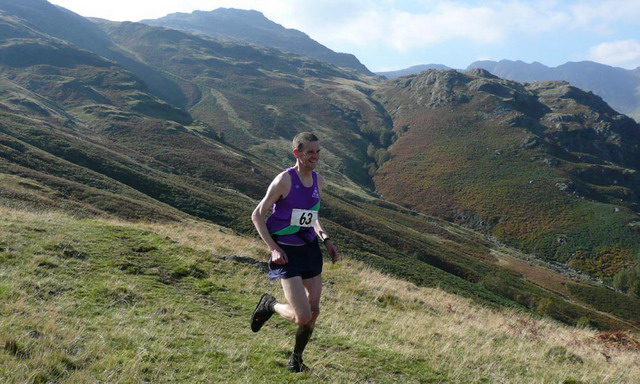 There was a large field swelled by an NFR contingent at the Langdale Horseshoe. The sun shone, the early morning mist cleared, and the views were impressive.
After the initial scamper along the rocky path from The Old Dungeon Ghyll, there was a very warm climb up to Stickle Tarn and Thunacar Knott. A swift descent to the boggy Martcrag Moor led to a climb through the Rossett Pike crags and on to Esk Hause. The traverse under Esk Pike was very greasy, and the climb up Bowfell tiring.
Runners traversed around Crinkle Crags with varying degrees of success (top tip: stay low by Three Tarns) and arrived at the summit from all angles. After The Bad Step was braved or bypassed, the running improved with a fast descent beyond the last Crinkle. This left one last climb up Pike O'Blisco, before the final slippy descent to the cattle grid (passing en-route our in-house photographer Pat Dunn) and the dash through the campsite to the finish.
Old Cheviot suffered a giddy moment of excitement running off Crinkle Crags when the lady next to him said she had won the race last year. However dreams of a fantastic finish were dashed when the lady commented that she was returning from injury and was about 20 minutes down on last year. Never mind, the race was enjoyable and the beer in the pub afterwards fantastic. Roll on next year.
Old Cheviot
full results and report on Ambleside AC website
(* Memory Map has it nearer 12m / 5000')