19/08/07
Sedbergh Hills
- from Rob Stephens and John Duff (photos: Rob)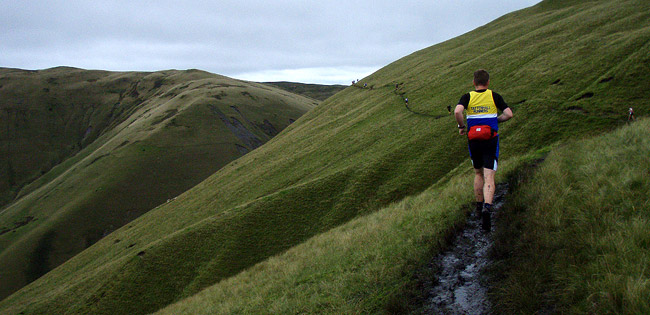 the traverse north to Black Force
14 miles / 6000' ascent (AL)
Around 15 NFRs endured this tough but very runnable course in the Howgills ...
It looks like cool weather on the tops after the rain, with cloud lingering at about 600m, but it's warm enough at the start for vests only.
The initial long and gradual slog up to Arant Haw is rewarded with a superb fast descent down to Chapel Beck, as the long thread of runners starts to stretch out. After a steep climb up Castley Knotts, we then pick up the running again northwards, contouring around spur and gully. Narrow and muddy, this traverse is a little tricky at times but exhilarating running in dramatic scenery.
Between CP3 and CP4 is the toughest: a drag up onto three saddles followed by plummeting grassy descents, with a little tight contouring around Simon's Seat thrown in for good measure. The third steep energy-sapping climb (Hazelgill Knott) has a few on all fours. And the last of the three descents has at least one chap sliding down on his backside having apparently given up with the grip on his shoes!
From CP4, the long, steady uphill run along Bowderdale has some runners walking and rummaging for their last Jelly Babies. Into the cloud just below the summit of The Calf and the visibilty is gone: no one to follow and thoughts turn to map and compass. But the path is clear and easy enough to follow ... unless you're looking for the elusive contour around Calders, that is. It seems a few came a little unstuck here and lost time.
For those with energy to spare, there follows a superb long gradual descent from Calders to Winder to put the pedal to the floor. Finally, the gradient changes once again to what becomes the quad-troubler from hell with the drop off Winder back to the finish. Thankfully this last section is well-taped, allaying any fears of having to wade through chest-high bracken.
Steve Birkinshaw led NFR in 7th position overall. Jane Grundy was first and only NFR lady. Some other good runs too and great to see that relative newcomer Phil Green is going from strength to strength, despite a touch of cramp towards the end, I hear.
The race was won by Joe Symonds (Kendal) and Alison Raw (Bingley) was first lady - both of whom ran in the English Champs at Weasdale the day before (where Symonds came 2nd, Raw 1st F40)!
Support on the tops came from Kath Dallinson, a banana-powered Jasper, Jane Saul and Pat Dunn, who all braved the cold wind to bring a cheer to weary runners.
Thanks to Jon Broxap and all marshals/helpers for a great race. The Howgills certainly make for some great fellrunning.
Rob & Old Cheviot