05/04/08
Allendale Challenge
- from Rob Stephens (+ photos)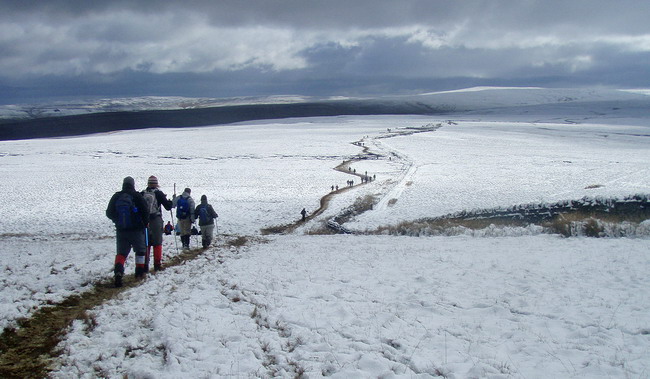 view from Hard Rigg across Hesleywell Moor (top of Killhope Law caught in sunshine in distance)
One narrow trod of dirty mushy snow hugs the County Boundary along the broad white back of Hesleywell Moor. The way ahead is clearly visible for miles as over 40 winter-clad runners weave their way through an endless chain of over 400 Challenge fellwalkers.
Bounding over fresh snow-covered tussocks and leaping over bogs, it's tricky not to startle one or two walkers as we overtake them, oblivious as some of them are under woolly hat and hood. Some of the fellwalkers offer words of encouragement - I suspect many of them would prefer to up the pace a little themselves across some of these sections!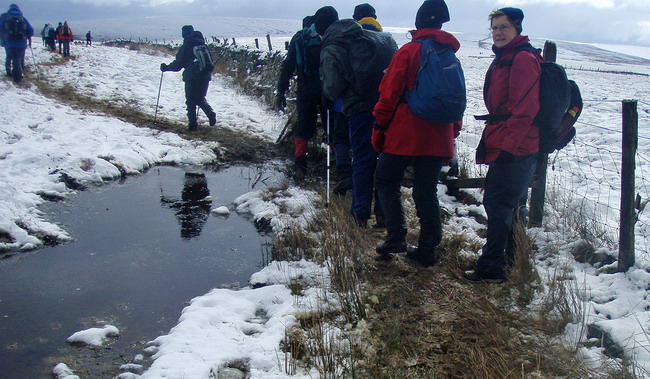 walkers negotiate a boggy bit
The tell-tale bright green of sphagnum signals the presence of some boggy areas but the consistency of other churned-up sections isn't easy to gauge - just a matter of leaping and hoping for the best! Several times we're down to our knees or even deeper. The suction created from these bogs is unnerving and it takes quite a tug to get out, so I'm glad there are a few people around who might offer help if need be. (I later heard that one or two runners did require help from - or gave it to - walkers to get them out!). Unable to leap over one 'pond', I begin to wade through, but thigh-high in this murky stuff is enough for me and so I retreat to find a better way around.
Once out of the bogs it takes a while to warm up again; my wet feet, caked in clart and snow, have lost feeling from the cold. It's also difficult to take on board food and water due to a combination of crossing rough ground, numb fumbling fingers and jaws too cold to chew; a single piece of flapjack has long outstayed its welcome in my mouth, and I almost give up on it …
Runners are spaced out and difficult to distinguish from walkers, especially because every now and then some of the walkers break into a run, and no doubt some of the runners break into a walk! There doesn't seem much chance of me catching up again with Clive, who I spent most of the first section pleasantly chatting with – I fell back fumbling with water-bottle-filling at Ninebanks and then missed the short-cut through the wall. (Thanks for calling me back, Chris!) I do catch up with one guy who, having started off well, seems to be struggling with this terrain (turns out this was his first fell race!). Not far behind, Chris Little is hunting me down and keeps the pressure on.
A crowd of walkers have gathered at the halfway point at Black Hill, enjoying a little banter and warm refreshment, but I press on. I don't want to delay the horrors of Killhope peat hags - which I've heard so much about - any longer.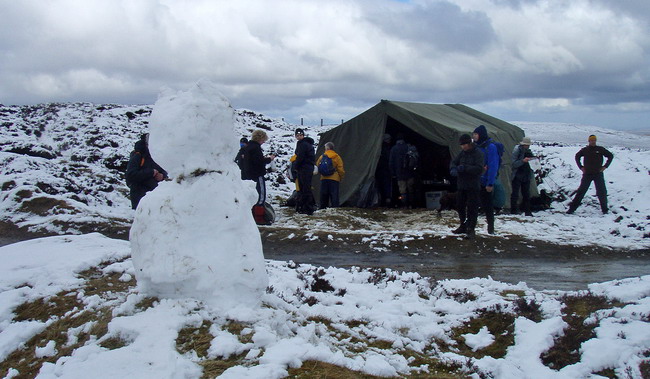 refreshments at Black Hill (a snowman helps out)
Actually, the hags don't seem as bad as I had envisaged; the route others have taken is clear and the bottoms of the trenches aren't too soggy. But climbing up and down them drains energy and robs the runner of any rhythm. Here, at the highest point of the challenge, the wind is at its coldest too, and I'm sure we are all glad to see the checkpoint on Killhope Law, as it marks the end of the worst terrain and the beginning of a return to civilisation.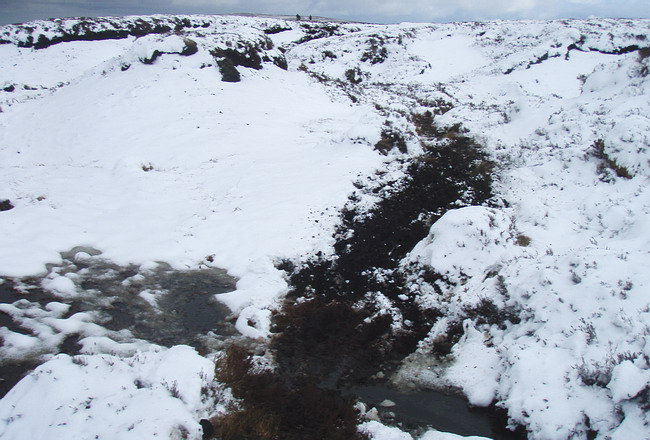 endless peat hags up Killhope Law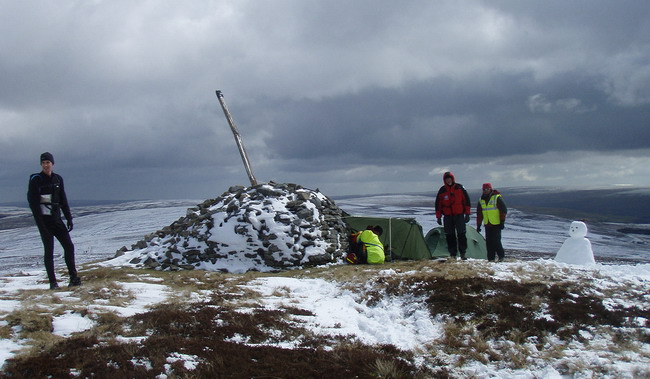 the welcome sight at the top of Killhope Law (and another snowman)
The downhill track to the Smelt Mill brings on all manner of discomforts as tired feet thump down on the gravelled surface. Running instead on the grassy verge does little to relieve the aching, but at least we have dropped below the snow-line and fingers and feet begin to thaw.
It's quite a different day here alongside the banks of the East Allen; daffodils and chaffinches enjoy the warming sun. Competitors have become increasingly thin on the ground and there's no one in sight in front for a while, so it's a matter of keeping a sharp eye out for marker tape … or getting the map out.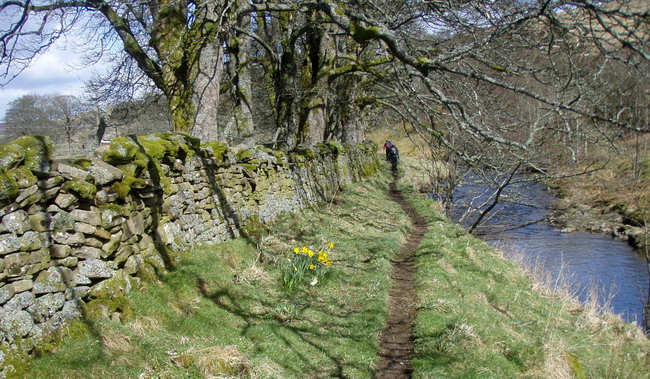 a different day altogether on the banks of the East Allen
After friendly encouragement from the marshals at Sparty Lea, the Long Drag up to Sinderhope Carrs becomes pretty dire: a repetitive uphill grind, complete with aches, pains and general weariness … into a headwind too. If that wasn't enough, Chris is closing the gap behind, pushing me harder. A welcome change of gradient just before Ladle Well and then a return to familiar puddle-dodging on the Hexhamshire Hobble course lifts the spirit a little.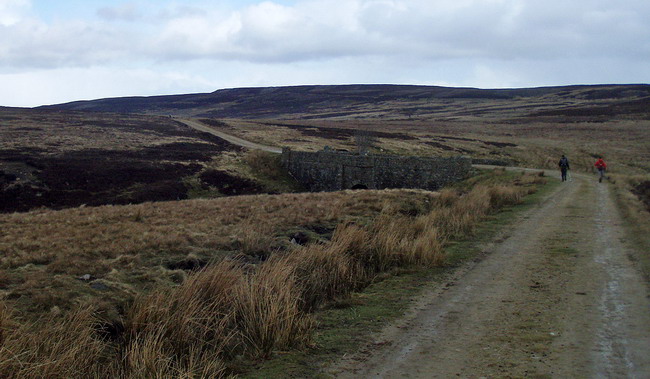 the Long Drag up to Sinderhope Carrs
The thought of the ever closer finish and the increasingly likely achievement of my first marathon* - around six miles further than I've ever run before - helps me through the final downhill sections.
Back in the village hall, some of the stiff and wounded attempt to shuffle around a bit, but most just remain motionless for a while, stunned by the trials of the day. The weather turns bad outside and the unfortunate participants still to finish have to do so in sleet and hail to add to their troubles.
I hear colds and flu kept a few NFRs away but 14 or so were there, some of these hardy souls aiming to get round the best way they could in spite of one ailment or another.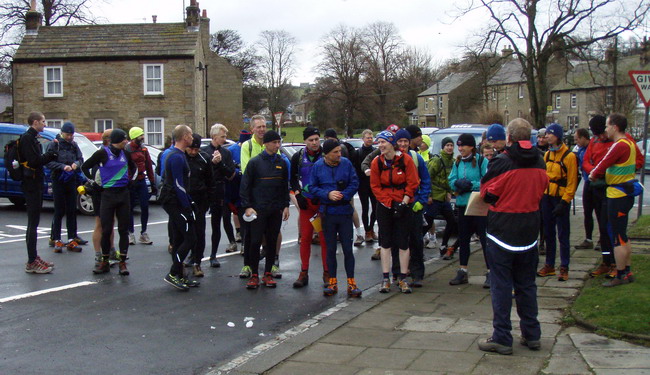 the runners looking fresh at the start of the event
At the front of the field, Philip Addyman and Louise Wilkinson were first male and female runner. Dexter was second and Geoff Scott third. Full results to follow.
Well done to everyone who got round!
A very well organised event from the North of Tyne Search and Rescue Team - many thanks to those involved.
* Garmin and Memory Map measure this route as just over 26 miles (~3400ft ascent) so it's a marathon really - only tougher!
Rob Stephens