20/04/08
Anniversary Waltz
- from Old Cheviot (photos: Pat & Rob)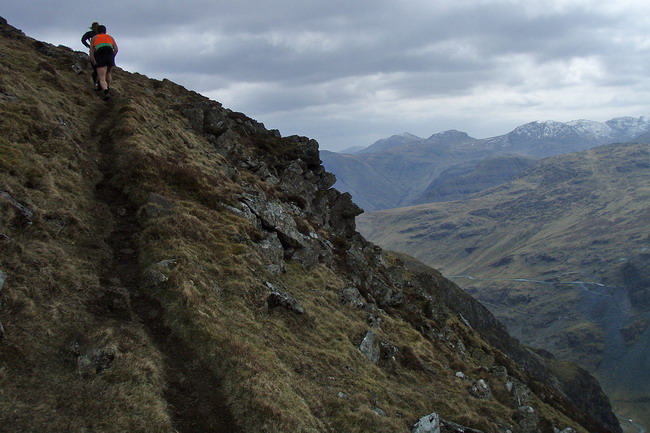 traverse on Dale Head ridge
The line of runners snaked around the traverse of a rocky pinnacle on the Dale Head ridge. Below there was a 1,500 ft drop to Honister Pass. To the south snow-covered Pillar was etched against the skyline, with the Scafell Range in the distance. Old Cheviot tried to enjoy the view, while concentrating on catching the purple and green vest in front of him. That belonged to Garry Owens, and it soon dawned on OC that it was a fruitless pursuit.
The race had started 10 minutes late due to the large entry. After the cavalry charge up the field, there was a quick 20 minutes run along paths and lanes until the serious work started on the climb up Robinson. Steve Walker followed a posse up a short-cut on the screes, which turned out to be something of a long-cut, while Rob Stephens found time to turn round and snap the views.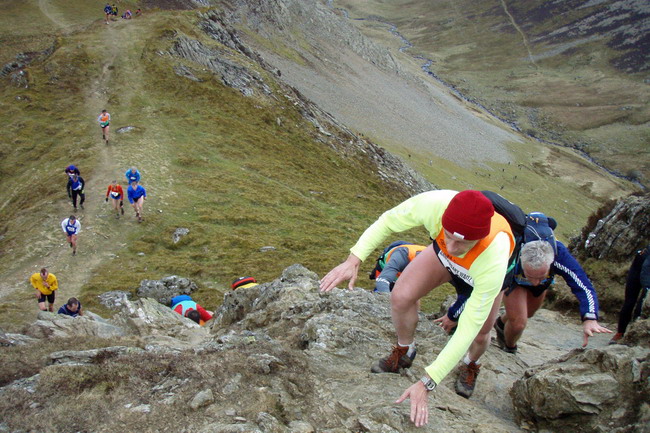 looking back down the rock steps up Robinson
After the summit of Robinson, there was a fast descent to Littledale Edge before a grinding pull up Hindscarth. The ridge to Dale Head was mostly runnable, before the steep and rocky descent to the tarn. Phil Green got his Borrowdale head on, and confessed that he headed too far right. OC was lucky to be following a girl from Ambleside who found the gap in the wall spot-on.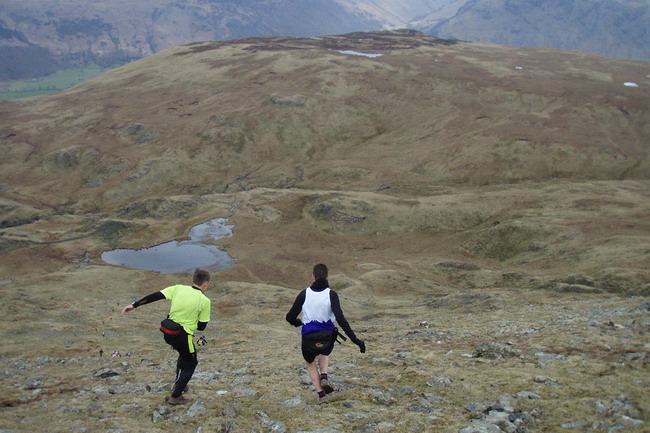 descent from Dale Head
The climb up High Spy should have been runnable, but wasn't. Here OC was glad to see Rachel Vincent (Tynedale) who was dispensing jelly babies and support in equal measure. The run along Maiden Moor was exhilarating with excellent views down Derwent Water. The Ambleside runner again came to the fore when she found a nifty traverse above Narrow Moor. After a final climb up Cat Bells, there was an excellent grassy descent to the finish field.

Philip Sanderson was first NFR in at this point until ...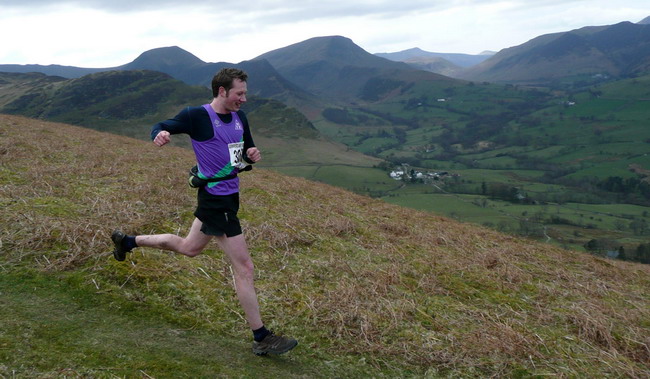 ... Aengus McCullough pipped him to the finish
About 20 NFR took part in the senior race. Aengus McCullough was first home, just ahead of Phil Sanderson. Louise Wilkinson was our lady representative. The race was won by Lloyd Taggart. In the junior races, OC heard reports that Fin Robertson ran well, and that the 2 junior Scotts made their NFR debuts.
It was a cracking race, with food and free beer at the end – what more could you ask for?
Old Cheviot
results on Anniversary Waltz website