06/09/08
The Ben Nevis Race 2008
- from Old Cheviot (photos: Old Cheviot)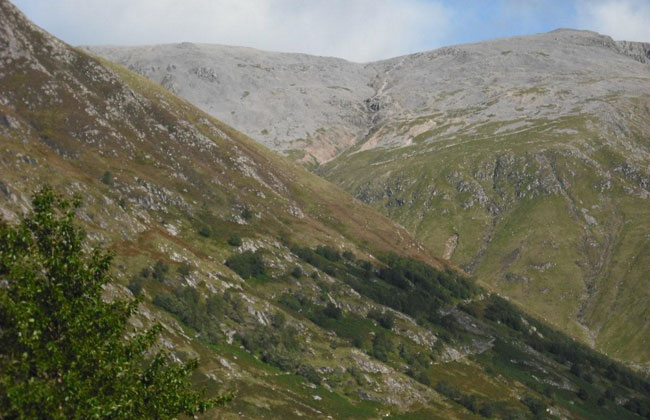 The Ben close up - route visible on top middle
The Ben Nevis: over 2 hours of sweat and toil, screaming quads, and intricate footwork – and that's just the post-race ceilidh. 8 runners from NFR successfully completed the race. For some such as Paul Hainsworth it was a first-time run, for others like Paul Appleby it was a return visit and a chance to improve on previous results.
The weather was perfect for running: cool, dry, with just some light clag on the top. After lining up behind the pipe band at the start, 450 runners did a quick lap of Claggan Park in Fort William before heading up the road and the tourist track. The serious work set in at the Red Burn with runners taking a direct line up the loose scree to the summit plateau. At the top, it was a quick touch of the summit cairn, before heading straight down the screes to the infamous Red Burn grassy bank. After that the stones on the tourist path were a trap for wobbling legs (as Graham Wilkinson can testify), and the last mile on the road seemed endless. After a final lap around the park, it was all over: 10 miles and 4,400 feet of climbing had been ticked off.
Old Cheviot ran most of the race overlapping with Dave Atkinson, before the latter's youthful legs won the day on the final road section. Dave was first NFR home in 2 hours 7 mins. Louise Wilkinson and Katherine Davis were NFR's lady representatives. Bernard Kivlehan made his Ben debut finishing with a smile on his face, and Colin Blackburn brought NFR home.
In the evening, the prize giving in the Ben Nevis Centre was interesting. The Lochaber school's pipe band warmed up proceedings with numbers such as Scotland The Brave and Rowan Tree (Old Cheviot had to be restrained from singing along). The race was won by Agusti Roc who was taking part in the Sky Runner World Series, and Rob Jebb (Bingley) was second. Angela Mudge (Carnethy) won the ladies' race and Alison Raw (Bingley) was first v40 lady.
Afterwards, NFR decamped to the Ben Nevis Inn for a splendid evening. A ceilidh was in full swing, and NFR took the dance floor by storm. OC never knew that Paul Appleby was such a dab hand at Strip the Willow, or that The Virginia Reel was one of Graham Wilkinson's favourite numbers: but he does now.
It was a marvellous ending to a great day out.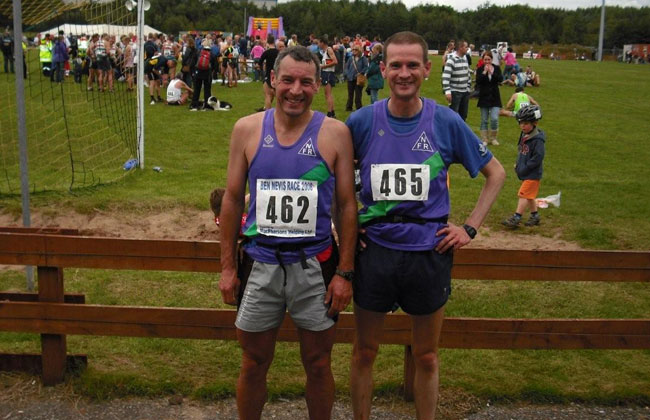 Dave Atkinson and Old Cheviot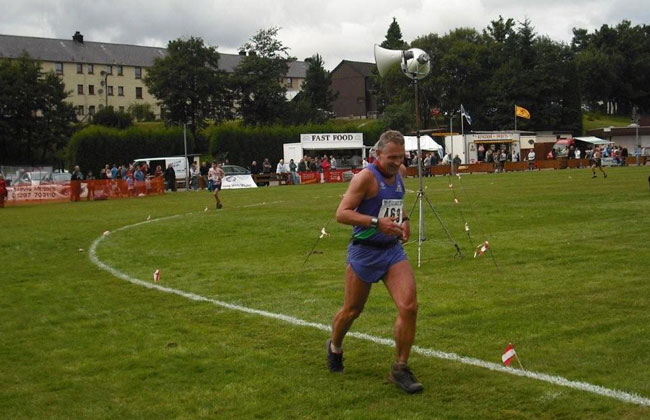 Paul Hainsworth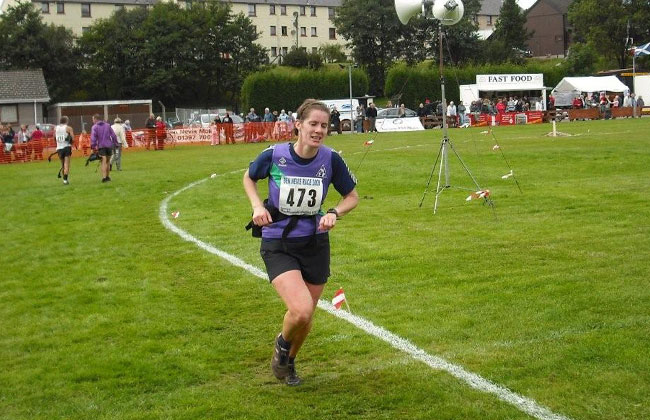 Louise Wilkinson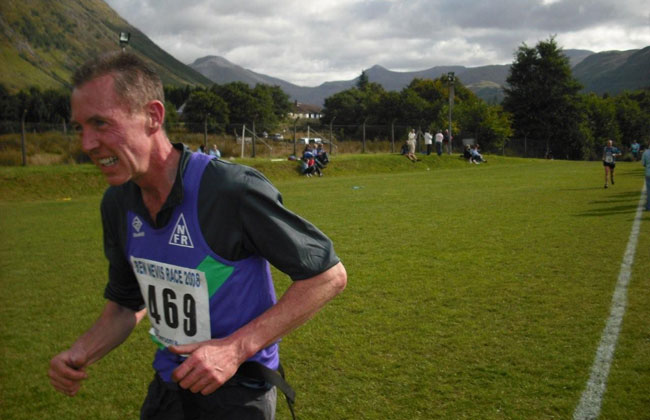 Bernard Kivlehan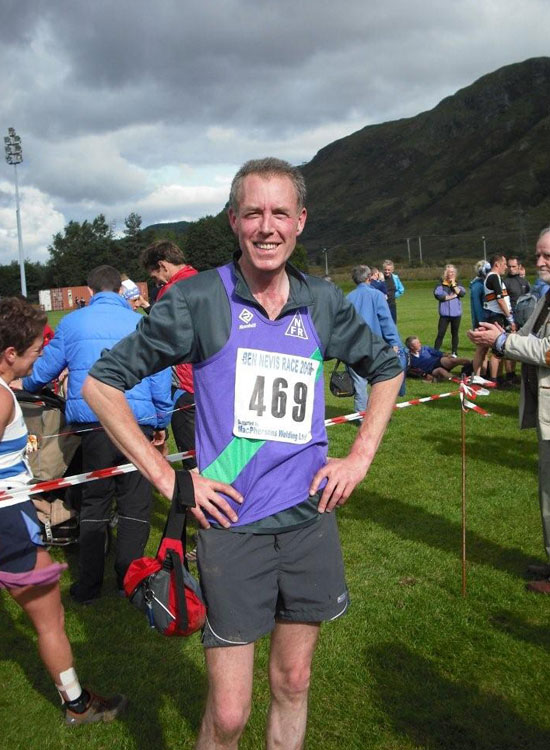 Bernard again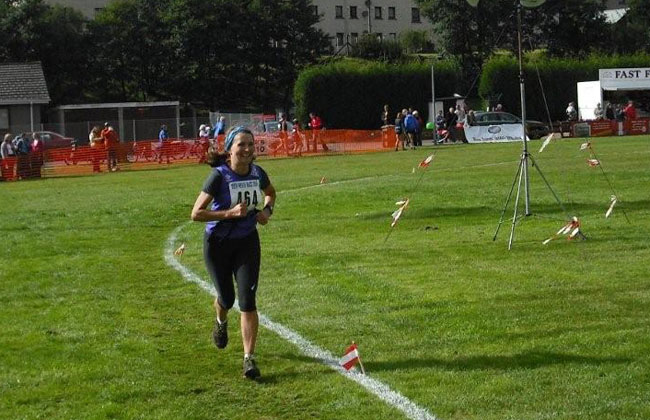 Katherine Davis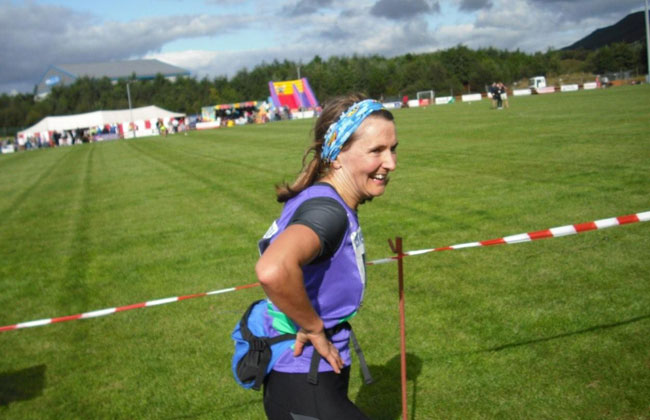 Katherine again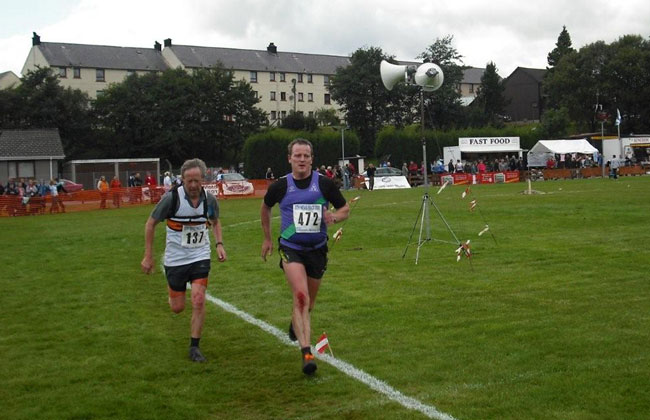 Graham Wilkinson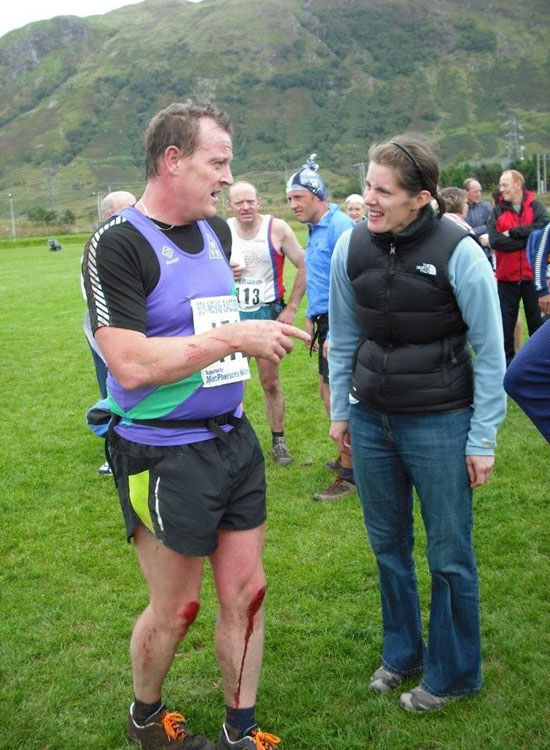 Graham bloodied by The Ben
Old Cheviot
Results and report on FSA website