23/03/08
Brough Law Fell Race
- from Rob Stephens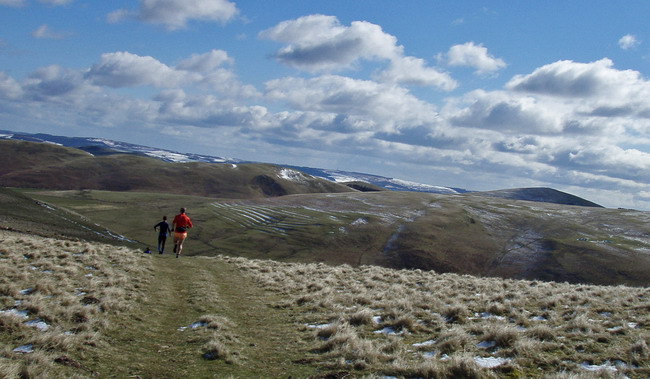 a window of fine weather amidst a weekend of snow and hail
I think I know this route pretty well. I've recced it, run the race twice before, and have been round the course many other times as a training run, to say nothing of drawing a map of the route for the website - so why then am I following at least nine others (maybe a dozen) right down to the lower reaches of Middledean Burn instead of turning right back there?
Well, my excuse is that I couldn't quite hear Ray's brief at the start, but somehow got the impression there was some sort of change to the usual route, and I supposed that this was it ... (I later found out there hadn't been any changes!)
No flags down by the burn though, so it looks like we've gone wrong, but it's easy enough to get back on course from here. Up ahead, half a dozen front runners appear to stop and clump together ... then a directing hand points the way uphill and the group resume their running - at a distance, it's almost comical to watch ... like the Keystone Cops!
Last year's dead bracken lies flattened against the fellside, revealing every rocky detail, and a light dusting of snow fills the shallow troughs, but beneath the ridge, out of the biting north wind, you could be forgiven for thinking it's summer: the bright and warm sun beats down and the sweat pours. It's a tough pull up to Wether Hill, somehow tougher than the first climb up Brough Law.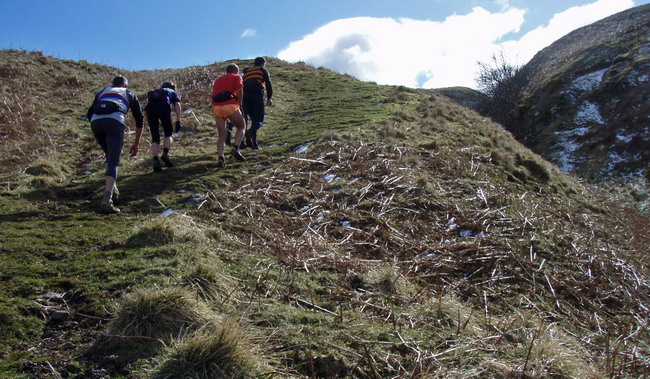 climbing by Corbie Cleugh
Further up, along the exposed sections, the strong and sharply contrasting Arctic wind makes it that much harder. Just ahead, I see Philip Sanderson, who hitherto was in 1st position (I think), leaping over rough tussocks as he scrambles out of Corbie Cleugh to rejoin the ranks in about tenth place - oh no, not another deviation!
Looking back, I see lots of heads down, hands-on-knees, getting ever closer, which spurs me on. Eventually we round the top of Wether Hill. Marshal Paul Appleby stands on the walls of the Iron Age settlement cheering us on as we head for the last steady rise to Cochrane Pike. As I pass I try to say "Cheers, Paul" but I think it's just spit that comes out.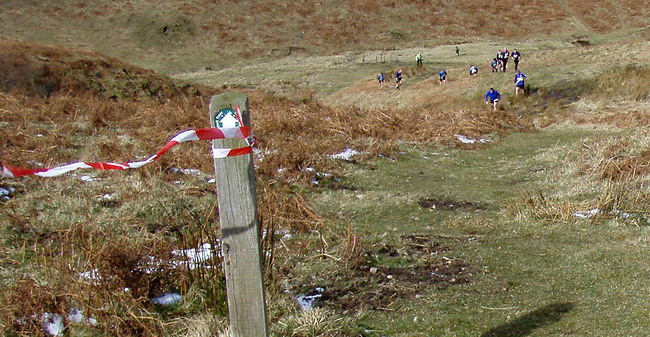 looking back to Middledean Burn
By the time I reach Cochrane Pike, there's no one in sight in front, but I know the way well and hang a sharp right around the taped bamboo. Still no one in sight ... but then ... I don't believe it ... to my left, a string of the runners in front seem to have gone straight on at Cochrane, over the fence and into the next 'field'. Runners all over the place, or so it seems. But I see that our paths will converge at the corner of the settlement enclosure, so I continue on my tried and trusted course. Bounding down this fast section downhill, I'm just about to slap a foot in a beck when I quickly retract it to avoid some frogspawn - it really is spring!
Over the stile and down into the cleugh, it's good to catch up with the group I was with before, but all too soon they peel away one by one over the crest as I'm still slogging up the the last steep slope.

the order at Little Cleugh, Ken Maynard in front
Back into a headwind that tries hard to slow progress, so it's head down and push hard along this grassy run back along Ewe Hill to Brough Law. A final short pull up to the Iron Age hill fort, guided by marshal Richard Cooper, before the superb descent down Brough Law: running down its wide and sheep-mown grass path never fails to knock the stuffing out. I'm not quite quick enough to catch Karen though as she drops over the edge at the end of the spur, but I keep my position to the runner behind whose footsteps have been getting louder for a while now.
Woowee: the last drop to the road is perhaps the best finish of any race I've so far been too - what a thrill! (And even more so for Phil Green who literally fell head over heels!)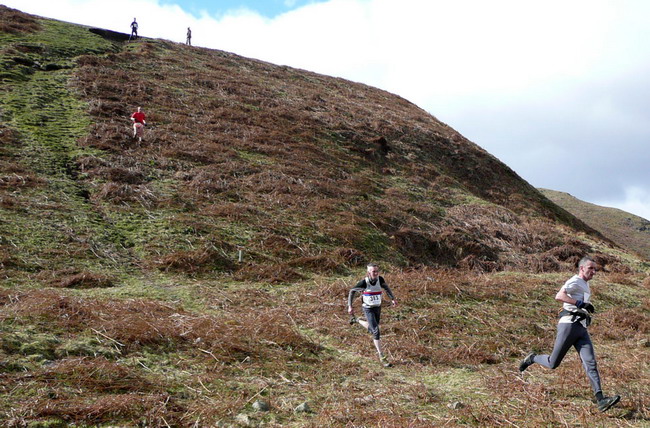 exciting finish to the race
It was a lean turnout at the race this year, but with it being Easter and the awful wintry weather yesterday, it was bound to lose out. We were lucky to have a window of such good weather to race in when so much of the weekend had been plagued with snow and hail. Ray rewarded lots of us with his endless supply of Easter eggs and nuts; indeed, this is about the only race where I actually win something!
DFR's Ken Maynard won in sterling form, and Karen was first lady. Philip Sanderson made a remarkable recovery from his detour(s?) to come in 2nd and Dexter had a great run in 3rd. Other category winners: Claire Bagness (Wooler); Pat Cooper; Les Turnbull (Norham) and Terry Hart.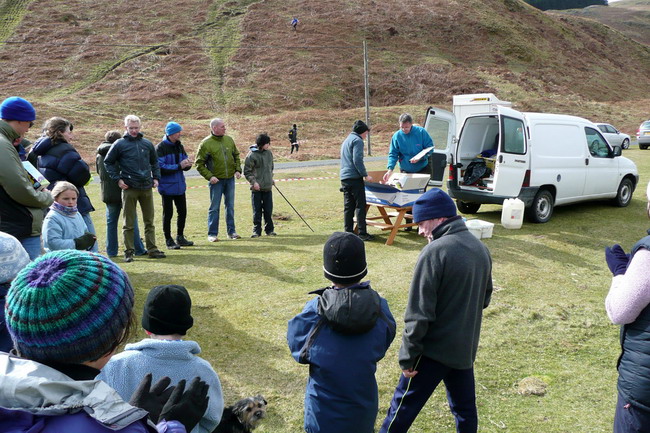 presentation time and out come the Easter eggs
Thanks to Ray and team of helpers for a great race.
Rob Stephens