11/05/08
Buttermere Sailbeck Fell Race
- from Rob Stephens
A hot and busy Sunday in the Lakes: Cat Bells ridge was bristling with walkers; Newlands Pass was almost impassable whilst hundreds of red-faced riders hauled themselves over this, one of the lesser climbs, in the gruelling Fred Whitton (cycling) Challenge; Buttermere village too was bustling with visitors and, amongst them, 177 fellrunners congregated in front of the Bridge Hotel for a classic Lakes fell race.
9.5 miles doesn't sound too bad, but pack into this 4650 feet of ascent - nearly 500 feet per mile - and you know this is going to be tough, particularly in this heat. It was worryingly hot - it's not often runners have to cool off in a stream before the race starts!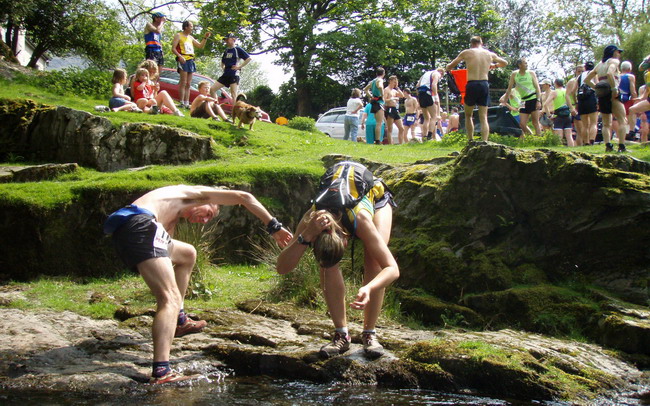 so hot, some of us cool down when we're usually warming up!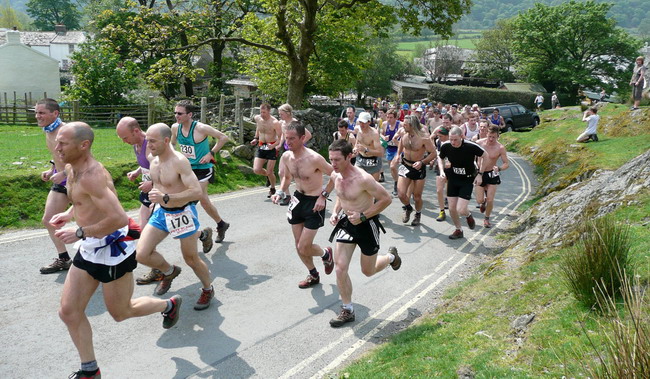 topless from the start
We're off. A steady run up the road and before long we're onto the grassy slopes beside Mill Beck and here we settle into our early positions, the main thread of runners clinging to the narrow trod which contours the slope, parallel to Newlands Pass above us. The green path up Knott Rigg is clearly visible and already some of the front runners can be seen hammering their way up. Soon enough we all troop up in their wake and the sweat pours - it doesn't help to know that all this height gained will be lost after Ard Crags.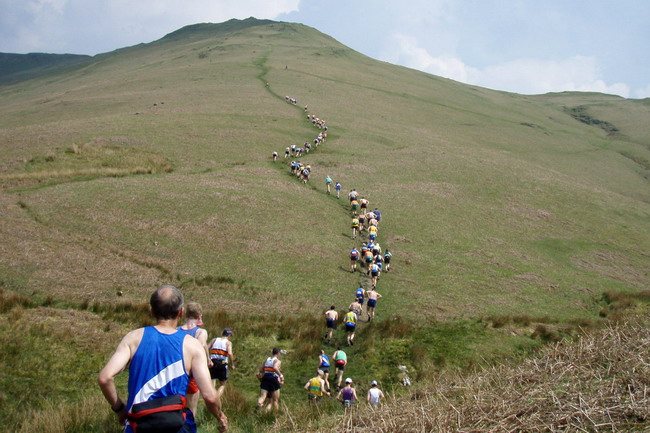 first climb up Knott Rigg
Once up, it's a wonderful run: an undulating grassy ridge with commanding views either side. Just before the checkpoint at Ard Crags, we have our photos taken by Darian Bridge for the Borrowdale website collection.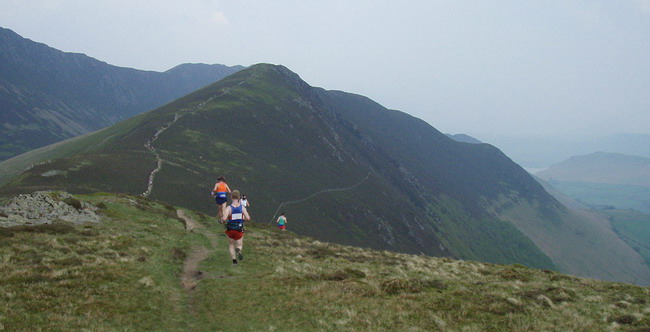 the run along Ard Crags
Over the edge and a cracking descent down Aikin Knott amongst heather and bilberry. Down to Rigg Beck to gloriously cool water - a quick splash and a handful or two to drink before resuming the run.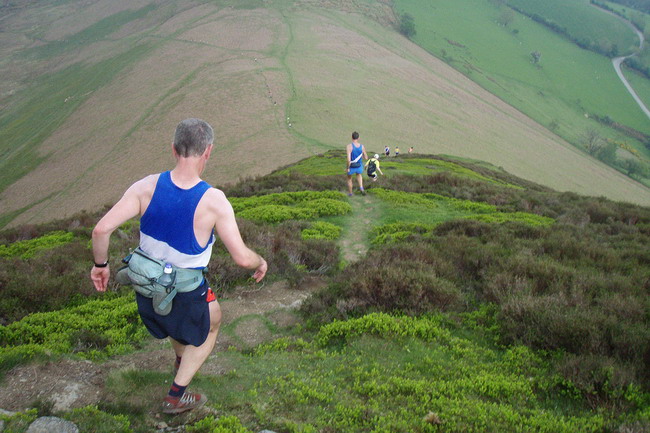 a steep descent down Aikin Knott
East to the next checkpoint before doubling back and upwards on the longest climb of them all, Causey Pike, one of the most distinctive peaks in the Lakes. Its beacon-like top beckons to be climbed and here we set off seemingly from the lowest point possible along the most direct line. The climb goes on and on, but it's a good opportunity to drink and eat. Once onto the higher slopes, there's very little chance to overtake; it simply takes too much energy to leave the trod and accelerate uphill in almost knee-high heather, so we settle into a heads-down chain at a fixed pace all the way to the ridge.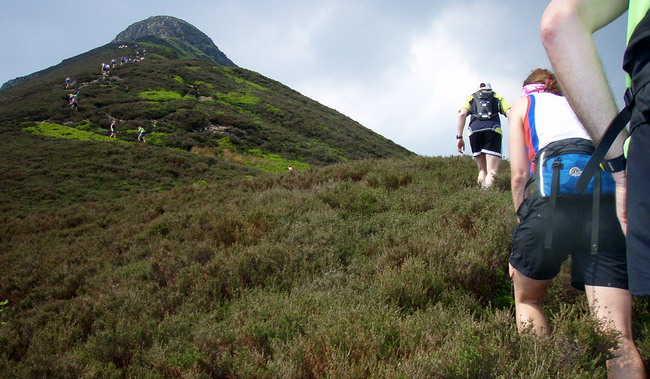 Causey Pike beckons
The weather has been muggy for a while now and the sky a little dark in places; as forecasted, there's a short spell of heavy raindrops followed by loud rumbles of thunder close by, but it holds off for the moment. Onto the ridge and a rocky scramble up to the top of the Pike sees a welcome change of climbing technique and offers some superb views. Despite the sun, there are some very pleasant cooling breezes at this height too.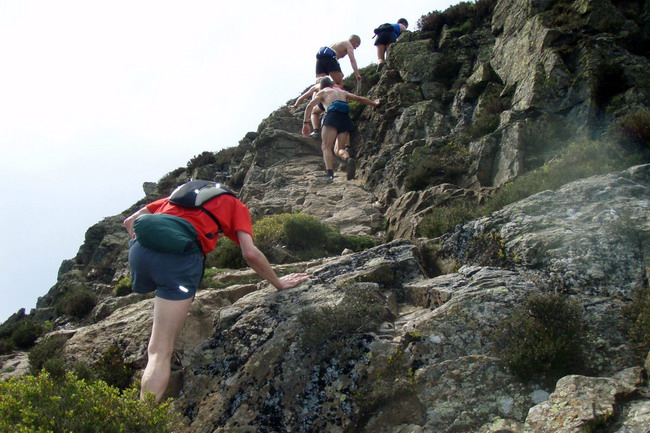 a brisk scramble to the top
Beyond Causey, runners are well spread out as we get back into some proper running again along this fabulous ridge. Photo time again: Darian must have cut across the valley. Up ahead in the haze, the huge bulk of Sail and beyond that, Crag Hill, fills tired legs with dread, but exchanging places with a few other runners as our strengths allow helps to spur us on in our growing exhaustion.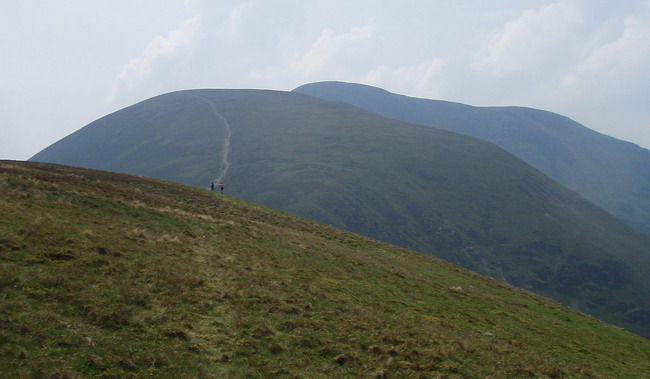 Sail ahead, Crag Hill beyond
On top of Crag Hill and it feels great; that's more or less it for climbing and now we can just sit back and enjoy the ride - I wish! Tired legs now start to stumble a little but this is still a fabulous run over Wandope Moss to Whiteless Edge; springy turf and a panoramic vista of the Western Lakeland fells - it's also good to simply open up the stride.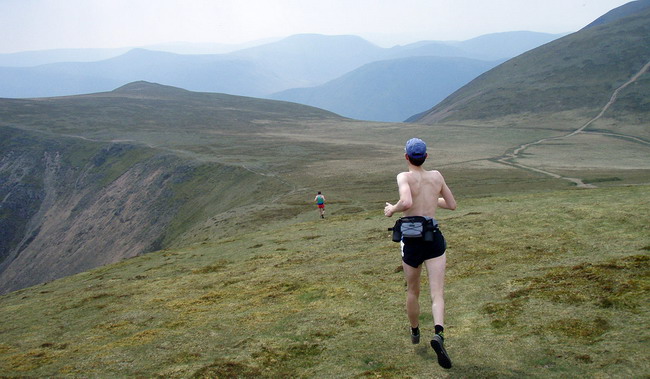 good running over Wandope Moss
Runners are few and far between now as the pace has picked up. A last clamber up to Whiteless Pike before the start of the long grassy descent to the finish field: about 1700 feet of descent in 1.2 miles.

long descent off Whiteless Pike
Legs like jelly and a sore blister to boot, this is quite tricky; cutting off the corners on the zig-zag path with short rapid steps, it's touch and go whether I'll be flat on my face any second now. The gradient does change a little though which eases the quads and I can overtake a few more runners who passed me earlier. Despite the weak legs, the finish field is in sight and it's still all downhill, so brakes off for a last sprint ...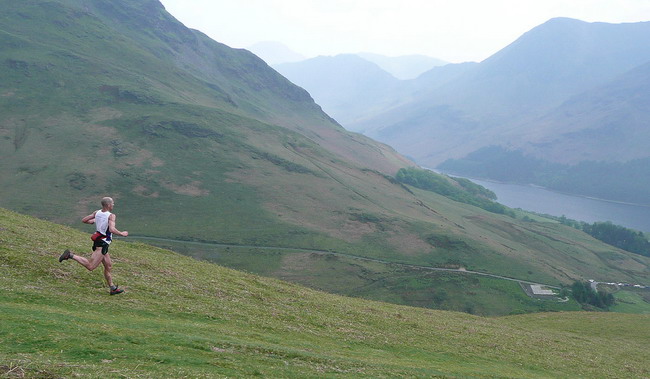 Simon Booth leads the way to the finish
Thunder continues to rumble overhead and the odd spot of rain turns into quite a downpour - welcome at first, but it soon sees the weary runners heading back to change. What a fantastic route that was.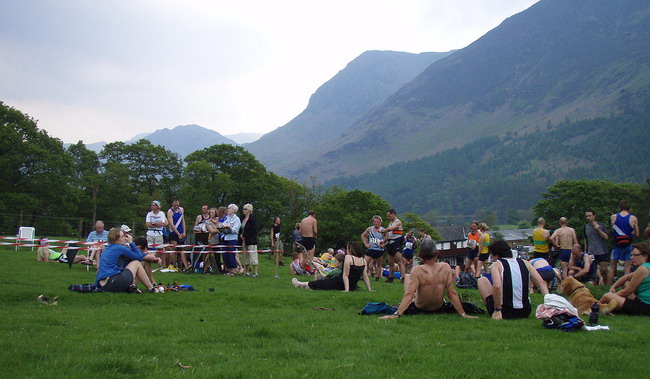 the finish before the rain came
Results to follow, but from the photos Pat took of the runners not far from the finish, it looks like: men - Simon Booth, Morgan Donnelly, Jim Davies; ladies led by Helene Whitaker (Diamantides).
Rob Stephens
results on Wharfedale Harriers website
photos on Borrowdale FR website
video on YouTube by Fellephant