27/04/08
Cheviot Summit
- from Rob Stephens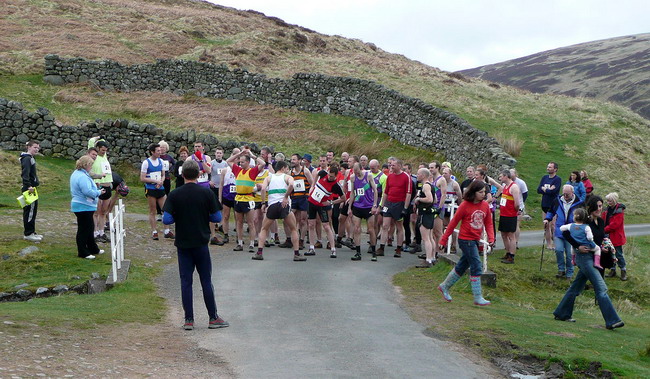 runners gather by the bridge and some perform odd rituals!
Beside the tree-lined banks of Harthope Burn at Langleeford, runners are getting themselves ready for the race: signing up, catching up, warming up, and gazing up at the cloud hovering over Cheviot. Northumberland National Park Mountain Rescue Team - to whom the proceeds from this race will be donated - have been here a while setting up their radio equipment on Cheviot Summit, which will relay via a second unit on Housey Crags back to base.
An out-and-back, up-and-down course with an obvious route. Winter 'longs' can confidently be left in the kit bag: this is mild enough for shorts (perhaps vests), even if a few of us did see a rainy and gloomy start to the day. From the off, Philip Sanderson drives a hard pace at the front, keen to claim his first NFR win. He's closely tracked by Will Horsley and Iain Twaddle and one or two other serious contenders.
It doesn't take long to stretch the runners out into a long chain as we engage the hill and most of us quickly adopt walking mode, interspersed with running when the gradient allows. There's plenty of position changing in the mid-ranks and there doesn't seem much in it - it's not the climbing thats hard, it's the holding onto your position that's so difficult!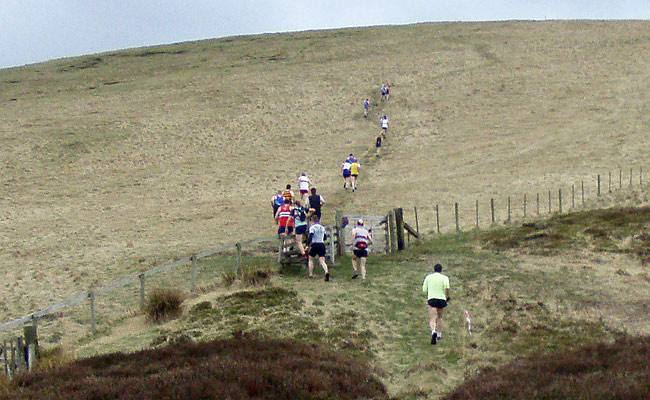 the head of the field going up Cheviot Knee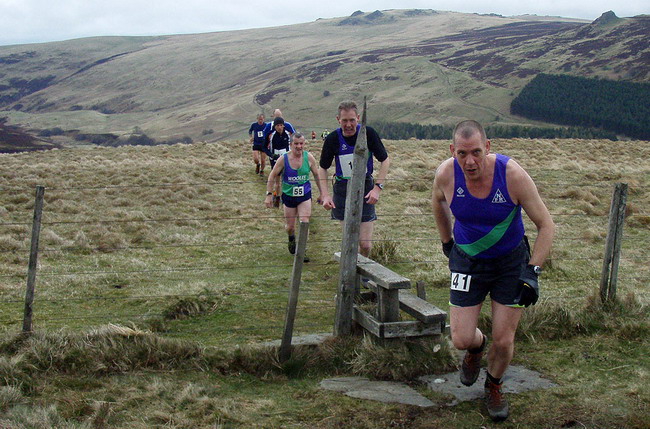 Phil keeps the pressure on
Up and over Scald Law, we can stretch our legs out to run, but now we're faced with the boggy traps that lie across the flat saddle before the final pull up to the summit. Apparently, up until a few days ago, snow lay quite deeply on Cheviot - four foot drifts in parts. Only a few shrunken pockets remain, but the thaw, together with recent rainfall, has made the peat very wet. It takes a few long leaps to avoid going in knee-deep but most of us fall foul somewhere or other.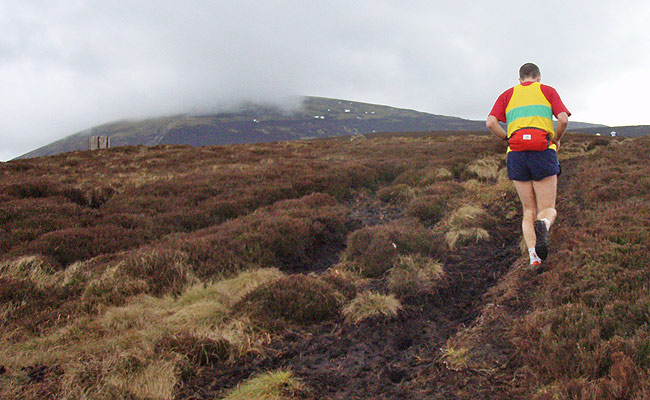 cloud shrouds the top of Cheviot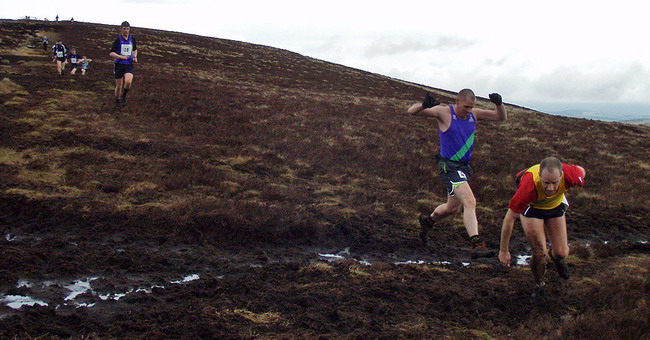 John Telfer recovers from a bog fall
The final climb is steeper; bent over and gasping, we creep our way up. We're in cloud now, picking our way over loose, lichen-covered rock and firm stubby turf. The mist deadens the sound of clattering rock as suddenly the first runner, Will Horsley, bounds over the crest at the beginning of a victorious descent to the finish. Not too far behind, Iain comes careering after. Over on the skyline, a little off-course, Philip picks his way over the rougher rocks and tussocks. Then a tirade of other runners come by; as each runner passes, it's another cruel reminder of how far behind those of us still climbing are.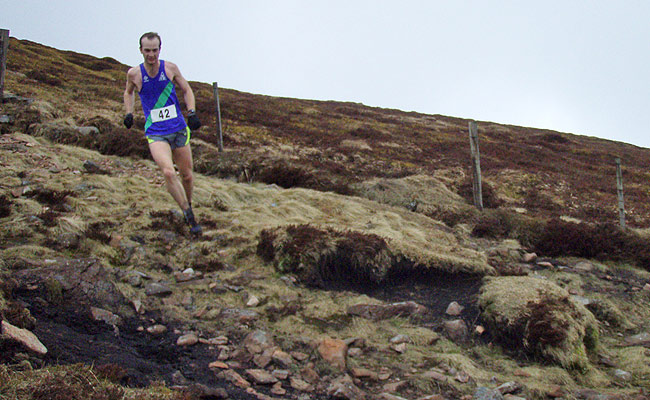 Will Horsley well in front on the descent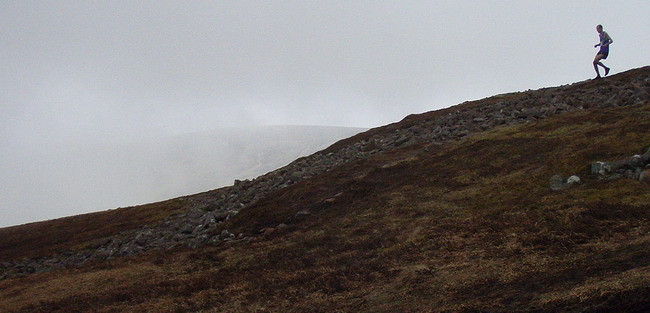 Philip Sanderson on the skyline
We reach the narrow paved section over the broad summit top where good-natured fellrunners pull in with a smile and a cheer to let others pass. I glance across the wild expanse of tussock and exposed semi-liquid peat and recall memories of being waist-deep in it as I headed for the top years ago before the flagstones were laid - I for one am glad of this 'floating' causeway.

Jack McWilliams flying along
Touch the trig point and we're away back down. It's a thrilling descent, running as fast as you dare, three miles of it, descending some 2000 feet. At this speed, there's not so much time to pick the best lines around the bogs, so we're snagged in the brown sludge a lot more often. There's a little drizzle about and the field is much more spread out on the way down but it's a wonderfully fast, gravity-assisted run over soft terrain most of the way to the finish.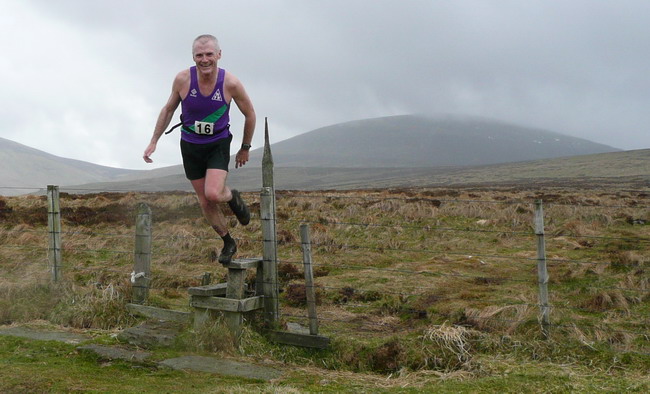 Geoff Scott smiles for the camera mid-leap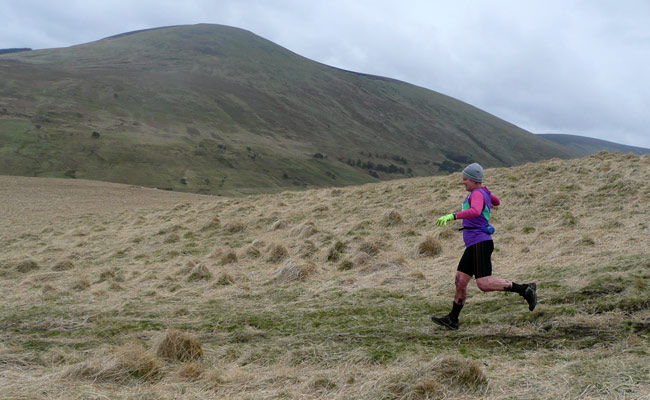 Ruth Fletcher accelerates on this fast stretch
Back at the finish, other than comparing encounters with bogs, there are tales of falls, ankle-turnings, sore knees and cramp - it's amazing that some of us are still able to run! But everyone seems to have had a very enjoyable race and spirits are high - even more so when the tin of chocolate rice crispies marked 'for Runners' is spotted.
First three men in: Will Horsley, Iain Twaddle and Philip Sanderson (maybe you'll win next time Philip!). First three women: Veronique Oldham, Claire Bagness and Ruth Fletcher. An excellent run from the organiser's son Jack who is first local lad. The boggy conditions meant that the course record (held by Will) was safe for another year.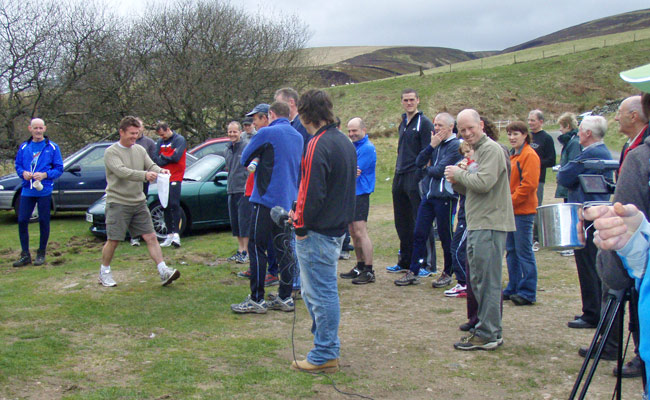 spot-prizes
Many thanks to Glen, his family, and the Northumberland National Park MRT for a very enjoyable race. The presentation was watched by a film crew (University students), who were making a documentary about the NNPMRT. As part of the filming, the Rescue Team were more than happy to practise a mock call-out and really got into the spirit by driving their Land Rover up and down the valley road at hair-raising speed with sirens blaring and lights flashing for the cameras - alarming but reassuring!
Rob Stephens