05/07/08
Chevy Chase
- from Old Cheviot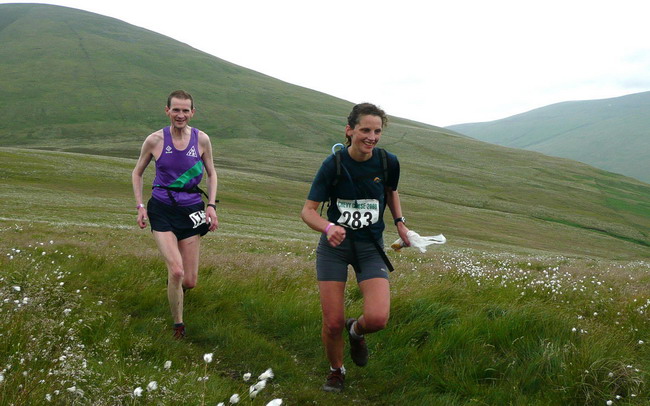 Rachel Vincent on her way to winning the ladies' run, followed by some old geezer - photo: Pat
Dancing over Cheviot on The Chevy Chase
Conditions were near perfect for The Chevy Chase: high cloud, a cooling breeze, and fairly dry underfoot. This led to some fast times and enjoyable running.
Ian Twaddle (North Shields Poly) [Iain at the Cheviot Summit race] led most of the way round, and in the end was a comfortable winner in the impressive time of 2 hours 45 mins. He was followed in by David Kirkland (Alnwick) and Alistair Horsfield (Gosforth Punters). Behind them was "the peloton" which bunched at Langlee Crags due to Garry Owens and others taking a long and winding road around Housey Crags. This led to some competitive running up the Careyburn where Garry and Old Cheviot got away from the group to finish 4th and 5th respectively. Geoff Scott was next home for NFR to claim the team prize just ahead of Fred Smith's Saltwell team
Rachel Vincent (Tynedale) continued her return to form and won the ladies' race. Katherine Davis was third lady home, and Kath Dallinson was first V60 walker. Phil & Sharon Green ran round together – but as there was no "me and wor lass" prize they had to be content with the honour and a soaking in the rain which arrived late on. There was also a welcome return to fellrunning from David Burn who ran round with wife Aileen.
Afterwards the T shirts, tea, and chat in the Youth Hostel were as good as always. Many thanks to Claire Bagness and her team at Wooler RC for organising another excellent event.
Old Cheviot was delighted to receive a spot prize of Noel Hodgson's "Dancing over Cheviot" poetry, and leaves you with this quote:
So let's dance over Cheviot, springing with glee,
On legs, strong and sprightly,
Unfettered, this far, by the ties of age.
Old Cheviot
5 July 2008