2311/08
Clay Bank West
- from Will Horsley (photos: Phil Green)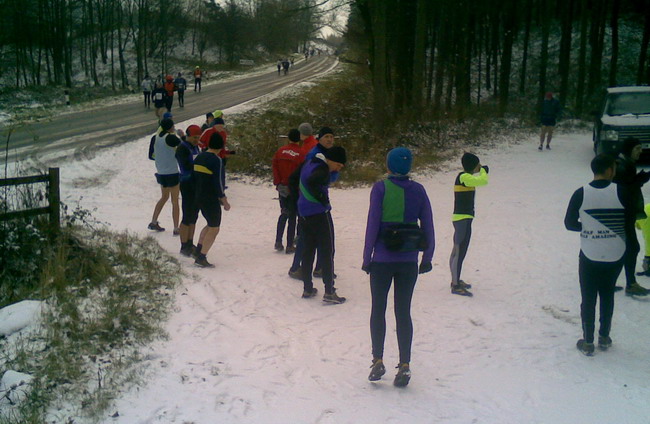 Bracing weather at the start - photo: Phil Green
The Clay Bank West race (4.2 miles) was held this morning on the northern flank of the North York Moors. The conditions were cold with a dusting of snow on the ground and plenty of ice, quite windy, a bit misty, but no precipitation. This actually made some of the running a bit easier as part of the route is usually very muddy but the frozen ground made it more runnable. The race was well attended by NFR, perhaps drawn to it because it was the last race in the 2008 North East Fell Running Championships.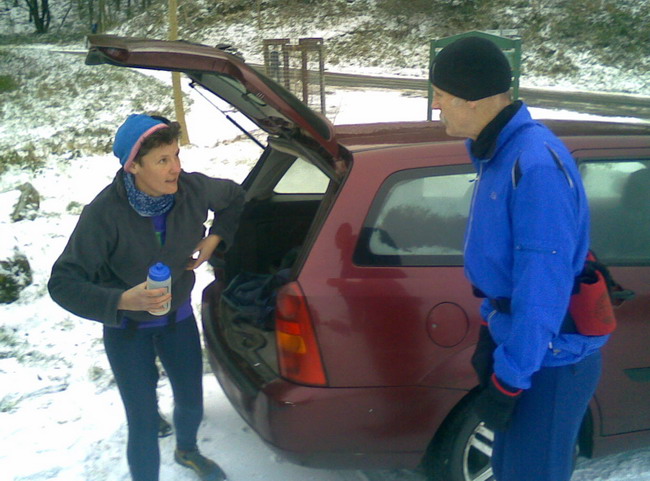 "one more step and I'll squirt yer" - Claire and Terry - photo: Phil Green
After Dave Parry got the race started the pace was quite slow on the first climb straight from the start line. Me and a young lad from New Marske took advantage and pulled away from the pack. We kept a good pace up all the way to the furthest point before turning and ascending towards the Cleveland Way. The young fella was not so good on the climb and I managed to pull ahead and establish a lead that I was not to relinquish. The rest of the race was quite uneventful from my point of view, but the mist cleared and I was able to savour the views. I was not brave enough to take the short cut down the scree to the finish line, but I question just how much of an advantage this route option delivers, especially as the scree is quite overgrown now.

I won in 31m36s, about 30s ahead of the junior from New Marske. Joe Blackett was fourth and Charlie Stead fifth. I seem to recall seeing Phil Green and Paul Hainsworth well up in the top half of the field, and Terry Hart was not far behind them either. Also there was Dave Beaumont. I was very pleased with this result, my first win in North Yorkshire, as it meant that I've sealed victory in the North East Championship (pending confirmation from Keith). Bring on 2009 (and the 2008 Hobble and Cairns)!

No doubt results and photos on the NYM website soon. If anyone is doing Captain Cook's Race on New Years Day, Dave Parry is looking for marshals (close to the finish area), so if you have supporters with you who want to get involved let Dave know (contact details in FRA calendar, or see him on the day).
Will Horsley