15/06/08
Ennerdale Horseshoe 2008
- from Philip Addyman (photos: Laura Brown)

Joss Naylor (3rd from L) addresses the runners
There were 4 NFR runners at Ennerdale on Saturday and all finished:
Steve Birkinshaw led us home in a very respectable 17th place and obtained a Silver standard time of under 4.5hrs in 4.23.17. Myself and Lewis Grundy were always within a few metres of each other over the last 45mins and I finally nudged ahead for 27th in 4.41.52, with Lewis 28th in 4.42.01. Finally, Jane Grundy had a more sensible approach to catching the views of the lake below, but still claimed 119th place in 6.23.18. There were 129 finishers out of 133 starters and conditions were generally clear on the tops, moderate temperature, with some occasional gusts of stronger, colder wind on the return leg.
For me personally, the race was a great experience, especially considering that I entered on a whim two weeks previously. My approach was probably not the most scientific as it has involved very little running but quite a lot of mountain biking. I'd won a small trail/MTB duathlon over in Dumfries a couple of weeks before, but being fit for 1.5 hrs is not the same as being fit for 4.5 hrs. Then, on the other hand, running into the fourth and fifth hour always hurts a lot anyway, so what the hell!
Laura and I went over and camped at Keswick on the Saturday night and arrived at the scout camp by 10am on the Saturday to find it a hive of activity. Weather was a bit tricky to decide: not exactly hot, but not too cold and there was visibility of the summits from the lakeside, which was reassuring. MWIS site was in fact promising a slightly better forecast than it turned out to be, but all in all, not too intimidating. Put the sun block on just in case, but had full body cover including hat and gloves too. You've got to take these things seriously.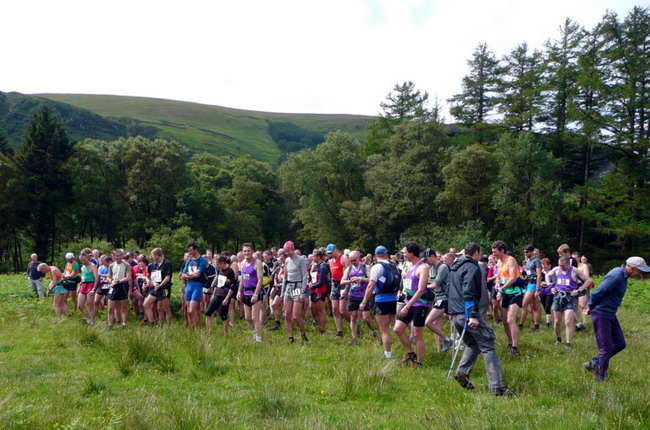 Joss Naylor (R) and the runners
After a brief intro from the organiser and some advice from Joss Naylor on the best descent route from Kirk Fell, we were off, sharp at 11am.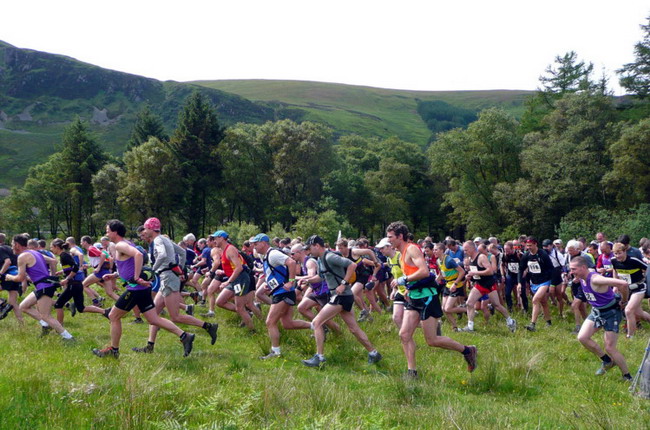 Steve, Philip and Lewis at the start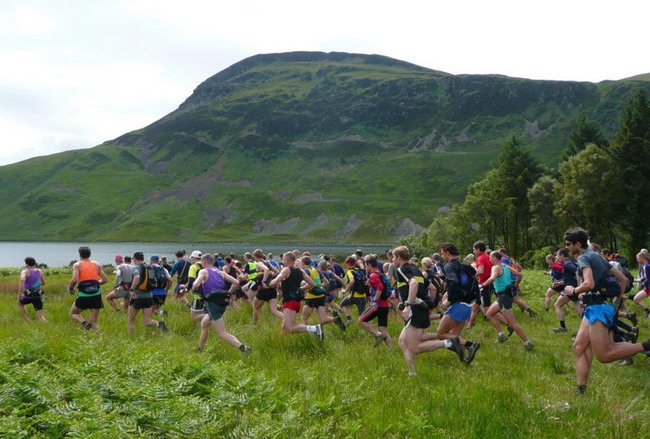 Steve gets off to a great start
The nice thing about long races is that nobody goes off crazy fast so you run yourself in quite steadily. Having said that I maybe made a significant tactical error by being with Steve through the first and the second check points, but after Red Pike he pulled away from me with his more nimble contouring.

The route out was really quite pleasant and I made Green Gable in just over two hours. As this looks like the furthest point on the map, it gives you the impression that it is half way, but the altitude gained on the return leg tells you a different story. In any case you've got to get to here in just over 2hrs and then do the return in just under 2hrs 30 mins to ensure a Silver time – this is what Chris Lumb from Kendal did, as well as bagging a top 20 position.

The drop from Green Gable is a scree shoot that plummets down to the head of the valley, before you rise gently back up to Beck Head and begin the climb of Kirk Fell. I was with Chris at this point and he led a good route up to Kirk Fell and he followed Joss's advice to the letter on the way down and led a perfect route off. It must have been good because there were around half a dozen of us all following him at that point!

From that descent up to the summit of Pillar is the best part of 400m of climbing and I started to feel the energy going a bit and the whole magnitude of the task started to hit me. I was ok on gels, but it didn't help that one had bounced out of my pocket. I had to resort to chewing an energy bar, which wasn't as palatable, even when washed down with water.

After losing Chris and the other guys as they plugged on up Pillar, I was heading towards 3 hours completed. At this point I started realising that 4.5 hours was looking difficult, but I didn't want to give up hope, not knowing exactly what was coming ahead. I didn't do the Pillar descent too well, taking the tourist path and then noticing 2 other guys passing me on my left who were obviously taking the fell runners' line. Hammers home just how much experience is needed for these long runs to know the best, energy-saving line.

From Pillar on to Haycock, one of two more guys came past me and I didn't have it in me to go with them. This was a bit of a grim period and I had to concentrate to just keep it going steady. At this point the wind got quite cold, but I pushed on towards Iron Crag, at which point two other guys and Lewis caught me. They pressed on ahead and from Iron Crag onwards the two NFR vests remained close together. With the best will in the world the suffering gets a bit private and personal at this point and having a team mate nearby probably won't help you much! In any case, it's best to try to help each other if you can and I knew I had enough food left so I offered Lewis some, but, like me, it was general tiredness, not hunger, he was suffering from by then.

I managed to sustain a last nudge of pace up to Crag Fell and I was concerned to see a guy who had passed me previously on a descent had his left lace undone. With the final descent coming, I didn't want him to trip over so I said, "Your left lace is undone". He didn't seem to understand so I said it again. He still didn't understand, so I finally shouted "YOUR … LEFT … LACE … IS … UNDONE!!!!!!" A bit comical really and probably not the best use of my very last dregs of energy.

As I reached the summit of Crag Fell, I would have had to have descended in about 8 minutes to break 4.5 hrs so the nail was well and truly in that particular coffin. I led Lewis down, never more than 10 yards ahead and I think I only pulled away a little bit at the end because he was even more demoralised than I was to see there was still something like half a kilometre of landrover track until the finish.


I crossed the line and had a few drinks of orange juice and felt relieved to have finished. It turns out I sat down next to Janet McIver who had been back already for about 40minutes after breaking the women's record and doing a scorching 4.01.33 for 7th place overall. There was a draw for first between Nick Sharp and Peter Vale in 3.48.01. Well the Ennerdale may or may not have been good preparation for Wasdale, we'll see.

The Route:
1st Great Bourne
2nd Red Pike
3rd Black Beck Tarn
4th Green Gable
5th Kirk Fell
6th Pillar
7th Haycock
8th Iron Crag
9th Crag Fell
10th Finish
Philip Addyman
all photos from Laura Brown