21/06/08
Gummer's How Race
- from Lyle Nicholson

As a newcomer to fell racing I opted for the straight-up-and-back-again Gummer's How Race on Saturday instead of the Great Lakes Race on the same day – Phew! Lucky escape that. Well done Phil Green et al.

In case you aren't aware, Gummer's How is a race with a difference. Runners start 1/4 mile from the Lakeside Hotel, sprint to rowing boats moored below the Hotel, row the 1/2 mile across Lake Windermere, then ascend Gummer's How (321m) to the trig point and return.

So ... we lined up, soaked to the skin, at 'the ring' (traditional start for the race where flat races were held back in the '20s) and pelted for the boats ... too late and you get the boats farthest from the hotel. Pushing the farthest boat out I managed to stay within eyesight of Ian Holmes, and felt quite pleased with myself. However, my training for the boat section comprised of a go on the pedaloes at Scarborough in 1987, but it was one of the big swans and very difficult to skipper.

By the time I reached the other side I was last, where I remained until I put a spurt on and left the septuagenarian in plimsoles FOR DEAD! HA, eat my dust/spray (he really should have chosen shoes for running not rowing). My placing was of no concern as the crowd watching from the Lakeside Hotel could only see cloud and rain, and were very possibly on to their third or fourth strawberry daiquiri by then.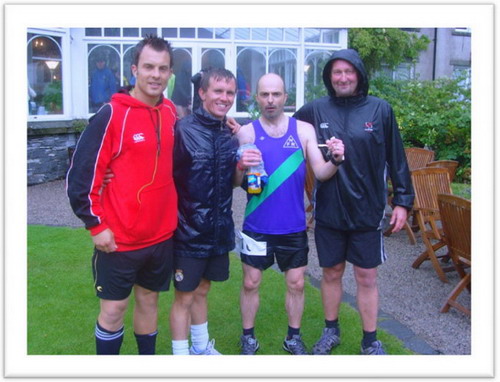 Me with some fell running chums (post-race pre-daiquiri)
Having walked the hill earlier that day I discovered an alternative route which avoids the steep scramble to the summit. This cunning shortcut only added an extra 200 metres and 5 minutes to my time as I got lost ... again. In case you don't know I got lost descending the Cheviot Summit race earlier this year.

The descent from Gummer's How is exhilarating, one of those completely mad and dangerous full tilt type things which reminds you of when you were 7 and your 'mates' push you down the hill at the bottom of the school field at dinner time ... or is that just me?

The row back across Windermere is strength sapping, but don't stop or the steamer full of tourists gets ya. At the finish I managed to meet hero Ian Holmes. My heart was lifted on discovering him to be not only a top bloke but also a fellow short-arse. It is actually physically possible for me to improve!

The race is organised by Dave Birch of Morpeth who inherited his grandads first prize silver teapot. This prompted Dave and his brother to re-stage the race in 1994 after a gap of approximately 60 years. Fell races such as this are steeped in history and I felt honoured to have taken part.

This race is a hoot, and I am definitely running/rowing again next year.

As I suppose I must ... here are the results, the weather obviously had a hand in slowing things down (that's my excuse) as things underfoot were a bit skitey.

See you all soon,
Lyle Nicholson,
(NFR runner and Ian Holmes' best mate)
| | | |
| --- | --- | --- |
| Position | Name (Individual) | Time |
| 1 | Ian Holmes | 25.07 |
| 2 | Alastair Dunn | 26.56 |
| 3 | John Deegan | 28.49 |
| 4 | Tim Austin | 30.40 |
| 5 | Chris Speight | 31.27 |
| 6 | Brendan Bolland | 31.47 |
| 7 | Rebecca Moore | 33.47 |
| 8 | Ian Hepburn | 33.51 |
| 9 | Russell Cannon | 34.15 |
| 10 | Mark Cropper | 34.52 |
| 11 | Mike Addison | 35.23 |
| 12 | Lyle Nicholson | 40.04 |
| 13 | Pete McDermott | 41.40 |