25/05/08
Helvellyn Fell Race
- from Rob Stephens (photos: Pat & Rob)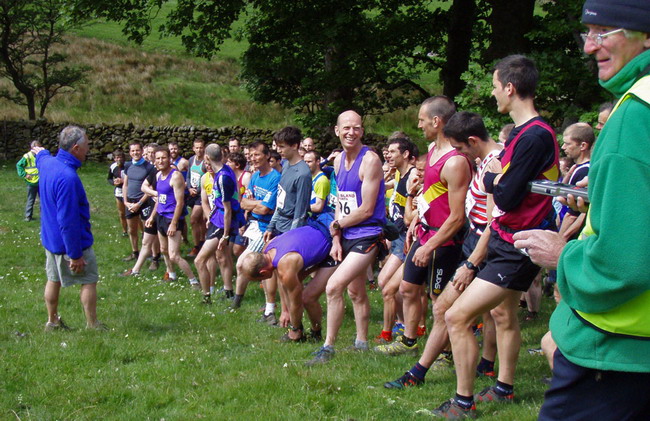 ready to go
Another glorious Sunday in the Lakes, or at least it looked like it from behind glass … Once out of the car, it was soon clear that strong winds were going to be a major feature along the tops, and seeing as around 9 of the 11 race miles are more or less exposed ridge, this was going to be a bad day for hats.
Insufficiently worn out from helping out on two or more legs of Louise's Bob Graham Round the day before, Dave Atkinson and Chris Little came along to try this race for the first time. Steve Birkinshaw was here too, raring to go after his tremendous epic run at the Fellsman, along with Philip Sanderson keen to get some Lakes fell race experience. Myself and new member Trevor Wakenshaw made up the rest of the NFR contingent.
Despite the pull of the Jura Fell Race on Saturday, 115 runners have gathered here at the idyllically situated Bram Crag farm, ready to run. A minute later 115 runners re-locate to a new start place due to the size of the crowd, and then we're off …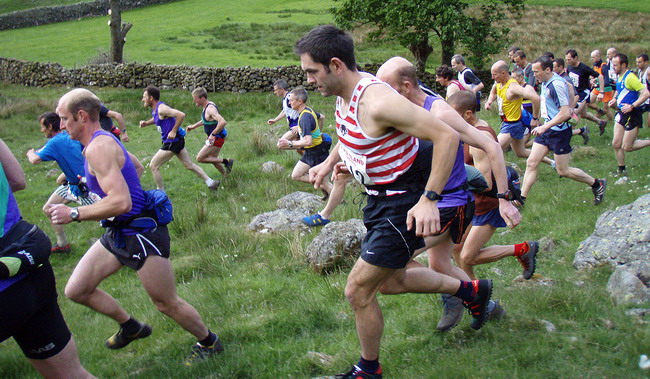 dodging boulders as we dash for a hole in the wall
Bram Crag towers above; in full bloom, gorse and hawthorn cling to crag and scree. To get up onto the ridge requires a low traverse for half a mile or so over boulder-strewn fields until an easier ascent is possible, and here the runners turn sharp left and … up!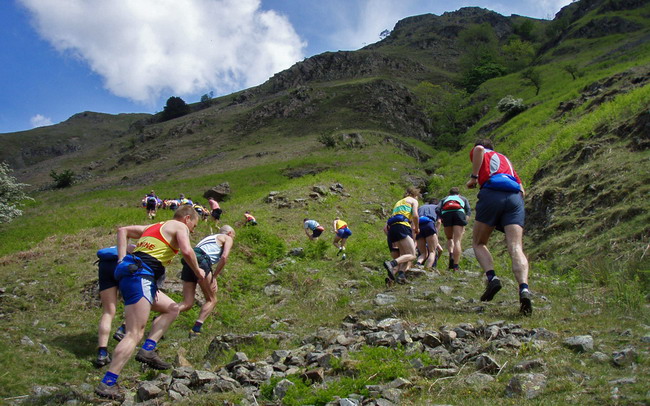 start of the steep climb
It becomes an increasingly steep slope, some of it loose rock, but most of it good firm grass. Hands clutch at tufts and calves strain as we haul ourselves upward en masse.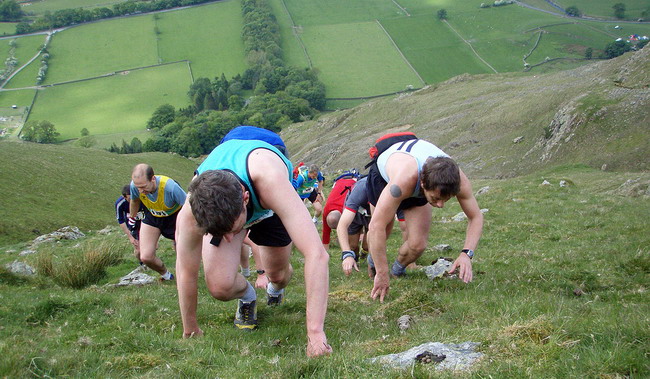 on all fours
1000 feet of ascent later we're upright again heading for the rocky outcrop on Calfhow Pike and ready for the next challenge … the wind!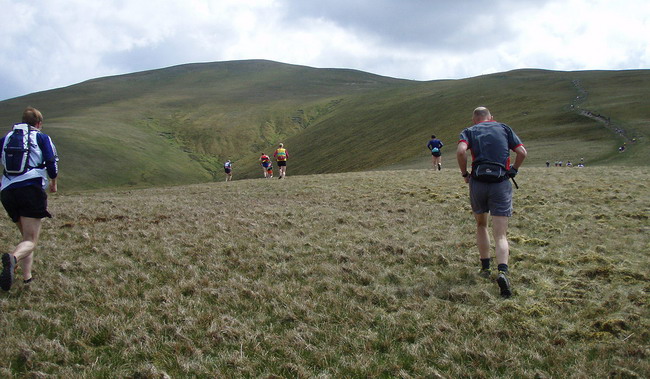 beyond Calfhow Pike
From here on, wind dominates much of the long and undulating ridge run. Strong and blustery, it pushes runners backwards and sideways but strangely never forwards! I find that one of my legs is constantly being blown towards the other, so that I'm frequently kicking myself. It blows runners together too … Philip later tells me how he elbowed another runner on a number of occasions!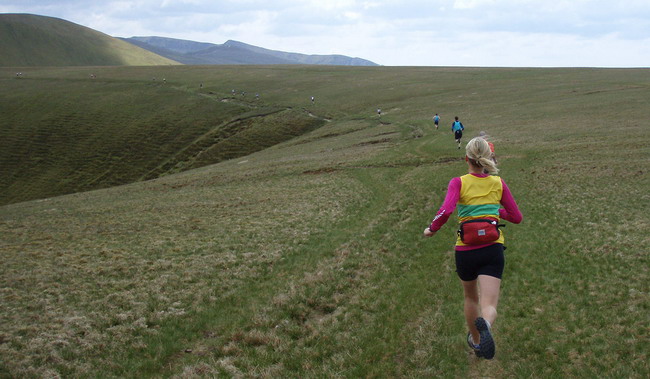 skirting around Watson's Dodd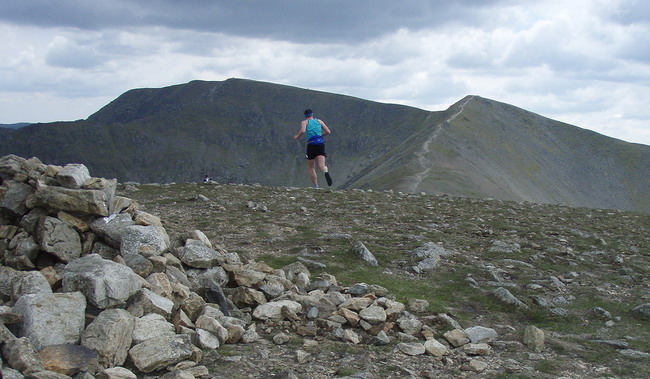 one last climb to Helvellyn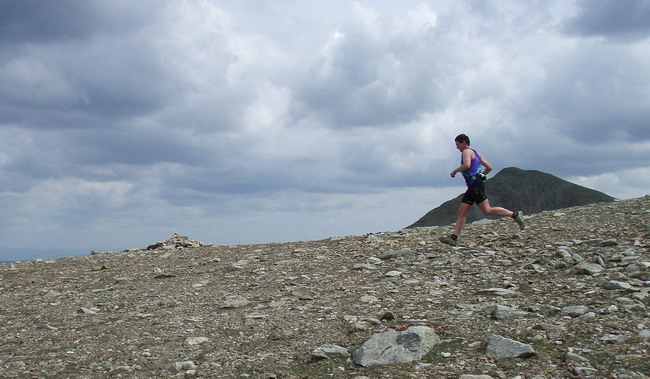 Steve Birkinshaw heads back
Frantically flapping paper race numbers and swirling eddies of wind lifting dust into eyes, it's absolutely wild on Helvellyn as we reach the furthermost checkpoint and head back (how the marshal copes I don't know!). An exhilarating run off Lower Man, often leaning sideways into the blast. But energy is drained much faster by this incessant wind, which constantly hampers progress.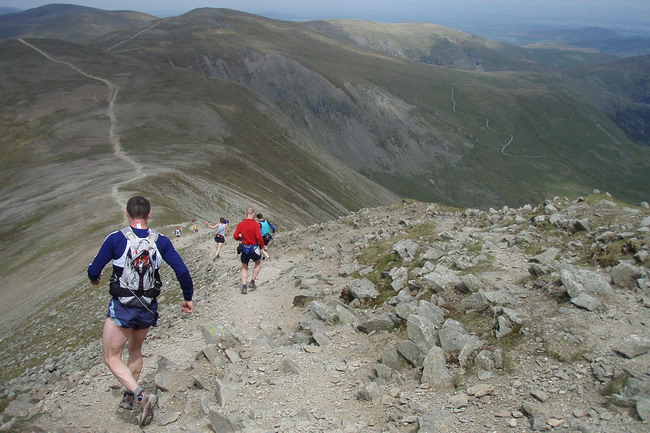 descent off Lower Man
Wind-beaten and battered, it's a relief to bound across the soft tussocky grass to Calfhow Pike, where we can run a short but relatively wind-free section to the edge of the steep descent.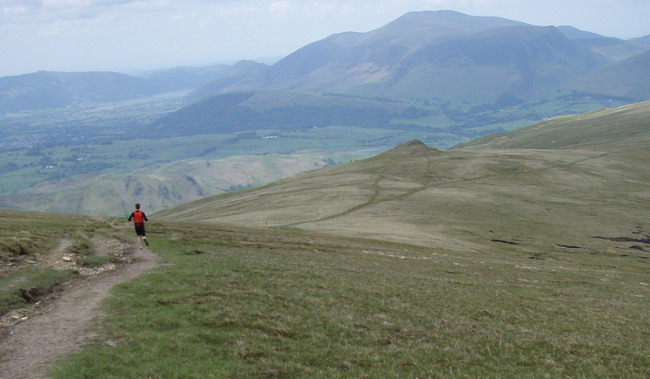 Calfhow Pike ahead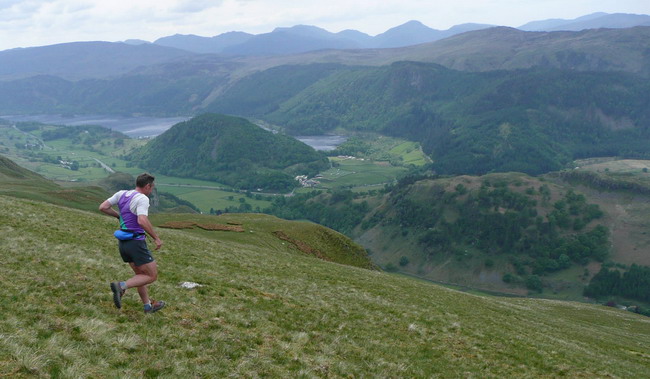 Dave Atkinson approaches the steep descent
Dropping down over the lip, it is steep! Clearly some runners are a little nervous of this section and it's slowed them right down … right down to a sitting position for some! But I really enjoy this drop down and think it's a great way to finish a fell race.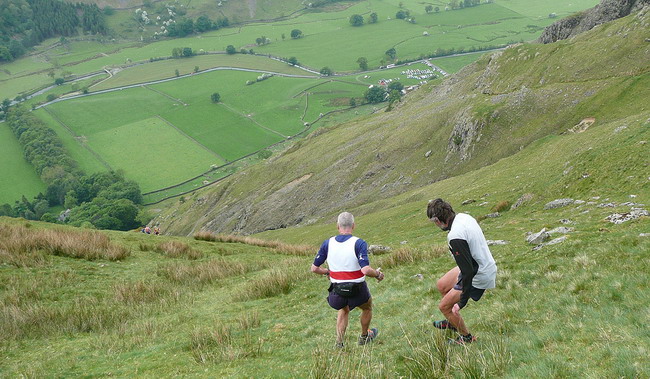 now it gets steep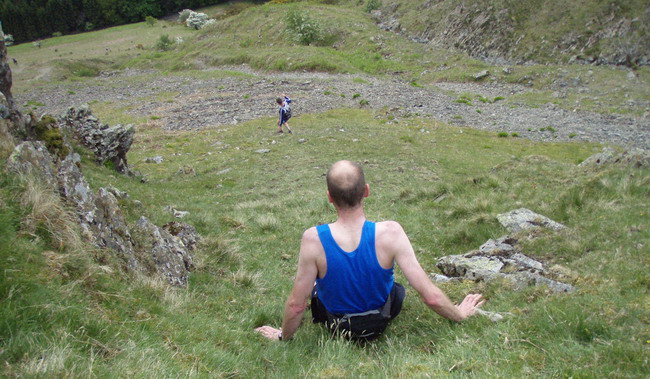 too steep for some ...
Back at the finish, Philip (who's rightly proud to be the first NFR home) shows me his scraped thigh from when he was blown right over onto his side – ouch!
Jim Davies (Borrowdale) has won the mens' race and Jo Waites (Calder Valley) the ladies'. Philip (12th overall) is 2 mins ahead of Steve, later followed by Dave, Rob, Chris and Trevor.
Tea and gorgeous cakes in the barn rounded the day off perfectly. If the men's loo was a little primitive (but fine!), the computer technology to get the results printed out and on the barn door in record speed certainly wasn't. Great race, venue, atmosphere, organisation, parking … everything! Only wish I could stay on to do Two Riggs on Tuesday evening from the same place …
Rob Stephens
results on Keswick AC website
photos by Darian Bridge (Borrowdale FR website)