19/10/08
British Fell and Hill Running Relays
- from Scott Gibson (photos: Scott Gibson)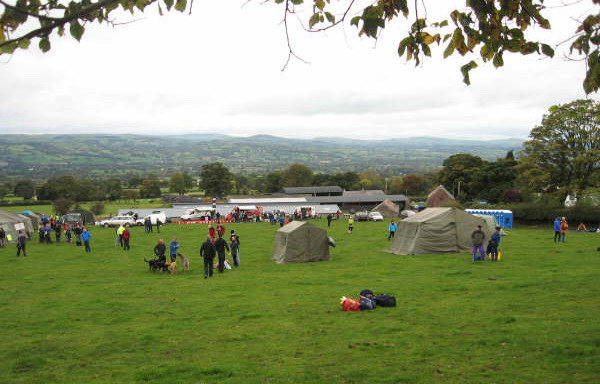 the venue

One of the main events of the British fell running calendar took place on Sunday 19th October; The British Fell Running Relays. The NFR were very well represented with an A team and a B team. Moel Famau country park near Llangynhafal proved to be a very picturesque venue with smooth grassy hills which promised much fast running. For those who have not visited this area it is rather like Simonside and the Cheviot foothills.

The weekend began with the various parties arriving at the 'campsite' which proved functional and definitely economical (£2). For this price you would expect it to have spartan facilities, it did. One team member who missed his home comforts stayed at the Anchor Hotel in the nearby metropolis of Ruthin. He did regret this at 5am when woken by local revellers in a state of extreme refreshment. Another especially wise member of the team booked the only b+b near the start.

The morning of the event dawned with an enthusiastic rooster seemingly perched right outside my tent. Mist covered the upper slopes of the hills but a fresh breeze promised to blow it away. By the time we registered and made our way to the starting field the weather looked much fairer. I don't mind roughing it but the sight of every other team erecting huge basecamp style tents made me feel a tad envious. The only exception being one team who had clearly 'borrowed' their tent from a forensic crime scene! The NFR are a hardy bunch with reputations to uphold so we set up camp under a tree. Thankfully Tynedale came to join us so we didn't look too out of place.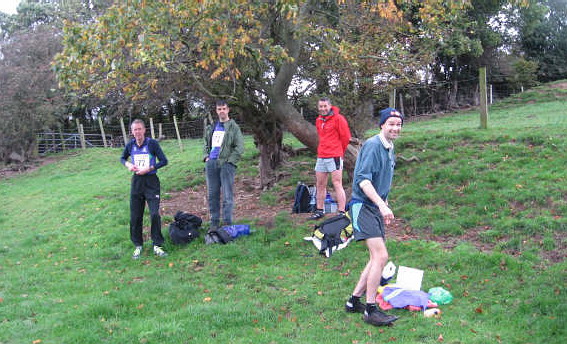 setting up camp
This was a great venue because the final descent was not only ridiculously fast but also in view of the whole crowd. It was amazing to see the really fast runners coming down, (Francis Blunt seemed quickest of all) this is a sight we middle pack runners rarely see! The mass start saw 117 runners try to get in position to go through a very muddy gateway, Aengus McCullough for A and Dave Atkinson for B seemed in good contention.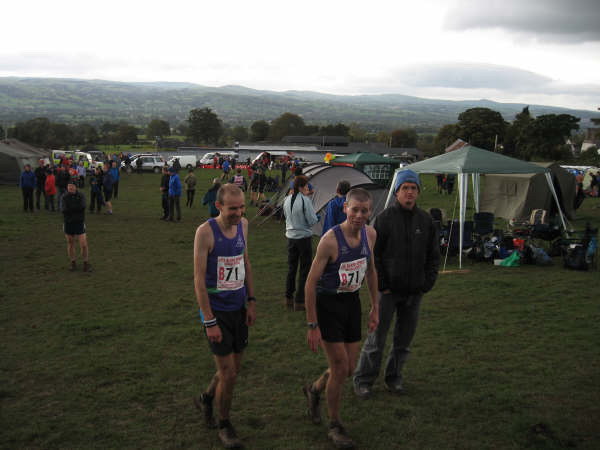 Philip and Charlie
The steep field soon had the runners spread out. Before much time had passed the first runners came back down having ran just over 5 miles onto the ridge where the famous Offa's Dyke path runs. Aengus came in 35th and Dave 73rd, they handed the dibber over to Charlie and Philip for A and Peter and Bernard for B who set out on an 8 mile leg over the back of the ridge. Philip and Charlie returned in high spirits having made up 11 places. Bernard and Peter having not had a rest on the bench returned in 101st.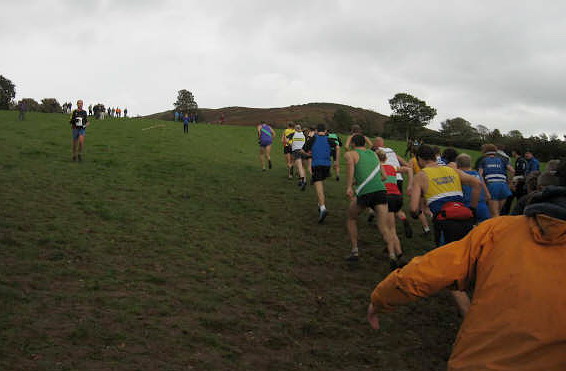 is that Scott leading the way?

Leg C is a blind course, the map is handed over to a pair of runners as they cross the start line so it is necessary to plan the route while running up the first hill. Steve Birkinshaw and Francis Blunt steamed round the course recording the 5th fastest time for this leg making up 13 places in the process! Joe Faulkner and Paul Hainsworth took over for B and also ran and navigated brilliantly making up 14 places. The main objective is to not waste time by making poor route choices and getting lost. NFR certainly proved very strong in this area!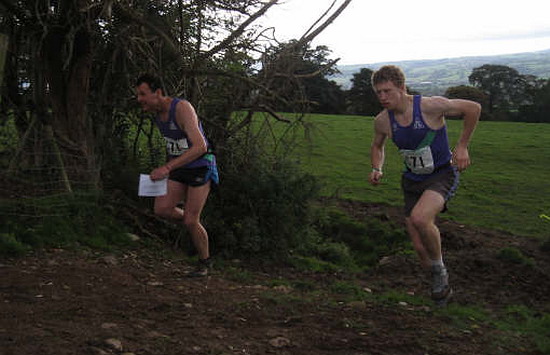 Steve and Francis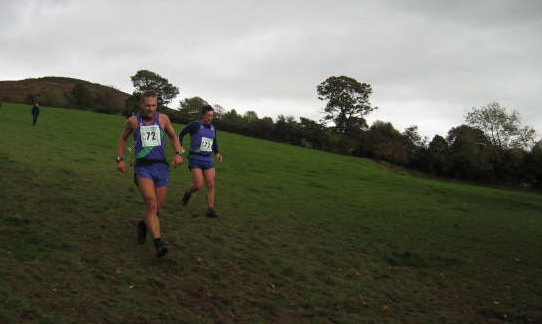 Paul and Joe
Leg D covered about 6 miles and was undulating to say the least, this made me feel nervous but did not put Nick Swinburn off who took over and began his assault on the field, despite some wayward marshalling (didn't get the full story on this) he made up 2 more places and also recorded the 5th fastest time for this leg. I had to endure the mass start which was delayed, preying on my nerves even more. Even so I led the pack up the field but soon realised I was being a bit over enthusiastic and had to slow a little. The course at this point was lined with people and it was a bit like the mountain stages in the Tour De France with everyone shouting. Could have done with a few people shouting "Oggy Oggy Oggy!" to spur me on. With a strong tailwind I flew along the ridge feeling good.
A fast descent followed by a very long a gradual climb back up had my legs wobbling and a very steep climb onto the final descent had them burning! I was really looking forward to giving it the berries down the final descent, I didn't quite manage this but it was very enjoyable, managed a sprint to finish despite being very tired. I made up 6 more places with the 51st fastest time for this leg which I was very pleased with.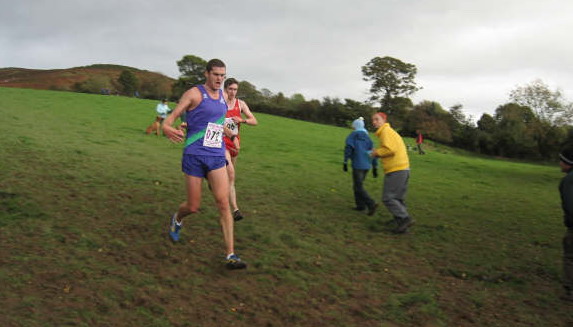 Will Scott give it the berries?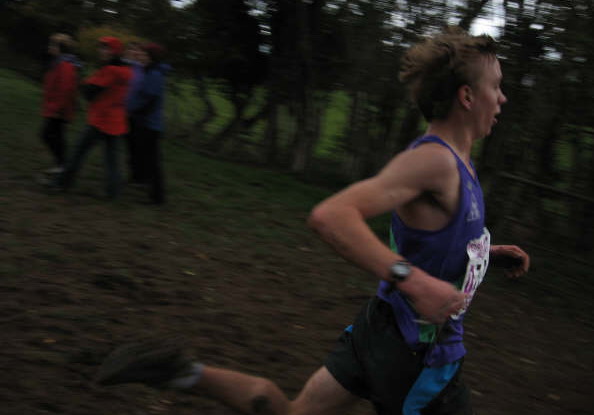 Nick seems to be giving it the berries!
Overall the event was brilliant and NFR did themselves proud. The A team achieved a top ten finish (9th) which is outstanding and the B team were 76th out of 117 teams which is also outstanding considering the quality of the opposition. Let Dave know if you want to take part next year, I highly recommend it!
Special thanks go to Dave Atkinson for organising the teams and making endless brews. Best wishes to Steve Birkinshaw who has run his last for NFR.
more photos from Scott
Scott Gibson