21/06/08
West Highland Way Ultra Race
- from Dave Atkinson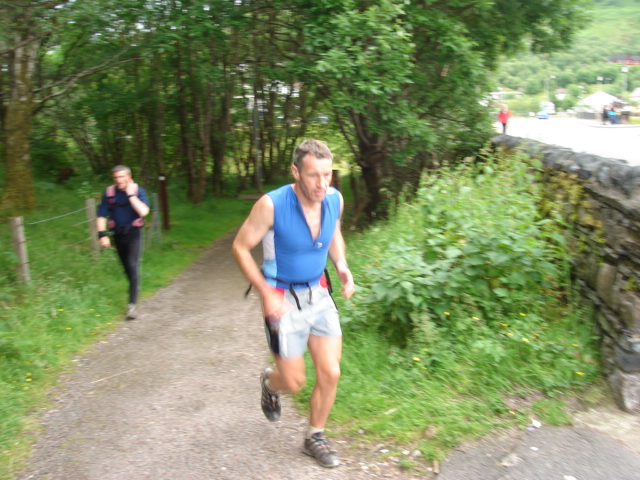 This race is quite simple: run from Glasgow to Fort William, 95 miles along the West Highland Way. You weigh in at the start like a boxer preparing for a fight, with two compulsory weigh-ins en route. If you lose too much weight or gain weight and seem out of it, the race doc will pull you out of the race. I had a back-up team of Valerie and our camper, and asked Geoff Davies if he fancied a weekend away, all expenses paid, as help. Race rules state you need a runner with your support crew in case you need assistance at the end of the race. I assured Geoff I would be ok and his duties would be navigating for Valerie and helping to feed and water me.
The race started at 1 am Saturday - 129 starters set off north. The runners quickly filed out and the back-up teams went off like the wacky races to checkpoint 1 or other vantage points along the way. I settled into a nice comfortable pace with the lead group of approx 10 runners: this was the pattern for the first 2 hours. The field gradually split up and I was in about 10th place. I felt good but was conscious it was early so just took in the early sunrise and glorious views on offer. The first checkpoint was at Rowardennan on Loch Lomond: my team were there and fed and watered me. I told them I was ok but my thighs were a bit sore.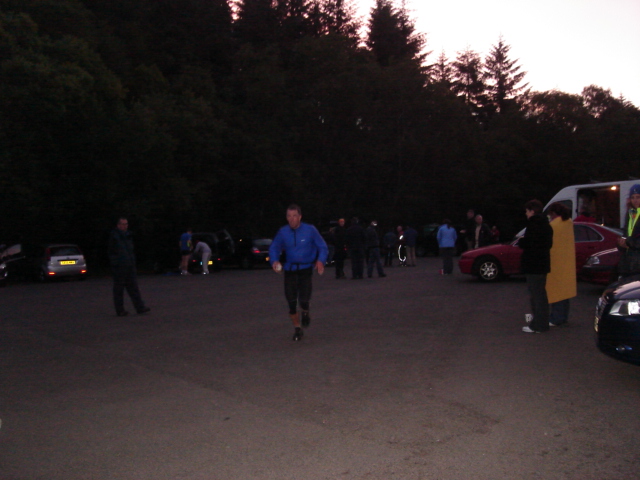 I ran along Loch Lomond - it was a fabulous morning - trying to take my mind off sore legs as my stride was shortening. I began to lose a few places but told myself not to panic as I felt really strong and it was a long way to go. But my legs just got tighter. I saw my crew at the top end of the Loch, had a quick change and some food, then pushed on to checkpoint 2 at Auchentyre Farm and the first weigh-in. I'd lost 2 kg but was deemed sound of mind so on I went. My thighs were so tight and sore and I was losing places, my morale dropped and I resigned myself to a long day in survival mode, my aspirations of a top 10 finish and fast time disappearing rapidly. I had played AC/DC's 'Highway to Hell' on our journey up - this proved to be the soundtrack for this race for me. I made it to checkpoint 3 at Bridge of Orchy in a sorry state.
I was in a desperate state. I'd never experienced tight legs like this before in Ironman races, Ultra-Trail Tour du Mont Blanc etc before, and wondered why. My team sorted me out, fed and watered me and sent me on my way. They appeared a mile or so later. I sat down on the roadside and they massaged my legs and sent me off over Rannoch Moor on the 'Highway to Hell'. 'Oh bugger,' I thought, 'just enjoy the craic … who gives a monkey's where I finish? Finish is the goal here - one step at a time.' I lost myself in my own private world and shuffled along.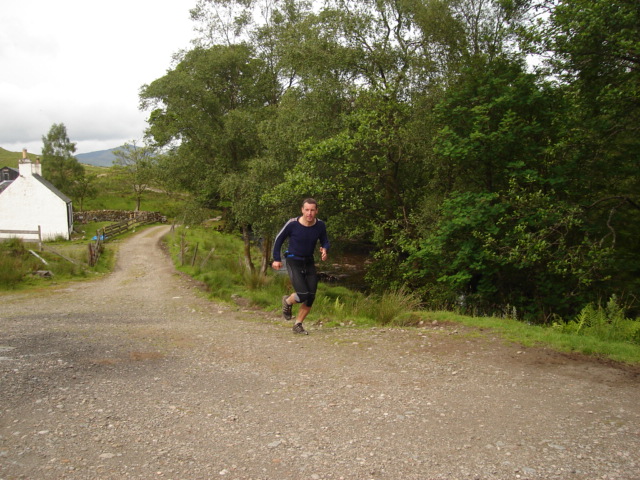 Checkpoint 4 at Kingshouse appeared. My crew again fed and watered me and massaged my legs. Geoff asked me if I wanted some company - as I was in 24th position this would be ok. 'Aye, why not,' I thought, 'it might help take my mind off the pain in my legs.' So off we went over the Devil's Staircase. I was ok going up and told Geoff I was frustrated because I felt strong but just couldn't stride out due to my tight legs. On we went up and over, then a painful descent into Kinlochleven. At the 2nd weigh-in I had lost 3 kg but was still deemed sound of mind (although I had my doubts about why do I do this to myself …). I was fed and watered, massaged and stretched my thighs. Time to start on the Coca-Cola.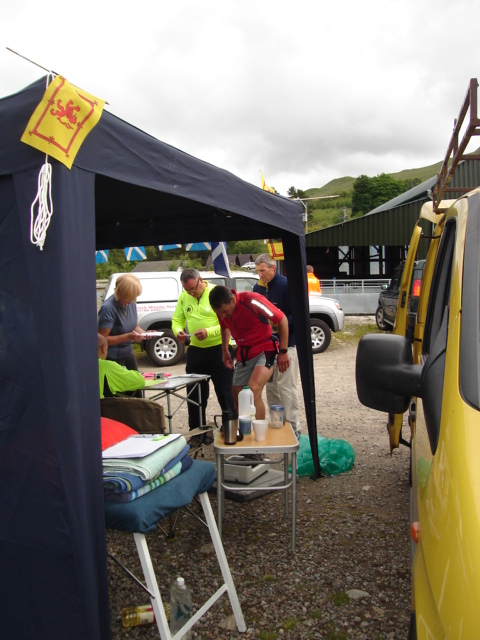 Dave weighing in
On to the final 14 miles up the Lairigmor. It's a steep climb out of Kinlochleven but I felt strong and to my utter amazement I started running well. I got some runners in sight and moved up the field. I was on a roll and passed more runners and their support runners. We ushered each other on as everyone was suffering, and the camaraderie between competitors and helpers was fantastic as we all knew the score on what ultra running is all about: going onto a long journey physically and mentally.
I soon approached the last checkpoint 6 at Lundavra: I didn't stop and carried straight on. Valerie couldn't believe the transformation, Geoff picked up supplies of Cola and on I went. It felt so good to be running. I caught 10 runners on that final leg and finished in 14th place in a time of 20.30.32. At the finish were Valerie, Joe Faulkner and his partner Lindsy (Joe had done the Caledonian triathlon that day) and Geoff alongside me. It was good to finish on a good note.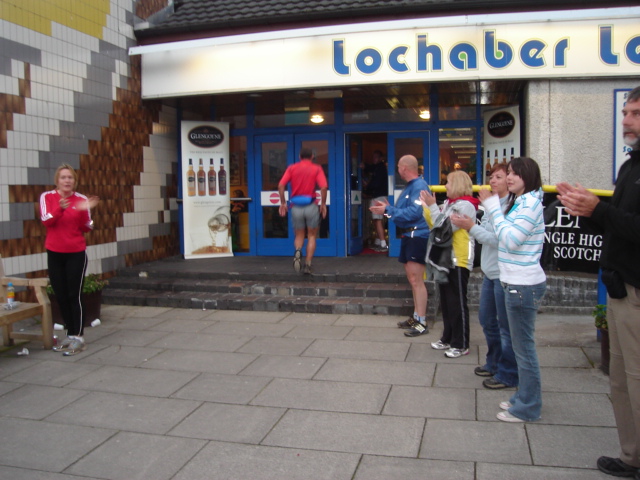 I had a great massage on my sore legs, a mug of tea then into my sleeping bag to la la land. The presentation the next day was excellent. Dario the race organiser puts his life and soul into the race. Each finisher received a cut-glass goblet and Dario said a few words about each runner, which was a lovely touch. The winner was race favourite Jens Lukas from Germany in 17.06.03 and the ladies' winner was Donna Utakis from USA in 19.38.49. A total of 97 runners finished.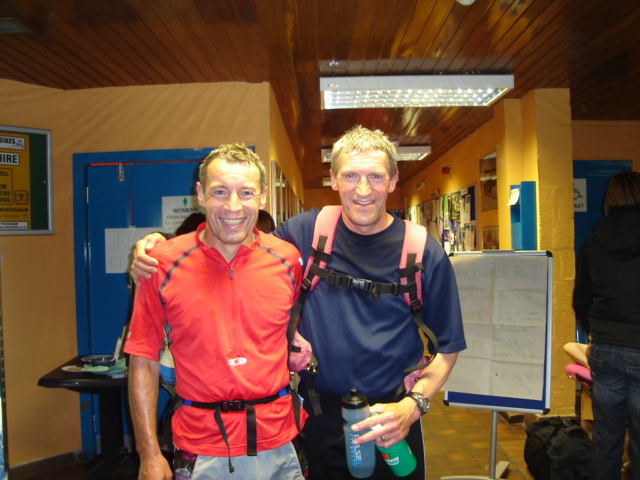 A fantastic race on a hard unforgiving but scenic course. If you fancy a go next year, entries are out in August - it fills up quick, mind! Website address is www.westhighlandwayrace.org. There is also a half-distance race earlier in the year as a taster - Glasgow to Tyndrum - called the Highland Fling (Jane and Lewis Grundy did it this year).
If you enter, make sure you have as good a support crew as I did - I couldn't have done it without them. Thanks Geoff and Valerie.
Dave Atkinson