14/02/09
Carnethy 5
- from Phil Green (+ photos)

L-R: John, Paul, Geoff, Susan and Colin (Susan and Colin seem to have found the time to do a bit of shopping too)
499 runners turned out for the 39th Carnethy 5 Hill Race.
The snow of the previous week was still lying on the Pentlands but slowly starting to thaw. There were some quite deep patches on the course but most could be avoided at need.
Northumberland FR were well represented with Geoff Davis, Colin Blackburn, Paul Hainsworth, Billy Fraser, John Telfer, Susan Davis, Jane Grundy and myself. Lewis was not running, but was to appear at various hill spots to shout on encouragement.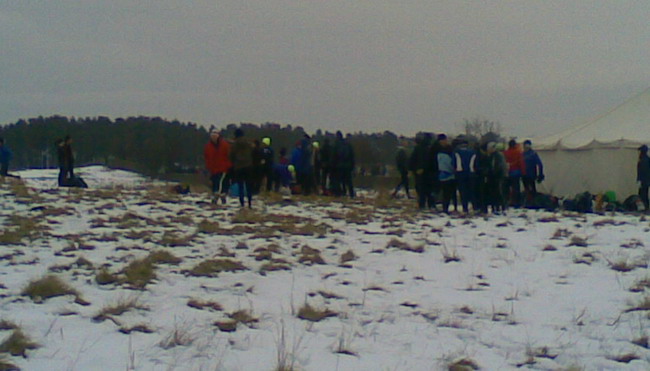 near the start
The race was being recorded for BBC Scotland's Adventure Show and the great and the good were being interviewed at race HQ and the start. Cameras were dotted round the course at the best descents and finish.
The race was called to the start by the skirl of the pipes and flower of Scotland sung prior to a brief bit of tongue in cheek anti-English banter about the battle of Roslin. Then the off....
The race crosses a rough field with several deep boggy bits and position to get through the hole in the wall is vital as overtaking on the steep climb up to Scald Hill is hard but not impossible. From the top of Scald Hill the curving desent to south Black Hill was a pleasant relief after the long snow trudge. The paths were mostly snow with some bits of grass showing through and made for excellent fast descending, the long descent from the Kips to the Howe was just brilliant fun, the occasional patch of deep snow acting as a brake so you could just go flat out. The final steep descent to the Howe was just too snowy to descend fast on feet, so bum sliding it was! great fun and captured by the BBC cameras. The climb to Carnethy hadn't got any shorter, and the false summit dismayed a few. The long descent from Carnethy to the race field was hard going but made slightly easier by the heather having been burnt back recently on some of the lower slope. Then back over the field and bogs to the finish.
Rob Jebb (Bingley) was first male (53mins) and Fiona Maxwell (Mourne) first female (63mins).
Billy was first NFR home in 1hr 14, followed by John, Geoff, Paul, Phil G, Colin, Susan and Jane bringing NFR home. NFR was the only English male team to score in the team comp.Also of note was Jimmy Jardine of Lochaber, who finished his 39th Carnethy race.
A great race, well marshalled and organised by Carnethy.
Phil Green
Report from Colin Blackburn on Elvet Striders' website with photos from Dougie Nisbet
Results on Carnethy HRC website and Scottish Hill Runners website