27/04/09
Cheviot Summit
- from Rob Stephens (photos from Pat, Rob and Philip's mum)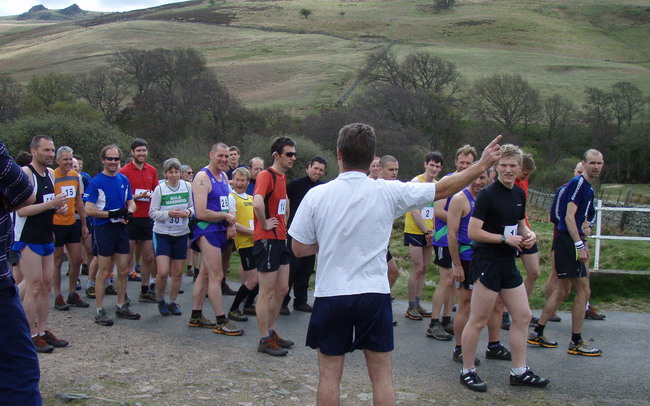 the route is explained - Rob
6.5 mi / 2000' (AM)
A grand day up Harthope Valley for another fine race from those friendly lot up at Wooler. An excellent turnout, with seemingly lots of new faces and an ever-expanding contingent from the local Wooler RC. Good to see runners from further afield too: Wharfedale (Will Marshall back for more after Brough Law), Keswick and Galashiels. John Telfer popped in too on his way back from Three Peaks in support.
Although the clouds gathered at times, the wonderfully warm sun took pride of place whilst conversations flowed with endless catching-up. I heard so many stories of ailments with one thing and another, it really is quite amazing that any of us can run at all!
Conditions on the fell were near perfect for running; the usually boggy flatter section after Scald Hill was firm yet springy with minimal leaping required! The warm weather also meant lighter clothing and many chose to ditch bumbags, so quite a few variables pointed in favour of a record-breaker or perhaps some PBs.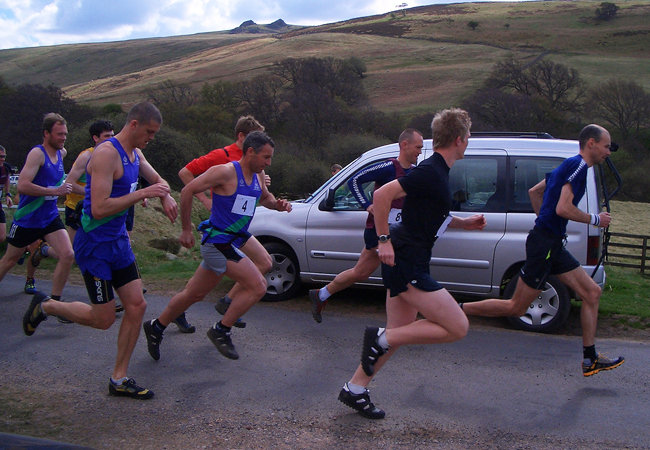 let the contest begin - T.Sanderson
A glorious blue sky framed with billowing cumulus set the backdrop to the cool and sombre-looking Cheviot ahead. In familiar fashion, Philip Sanderson bounded off and was halfway up when the rest of us were still starting our watches ... well almost! Amongst the first throng of chasers, Lee and Scott put some serious pressure on, but Philip was way ahead. Meanwhile Karen was firing on all cylinders and right up front for the ladies and keeping Dave A on his toes too.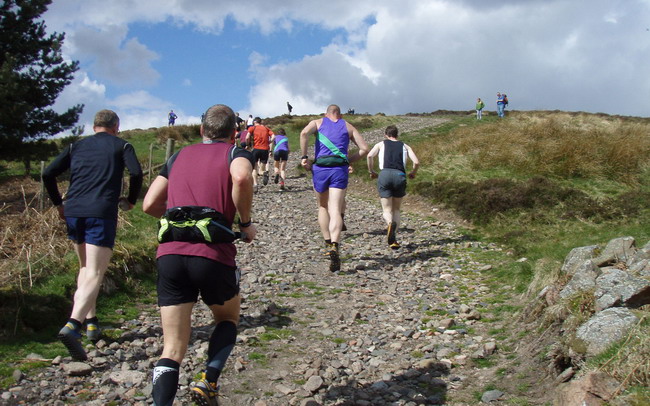 here we go - Rob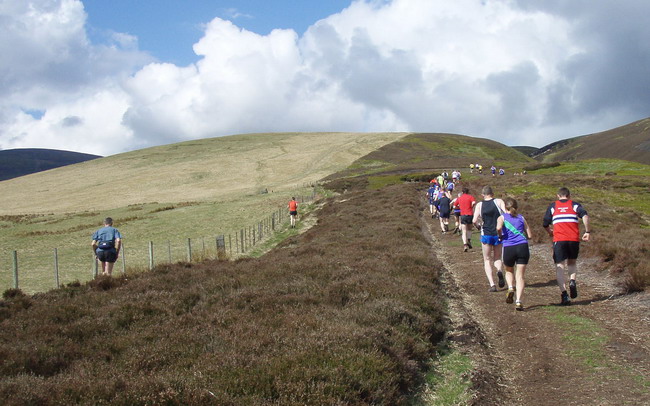 take your pick with route choice - Rob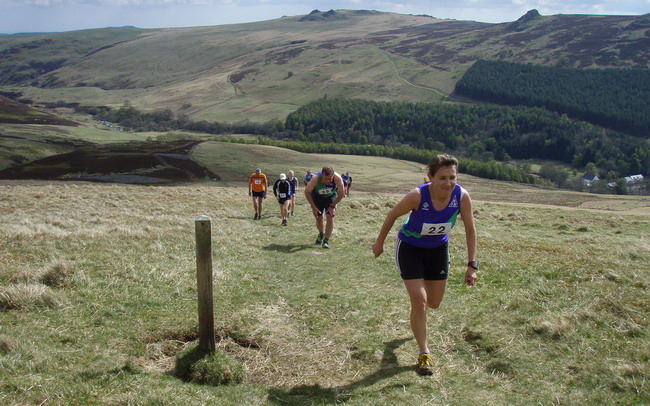 smiling all the way - Rob
It wasn't long before Philip was passing us on his way down as we trudged on up. A little later, Keswick's Chris Edis followed in hot pursuit along with Berwick's Adam Fletcher and then a string of fast chasers. Of course the uphill part of the race is quite different from the downhill part and so anything could happen yet. Along the flagged stones to the summit, the out and back streams of runners brushed by on their hurried way; just as well the bog was firm enough to withstand the occasional giving way to others.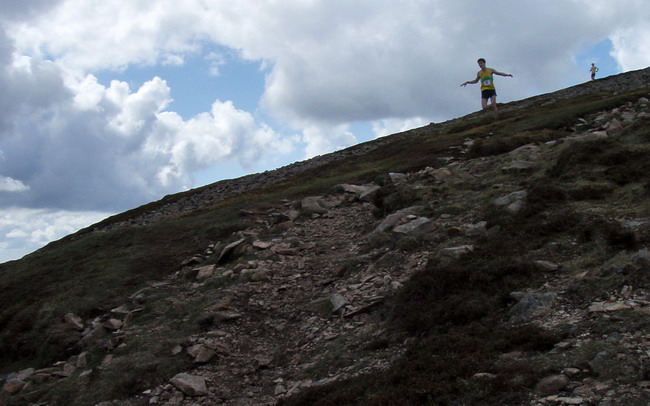 on their way back down - Rob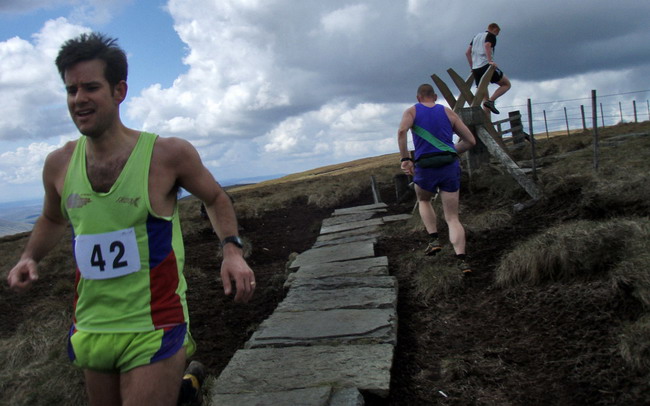 runners pass - Rob
Time to settle back for a thrilling descent on the springy peat for most of the way back; it seems to get a little too fast at times ... but great fun!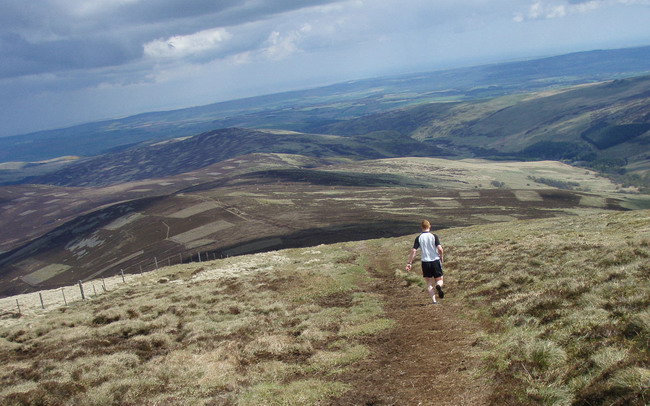 super-springy turf for a superb descent - Rob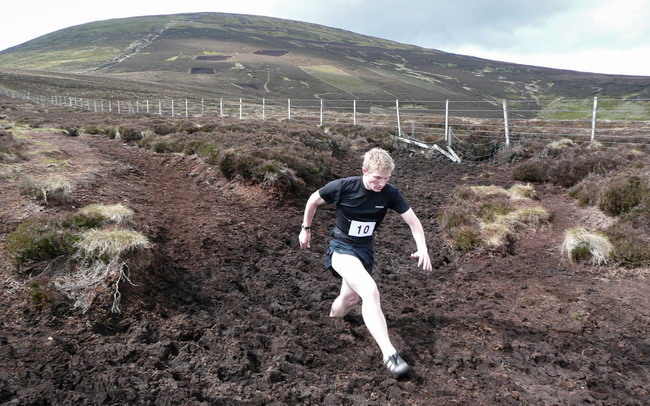 there really weren't that many places you could dirty your shoes, but this guy found one! - Pat
Meanwhile, Philip was finishing his race at a lightning pace; the course record in his grasp ... alas, a stumble on a stony section just before the road had him over. Grazed from top to toe with brand new shorts in tatters, Philip picked himself up and got going again, but only just in time to match Will Horsley's record from the inaugural race in 2007.
Some excellent runs, especially from Karen, Lee and Scott, but pretty fine runs from everyone else too considering their ailments! Young Will Marshall, 4th overall shows remarkable promise.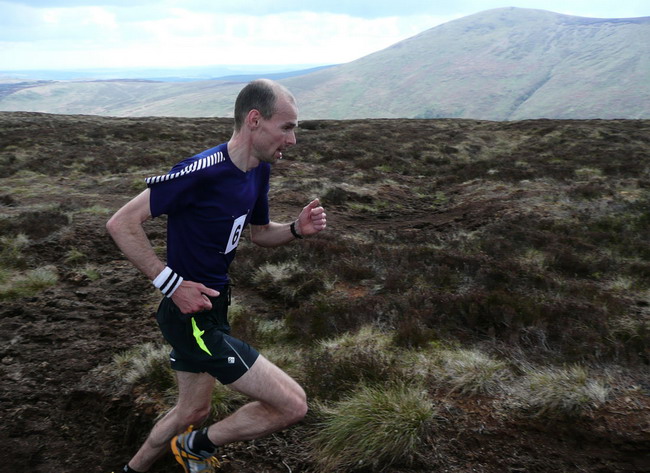 Philip hammers on - Pat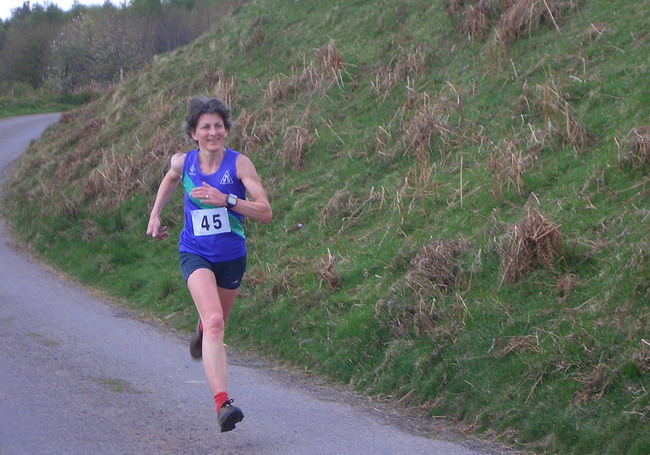 Karen in full stride - T.Sanderson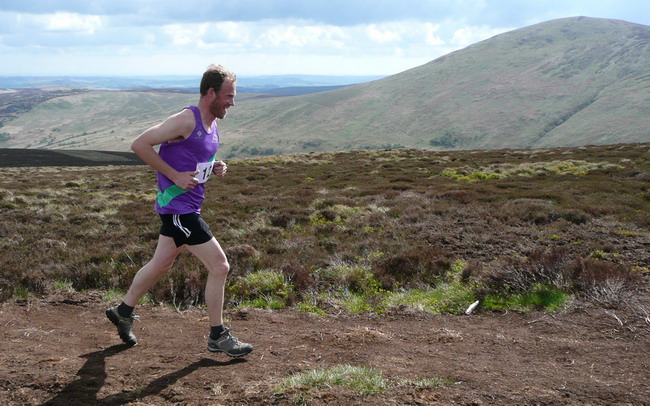 Lee Bennett pushes at the front - Pat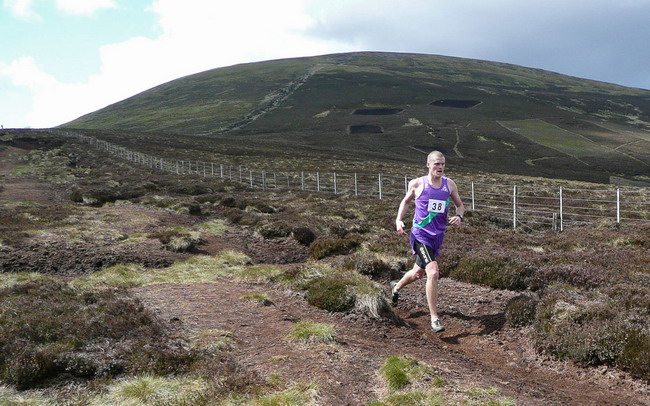 Scott hot in pursuit - Pat
Thanks very much to Glen, Jack, Claire, the MRT, Wooler's new Chocolate Shop for the Jelly Babies and anybody else that helped to lay on the race. All proceeds went to Northumberland National Park Mountain Rescue Team (£251!).

Rob Stephens
more photos from Philip's mum